Survey Reveals Novelists' Incomes, Paints Picture of Life as a Working Writer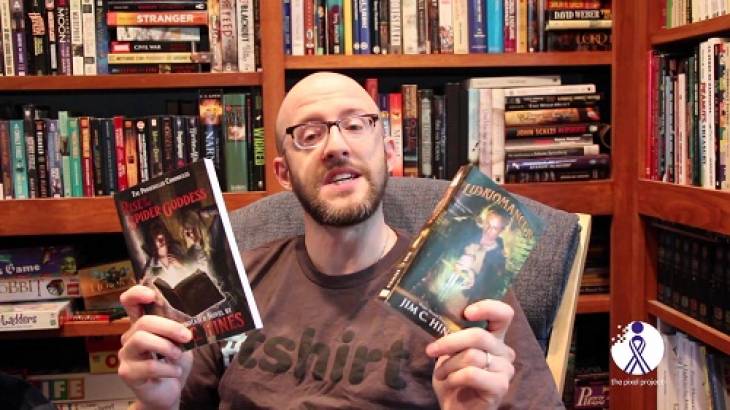 Novelist Jim C. Hines holding two of his books.
In a publishing industry that is becoming increasingly unequal, a recent survey looked into novelists' earning to help paint a more realistic picture of life as a working writer.
The 2016 Novelist Income Survey, conducted by American fantasy writer Jim C. Hines, wanted to dispel misinformation out there about the "fabulous" or otherwise "starving" lifestyle of the working novelist.
The survey asked questions about the number of novels published, how they were published (self-pub/large publisher/small press), income and expenses, genre, whether or not an agent was used, which country the novelist was in, and more.
While the author admits he is not a professional statistician and the survey itself is not a strictly representative sample, the study findings were quite telling.
2016 Novelist Income Survey Findings
According to results from the 2016 Novelist Income Survey, the total amount of money that authors made in 2016 before taxes or expenses ranged from a few dollars to almost five million. Eight novelists made more than a million dollars (before taxes) in 2016.
Ten percent of the authors who responded to the survey earned a paltry $200 or less last year before expenses and taxes. Twenty percent made $825 or less, and thirty percent made $3,393 or below.
The average income earned last year was $114,124, while the median income was $17,000.
"I think the median is more useful than the average, here," wrote Hines, the study author, in a blog post explaining his findings. "The average is pulled up significantly by those very successful outliers."
Agented versus Unagented Author Earnings
Of the 381 survey respondents, Hines discovered that 151 were represented by an agent and 230 were not. The median income for authors with an agent was $42,000, while the median for unagented authors was $7000.
"There's a significant difference in these two groups, but be careful about drawing too many conclusions here," cautioned Hines.
Five of the eight authors who made a million or more were represented by agents, while three were not represented by agents. And all eight of the authors who made a million or more were full-time writers.
Overall, the median income of authors surveyed was $66,000 for full-timers, and $3,050 for part time writers.
"Does this mean quitting the day job will magically increase your writing income by 22x? NO! Bad reader! Back to logic and statistics class for you!" added the study author jokingly.
So what does this study really mean…
Well, according to Hines there are three key takeaways from the study:
It is possible to make a really good living as a novelist…but most of us don't.
It is possible to make a million or more as a novelist, with or without an agent…but again, most of us don't.
About 80% of novelists make less than $100,000 a year. Half of us make $17,000 or less.
The 2016 Novelist Income Survey collected data from novelists who had at least one book published prior to 12/31/2016. It confirmed what many other studies have found: that there is a "huge inequality" in the amount of money made by writers. Many authors still struggle to make a living wage from their writing, while the top earners continue to take home a vast proportion of the total money earned.  
See Also: Self-Publishing in the Digital Age: The Rise of Kickstarter as a Force in Publishing.