How Cryptocurrency Has Changed the Future of Digital Payments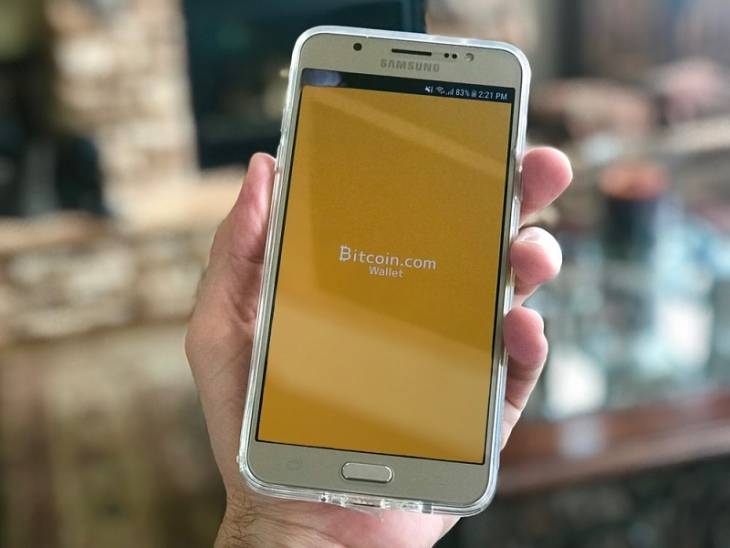 People have been buying and selling goods for a very long time – that isn't about to change. But what has changed overtime is the way we're paying for goods—using digital payments.
Digital payments have become much easier and more secure with the introduction of cryptocurrency. Indeed, cryptocurrency applications have revolutionized digital payments.
Well, just saying that cryptocurrency applications have changed the future of digital payments won't necessarily change your opinion. Of course, you need to know why and how cryptocurrency is revolutionizing the ways we make digital payments.
And for that we need to dive at least a little deeper and explain how cryptocurrency is different from traditional modes of payment.
So, let's dive in…
What is cryptocurrency?
Cryptocurrencies are virtual currencies such as Bitcoin (or a digital medium of exchange) that you can also buy with traditional money. You can use cryptocurrencies to buy both digital and real, non-digital goods and services.
Wait! I am sure that while discussing cryptocurrency, you might be wondering where the buzzword that is blockchain comes in all of this. It is obvious because both these words, "Cryptocurrency" and "Blockchain," are related to each other and we cannot skip one when discussing the other. This is because cryptocurrency is based on blockchain technology, which is what helps cryptocurrency to get its transparency, immutability, and decentralisation.
Blockchain is a type of distributed ledger technology that forms the backbone of the crypto-market. It is the technology behind the large variety of cryptocurrencies currently in circulation, such as Bitcoin, Litecoin, Ethereum, and more.
Cryptocurrency first came into existence in 2017. With the passage of time, this currency is gaining strength and companies and retailers would do well accepting them for payments. More and more people are actually coming around and investing in cryptocurrency.
According to a survey, the cryptocurrency market was valued at $1.03 billion USD by 2019 and is projected to reach $1.40 billion USD in 2024, growing at a compound annual growth rate, or CAGR, of 6.18% during the forecast period.
Major drivers for crypto-market growth are the transparency of distributed ledger technology, high remittances in developing countries, high cost of cross-border remittance, fluctuations in monetary regulations, and growth in venture capital investments.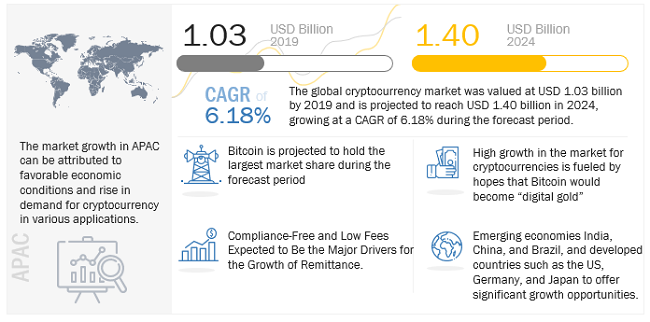 Now, we will quickly jump over the parameters and look at the facts on cryptocurrencies are changing the future of digital payments.  
Impact of Cryptocurrencies on Digital Payments
Let's have a look at them:
1. Mobile wallets
Mobile wallets are indeed one of the major advantages offered by cryptocurrency; and this wallet is known as Crypto wallet.
To understand Crypto wallets, I would call your attention to services such as PayPal, Android pay, and Apple pay that use credit and debit cards. Those cards are linked to PayPal accounts to give you access to your cash balance. These systems are often inconvenient, error-prone, and quite slow. Mediators are also often required to mediate the process and settle any disputes. Naturally, it costs time, money, and a lot of stress.
But if you are usng Blockchain payments system, then you can use Crypto wallets, which are not only more secure but also more transparent. Another advantage of cryptocurrency wallets is that they are not required to be linked to any other account, which adds to their ease-of-use and access to you money compared to these card-funded wallets.
The Crypto wallet is one of the cheapest, fastest, and easiest ways of using your currency. Here you can easily manage and store your bitcoins in a mobile wallet, which is provided by this crypto pay.
Apart from storing and managing bitcoins, users can send and receive bitcoin through their account as well as can exchange bitcoins into euros and pounds in the feature of bitcoin app. Users can link their account to their debit cards as a backup option. So, it is easy for people to use their bitcoin to pay those merchants who only accept fiat currencies.
New programs are incorporating debit cards of the bitcoins along with other educational programs, too. Companies such as Cryptopay incorporate banking through Bitcoin on a global level of commerce.
2. Cross border payments
One of the other major advantages of cryptocurrency is cross-border transactions. As this cryptocurrency is managed by a Blockchain, it can assess real-time virtual transfers and transactions. This process is smoother and faster than traditional transactions and is routed through clearinghouses and processes of various payments.
No cross-border transaction could be faster than with cryptocurrency since Blockchain transfers occur within the system. As the blockchain has a decentralized substructure, it is very easy to maintain, meaning users can reduce the investment on cross-border business.
This cryptocurrency system works so well that users abroad can send their money back home using the blockchain method in a way that is more affordable than, say, Western Union.
3. Security
Keeping physical money has more chances of getting lost or stolen. If you are cashless and deal with digital payments, then your money is arguably safer and more protected.
There is no need to worry even if you lost your mobile device or wallet because your money and funds would be safe in your crypto wallets, which are protected by multiple layers of security. You can also get the security in the cryptocurrency app, as well as in the mobile phone itself so that your money is kept intact in the Cloud.
Admittedly, there are certain risks that exist due to possibility of data breaches, but still the security measures in mobile wallets can very ably keep your data away from cybercriminals. As a bitcoin user, you are not required to reveal your true identity for you to send bitcoins as we all know that security is always a major concern when dealing with money and finance
Moreover, with the blockchain technology, you can trace all transactions easily, which is a deterrent to cybercriminals who don't want to be traced. Blockchain here is securely managing this digital process of finance and payments, which can easily build your trust to go for it.
4. Investments in Bitcoins
In my view, it is better and good to invest in bitcoins because it is a faster way for various transactions, as well as the safest, low-fee payments method. Another great benefit of using bitcoin is that it can be a good alternative to gold and fiat money from the government.
Bitcoins do not have much of a history of credibility and long-term track record to back them, but they were not created for the purpose of normal equity investment. And that is precisely why more and more investors are drawn to the digital currency.
Bitcoin offers transactors a rival benefit; something they cannot find anywhere else—safer payments method that cannot be easily tracked back to you. Besides, the digital money can act as an alternative to national fiat money and traditional commodities like gold.
Again, although you can find some risks when investing in Bitcoins, but still this payments method is better in many ways compared to the traditional national fiat fund/money.
Conclusion
So, while cryptocurrency which is built on Blockchain technology is a novel idea, it is providing real benefits and solutions that will surely continue to revolutionize the future of payments.
If you are one of those who is looking to invest and spend on cryptocurrency, you will do well to do your research thoroughly and perhaps consult a blockchain development company that can make you fully aware of the procedures and benefits of cryptocurrency applications.