How Publishers are Adapting Some of Their Stories for Medium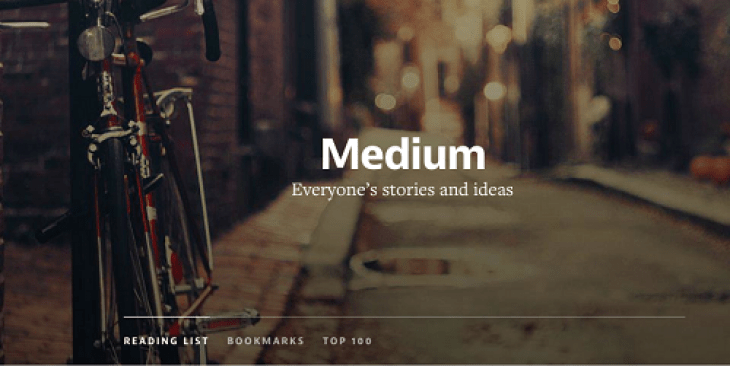 Medium, the cloud-based publishing system developed in 2012 by Twitter co-founder Evan Williams, has been focusing on building tools that help publishers enact an online distributed strategy. While there have been questions about whether Medium was a platform or a publisher, the platform (yes, that's what it more fittingly appears to be) is now making its mission to make publishing easier.
Earlier in 2016, Medium rolled out a suite of new tools optimized for bloggers, publishers, and organizations, and began giving a beta group of users the option to make revenue on the platform. The result of all these efforts has been that more publishers have transitioned their sites to Medium, including publishers like The Pacific Standard, The Ringer, The Awl, The Billfold and Travel + Leisure. Even legacy publications like The Washington Post publish their stories on Medium.
Michael Macher, publisher of The Billfold told Niemanlab.org:
"We moved The Billfold to Medium last December, so that property has been on Medium the longest, and we have the most information on how it's working. It's been a tremendous success, from both a traffic perspective and a monetization perspective. Since the move, we've seen a 10 to 15 percent lift in overall traffic, and some really strong monetization working with some custom programs with Medium and also working on our own programs. We're really pleased with the results on The Billfold end of things.
But moving your site or stories over to other people's platform does not come without its share of concerns.
Concerns about Migrating your Websites to Medium
One of the biggest concerns for many publishers is about losing control and not being able to fully operate all their websites. Some in fact worry that Medium is using publishers to build up its own audience so that it can monetize the audience for its own benefit later. The Ringer, for example, could bring another 10 million or so more unique visitors to Medium over time alone, probably.
On the other hand, other publishers who've signed on with Medium don't see cause to worry – at least for now. Many of them actually say they've had good results by publishing consistently on Medium.
"If anything, going onto Medium has better positioned us to do a distributed publishing strategy," Michael Macher, publisher of The Awl said in an interview. "Being able to seamlessly do Instant Articles, with very little tech lift on our end, allows us to publish across platforms in a better way."
"I would tell (other publishers who want to join Medium) to wait a bit," semi-joked Nicholas Jackson, editor-in-chief of The Pacific Standard, "so I can get exclusive access to the Medium developers for as long as I need it."
But how do these large publishers choose the stories to publish on Medium?
Criteria for Selecting Stories to Publish on Medium
In the era of owner Jeff Bezos, The Washington Post has been particularly enthusiastic about publishing directly to platforms. It was one of the few publishers to publish all of its content to Facebook's Instant Articles, and has also been adapting and migrating some of its stories to Medium.
"Like many organizations, we realize that we have to go to our readers, so when we identify a potential community of people, the first mission is to figure out how best to serve them," said Kayla Epstein, social media editor for the Post's national news section. "We want to know what they want to read and see and how to engage them on a deeper level."
Apparently, the Post is selecting stories very carefully based on what they think readers there want to read. They're not just copying and pasting.
The Post's Medium strategy has involved republishing existing content that works well on the platform. It has discovered, for example, that Medium lends itself well to advice columns, first-person accounts and stories about the social effects of technology—all of which it is publishing.
"Those are the kinds of stories we started with, but we're selecting them very carefully based on what we think readers there want to read. We're not just copying and pasting," said Epstein.
One thing that doesn't work well on Medium is straight news coverage. After experimenting with news stories posted to Medium and looking at the data, the Post stopped posting them. According to Epstein, one possible explanation why straight news doesn't work well on Medium is because people go there to read takes and explanation about news events, not basic reports on what actually happened.
Formatting and Styling Posts for Medium
Although the Post includes links in its stories to their full versions on washingtonpost.com, the stories are edited to stand on their own on Medium. It does not use clickbait headlines to tease and coax people to read its stories. Though tempting, the Post found teasing readers ineffective.
"We tried teasing people to the longer pieces and people don't really follow the links back," Epstein said. Instead, Medium users are more likely to click over to author profiles, which list their other work and let users follow them on Medium and Twitter.
Epstein added that the Post's short-term goal now is to increase the amount of original content it posts to Medium, which appear to do well, but that they've been happy with the reader reaction so far.
Overall publishers that want to attract readers on Medium should start with what already works on the platform (first-person stories), and avoid what doesn't (straight news). Obvious advice, perhaps, but that strategy has been effective and is central to The Washington Post's Medium strategy.
See Also: Evan Williams' Secret to Getting Rich Online.