7 Exciting Smart Kitchen Appliances You Will Love to Use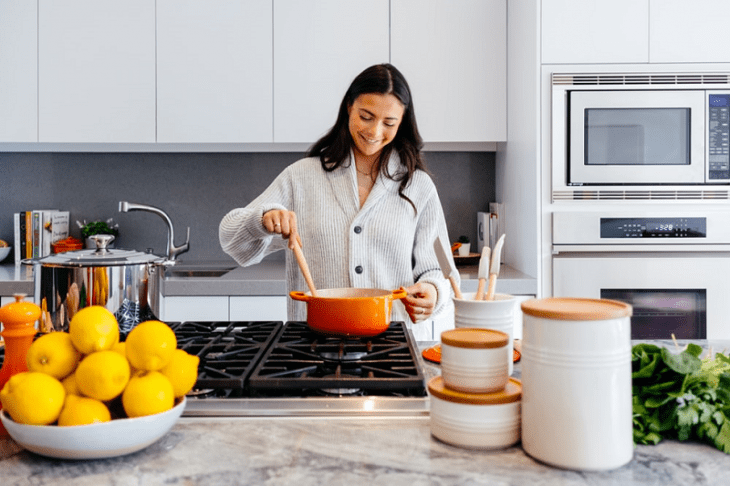 Preparing your own food at home is a healthy art form that inspires creativity and a lot of joy for many people. Still, it also requires accuracy and control if you want to make a meal that is finger-licking delicious, attractive and healthy. And that's why adding smart and necessary technology in your kitchen can make you a better, healthier and smart cook.
Admittedly, it can be a bit difficult to find the right smart devices for your home kitchen. However, with the right smart kitchen appliances, you can perform all the essential kitchen tasks more conveniently, faster and effectively, like monitoring the cooking process and adjusting various settings for indoors and outdoors work simultaneously.
Smart kitchen gadgets and appliances can direct you throughout the cooking process and unite traditional cooking tools with technology. They make your kitchen work seamlessly, with flexible schedules and comfortable routines.
You can even seamlessly track and automatically adjust cooking times, temperatures, and other kitchen tasks when preparing your food to ensure your meals are perfect.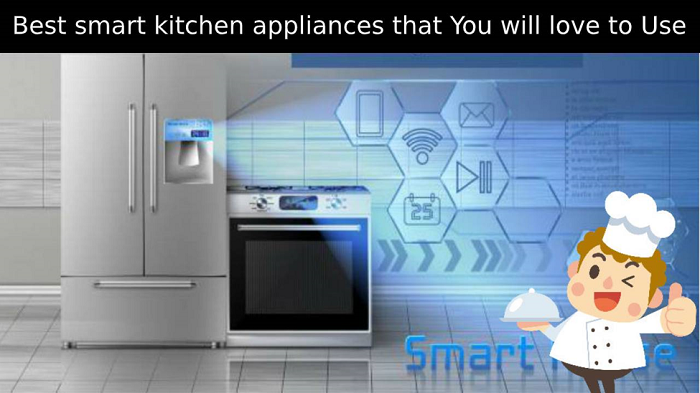 Here's are some of our favorite smart kitchen appliances, as well as best tips on how to manage the appliances to prepare healthy and tasty home-cooked food quickly.
1. Wi-Fi Enabled Smart Slow Pressure Cooker
When Crock Pot entered the market, it changed how many American families prepared for their dinner. It gives you the exciting ability to throw things in a pot, allow it to cook fast when you are at work, and come home to consume a scrumptious hot meal.
The Smart Slow Cooker, released by the Crock-Pot Company, now produces all the smart controls available through customers' smartphones.
It is powered by Belkin's complimentary WeMo app, which allows users to adjust cooking, adjust the correct temperature, and start cooking time and set alarms and alarms.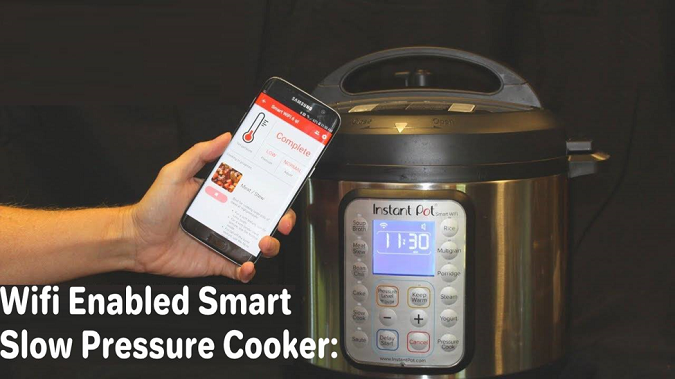 2. Quirky Egg Minder Smart Egg Tray
Egg Minder is a sleek looking smart kitchen gadget that, while it does not offer utility, has a lot of potential. It presents the idea of ​​a smart egg inventory management system that should not be taken lightly, considering our busy modern schedules today.
The Smart Egg Tray allows you to track good and bad eggs on the go and view the amount of eggs in tray through an app on your mobile device. It tells you how many eggs you have left in the fridge through the Wink smartphone program.
Featuring a built-in Wi-Fi chip to allow it to sync up with your smart device via the Wink app, along with its integrated Wi-Fi connectivity at the grocery store (drink by effects export card), Quirky Egg Minder's approach exceeds this rewarding purchase.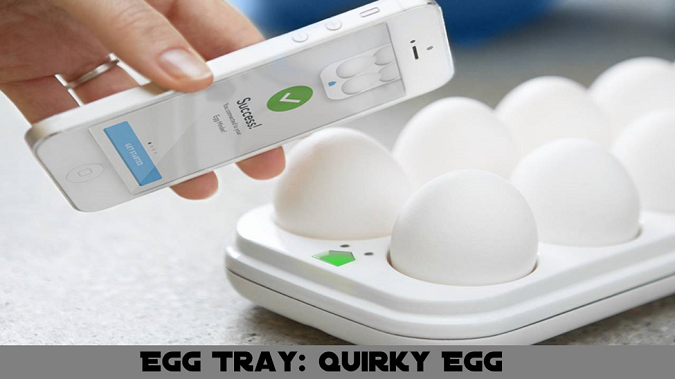 3. Smart Water Treatment Device for Water You Can Trust
Are you sure that the water drunk in your home is pure and the one used in the kitchen is clean? You probably already know that you should treat your water before drinking it.
The water coming into your home might not always be 100% germ free, which means it can be harmful to drink. Water supplied to homes can contain a lot of contamination, bacteria, lead, and so on. This can make you unwell and even cause serious waterborne diseases.
An easy and effective way to treat your water and safeguard against waterborne diseases is to install a smart water treatment device in your home, which is now easier than ever before.
Now, in this smart world you can go with the smart water purifier. These water treatment devices bring data-driven water quality analysis that is more accurate and convenient. The devices can use artificial cloud and intelligence computing to monitor and analyze water quality, while also enabling data, program, and information sharing in real-time.
The HydroLink ​Plus®Wi-Fi ​ smart water treatment ​gadget also ​allows you to ​monitor and ​manage EcoWater ​water treatment ​systems and ​water usage via ​a smartphone, ​tablet or ​computer from ​virtually ​anywhere inside ​or outside the ​home. ​
You can even access HydroLink ​Plus's intuitive and ​secure online ​dashboard ​that provides ​appliance ​information at ​a glance, such ​as cycle schedule, ​average daily ​water usage, ​water used ​today, and ​gallons of ​treated water ​remaining.
With ​that information, ​ homeowners can ​track water ​usage patterns ​in their home and kitchen, and adjust ​their habits to save ​water and money ​on utility ​bills. Pretty cool.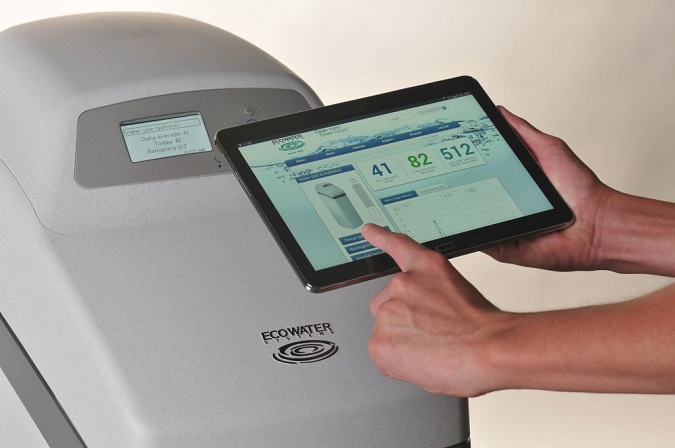 Image: Waternetwork.
4. Smart Scale for Perfect Cocktail Drinks
Become the party's resident mixologist with this smart scale that can ensure you get the perfect drink every time. Use the smart cocktail scale to quickly whip up a professional-looking and delicious drink in your home, and wow people.
This simple and innovative scale allows you to choose from over 400 carbonated drinks and measure the recipe so that your drink glass is perfect every time.
Shaking with a built-in timer will tell you that you have reached optimal dilution and refrigeration.
Cool.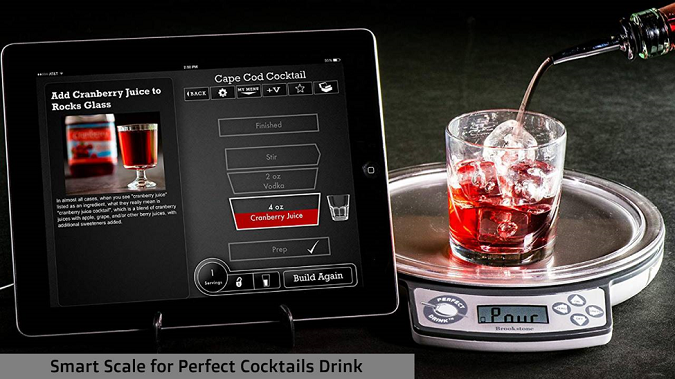 5. SmartPlate® TopView Food Recognition Device
The makers of SmartPlate food recognition technology describe it as the world's first Intelligent Wellbeing Platform™ that uses advanced photo recognition and AI technology to identify and analyze what you're eating and keep track of your food journal automatically.
With this revolutionary smart food app and its accompanying device "SmartPlate TopView," eating smart just got smarter.   
By simply snapping a picture of your plate of food, you can identify and analyze a whole meal in seconds with SmartPlate. Unlike a cumbersome food-scale-and-log system, where the consumer must weigh foods individually, SmartPlate inputs each food into a tracking application to achieve instant nutritional values.  
SmartPlate Top View enables instant testing, weighing and monitoring of up to 3 Different food—a complete meal! The whole system can even give you expert personal nutritional guidance.
If you need to prepare meals for people looking to lose weight, improve physical performance or just to portion control, SmartPlate TopView can be a great addition in your kitchen. Exciting.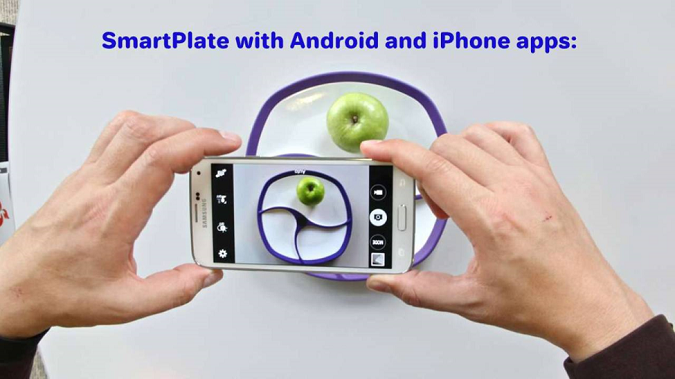 6. Smart Bluetooth Enabled Grill Thermometer (Meat Thermometer)
This thermometer has an external wireless array of 200 feet and sends you a notification and alarm once your meat reaches the set temperature.
The app allows you to you preset for your favorite dishes and can see real-time temperatures.
There is also a probe in the thermometer itself and an easy-to-read LCD can also be left in the oven at the moment. Pretty cool.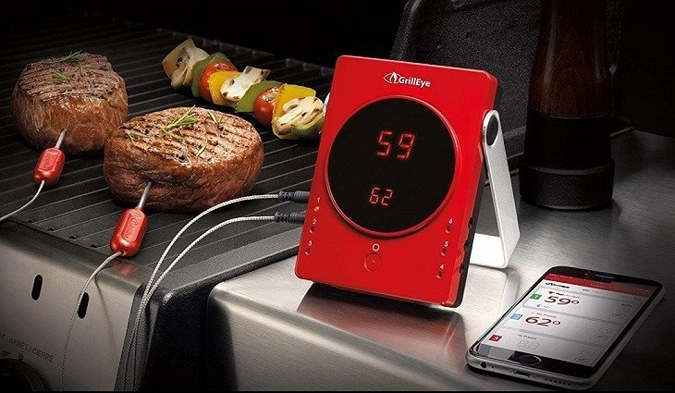 7. Smart Refrigerator for Planning Meals
Smart refrigeration or the internet refrigerator was one of the highlights of Liebherr at the International IFA Electronics Exhibition in Berlin. It allows you to monitor meals within your refrigerator without opening the door.
By sensing what kinds of products are being stored inside it and keeping a track of the stock through barcode or RFID scanning, smart refrigerators are a welcome addition in the kitchen. The information it collects is displayed in a unique application on your smartphone, tablet or computer.
With this device, your food will not go bad again since you get useful expiration notifications for your stored food. This way you can better plan meals based on the food products in your fridge and check the contents of your fridge from anywhere just to be sure.
Smart refrigeration also makes it possible to share photos and synced calendars across all your digital screens, as well as to control other smart home gadgets such as thermostats, doorbells, and lights with the help of stream audio via voice commands.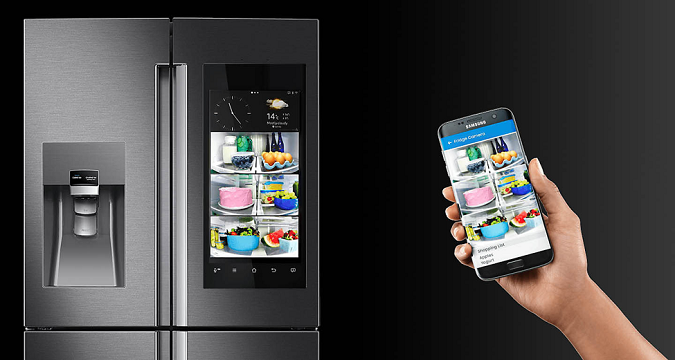 When you want to have an advanced and tech-enhanced kitchen, then those are some of the best appliances you can get for smart cooking and preparing delicious food with less effort.