Critical Care Nurses: What They Do & Advancing a Critical Care Nursing Career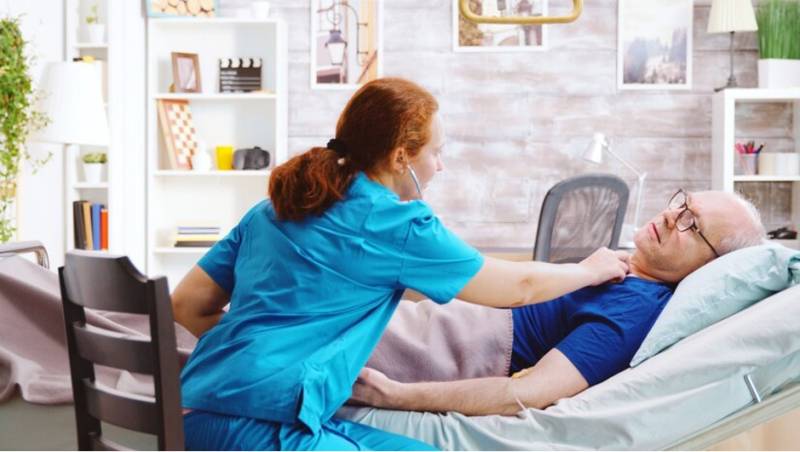 If you've ever been seriously ill in your life, or visited someone who was ailing in the hospital, you would have probably met a critical care nurse.
Often called intensive care nurses because of the unit they often work in, critical care nurses are highly trained professionals equipped to understand and care for people of all ages who are recovering from life-threatening illnesses or injuries.
Critical care nurses deliver some of the most specialized and skilled care in healthcare. In this blog, we'll explore what exactly critical care nurses do and how you can become one.
What critical care nurses do
Critical care nurses play a crucial role in providing intensive care to patients who are critically ill or experiencing life-threatening conditions. The care nurses have the same skills as registered nurses and may have additional training to care for acute or critical illnesses.
An average day for a critical care nurse includes supervising critical medical support equipment and caring for patients with life-threatening injuries.
Critical care nurses also collaborate with healthcare providers to manage medical treatment to patients and keep their family updated. They need clear communication in order to interact with other nurses and interdisciplinary teams to stabilize emergency situations.
Some of the tasks performed by critical care nurses include:
Monitoring and assessing patients' vital signs, such as heart rate, blood pressure, and oxygen levels.
Administering medications, intravenous fluids, and life-saving treatments as prescribed by physicians.
Collaborating with healthcare teams to develop and implement comprehensive care plans for critically ill patients.
Managing and operating advanced medical equipment, such as ventilators, cardiac monitors, and infusion pumps.
Providing emotional support and counselling to patients and their families during highly stressful situations.
Documenting patient care accurately and maintaining detailed records.
Skills that critical care nurses possess
Ability to quickly and properly access and treat patients
Critical thinker in a fast-paced setting
Excellent in communicating with patients and their family members
Physically prepared for extended, demanding shifts
Where critical care nurses perform their duties
Critical care nurses use their expertise and advanced training in diverse healthcare settings.  They often operate in intensive care units, but also provide care for emergency injuries or chronic illnesses in other healthcare facilities.
Patients in step-down units are those who don't require as much immediate care as those in the intensive care unit (ICU), but who also aren't stable enough to be transferred to a medical floor or home.
By helping other nurses via a teleICU, some critical care nurses can even work from home.
Intensive Care Unit
Assess patients' conditions, give medication, and keep an eye on life support systems to help patients' health to stabilize.
Adapt and maintain composure when faced with challenging circumstances that need critical thinking.
Discuss the best course of action for the patient with the interdisciplinary team and the patient's family.
Step-down Units
Critical care units assist in lowering the number of patients in the ICU by offering a transitional location to shift more stable patients
Offer care to patients who have undergone recent major surgery or yet require medical attention
Offer comfort to patient and their family members
Swift ability to react to any alterations in a patient's condition
TeleICU
Ability to develop a patient's treatment plan with other nurses and medical professionals through videoconferencing
Considering that teleICUs are a recent invention in healthcare, be open to new concepts and methods of patient care
Technical competence
Analytical thinking
How critical care nursing differs from other nursing specialties
Critical care nursing stands out as a specialized field within nursing due to the following factors:
Patient acuity: Critical care nurses primarily work with patients who require intensive monitoring, treatment, and interventions.
Advanced skills and knowledge: Critical care nurses undergo additional training and education to acquire the skills necessary to care for critically ill patients. They possess expertise in areas such as advanced life support, ventilator management, and complex medication administration.
Multidisciplinary teamwork: Critical care nurses collaborate closely with other healthcare professionals, including physicians, respiratory therapists, and social workers, to provide comprehensive care to critically ill patients. Effective communication and teamwork are essential skills.
High-stress environment: Critical care nursing can be emotionally and physically demanding, and nurses in this specialty must handle high-pressure situations, make quick decisions, and manage complex patient conditions while remaining their equanimity.
Why you should take up the role of critical care nurse
Because of the incredible amount of responsibility they carry when caring for patients in life-threatening situations, the career of a critical care nurse is both high-risk and highly rewarding.
Throughout the patient's stay, nurses must act as an advocate for unconscious patients and build relationships with the patient's family. These circumstances burden nurses professionally and may be detrimental to their mental health.
Despite carrying such a hefty load, critical care nurses have a lot of advantages. The critical care nurses get to work with experienced professionals and have access to the most modern medical equipment when they work in ICUs or other healthcare institutions.
A critical care nurse has a lot of options to specialize, earn higher salary, and look for higher-level jobs.
Benefits of working as a critical care nurse
The satisfaction of helping a seriously injured or ill patient recover
Chances to collaborate on projects with a variety of experts and teams
Only a small number of patients are cared for at once by critical care nurses
The chance to work with cutting-edge medical technology
Salary of a critical care nurse
The base salary for a critical care nurse in the U.S ranges from $72,500 to $95,900, with the average base salary of $82,800, as of June 2023, according to Salary.com. 
However, salary ranges can vary widely depending on many factors, including education, certifications, additional skills, number of years spent in your profession, location. You can get higher pay or an instant pay rise by simply moving to a new country.
In Australia, for example, the average salary of an ICU nurse is $87,245 per year, or $44.74 an hour.  The entry-level positions in Australia begin $78,964 annually, and experienced workers earn up to $119,264 per year, according to Talent.com.
How to become a critical care nurse
The easiest educational path to becoming a critical care nurse is the following:
Start by completing a nursing education program, which can be a diploma program, or a Bachelor of Science in Nursing.  
Pass a licensure exam, like the National Council Licensure Examination for Registered Nurses (NCLEX-RN) to obtain a nursing license.  
Get registered with the Nursing Registration body (such as AHPRA in Australia).
Work in settings such as medical-surgical units, emergency departments, or critical care units to obtain valuable experience and skills necessary for acute care nursing.
Pursue a critical care nursing course online that is specific to your area of practice, such as Graduate Certificate in Advanced Nursing (Critical Care Nursing) from the Institute of Health and Management (IHM).
Advance your career or take on specialised role by pursuing advanced degrees, such as a Master's degree in Nursing.
To practice critical care nursing in a country like Australia, you must be a qualified Registered Nurse and hold an advanced degree like Graduate Certificate Critical Care Nursing, a Graduate Diploma in Nursing or a Master of Nursing with a specialization in Critical Care or Intensive Care.
You can also sign up for IHM's Graduate Certificate in Advanced Nursing (Specialization Acute Care Nursing) or Graduate Certificate in Advanced Nursing (Specialization Critical Care Nursing).
Advancing your career in critical care nursing
Advancing your career in critical care nursing can involve various avenues. Some strategies to consider include:
Pursue higher education
Specialize in a specific area
Obtain certifications
Participate in professional organizations and network
Seek leadership roles
Stay updated and engaged in the community
In general, advancing your career in critical care nursing calls for experience, certifications such as the Graduate Certificate in Advanced Nursing (Critical Care Nursing) from IHM, and a deep commitment to lifelong learning.