Countries to Move to for an Instant Pay Rise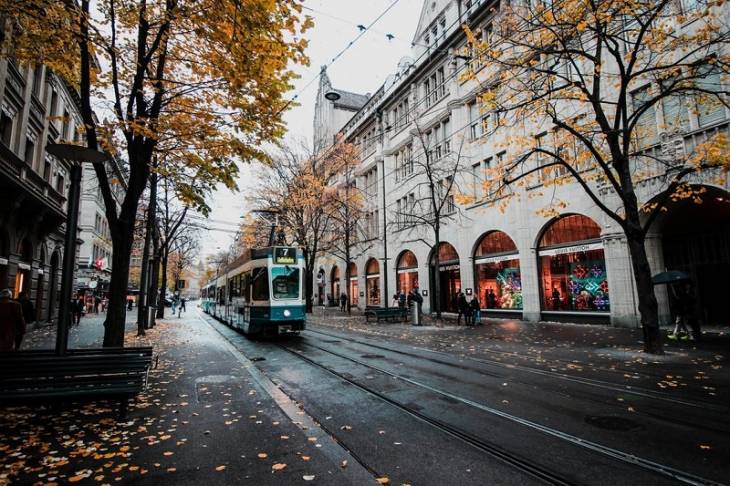 We've all been there. It's Monday morning. You're tired. Clock watching already. You've been in this role - and this rut - for years. 
Could moving away to another place give you the mental (and also financial) boost you need?
Sometimes the best way to get ahead in life and career is to move away – relocate to another city or country where there are better paying jobs and better opportunities for career development.
But where would be the best place for you to move for better pay, based on your career? Which country would you need to move to for the biggest pay rise?
Highest Paying Countries to Move To for Salary Rise


A study by international removals company 1st Move International took some of the highest and lowest paying jobs in the UK and calculated the average salaries for these roles across the 20 countries with the highest levels of UK expats. The removals company wanted to determine just how much more you could be earning for doing the same job somewhere else.  

According to 1st Move's study, on average, it's Switzerland which has the largest salary increase overall – a wallet-friendly 100.16% when compared to the same roles in the UK!
The USA comes next overall, with a 54.39% increase, followed by New Zealand on 46.65%.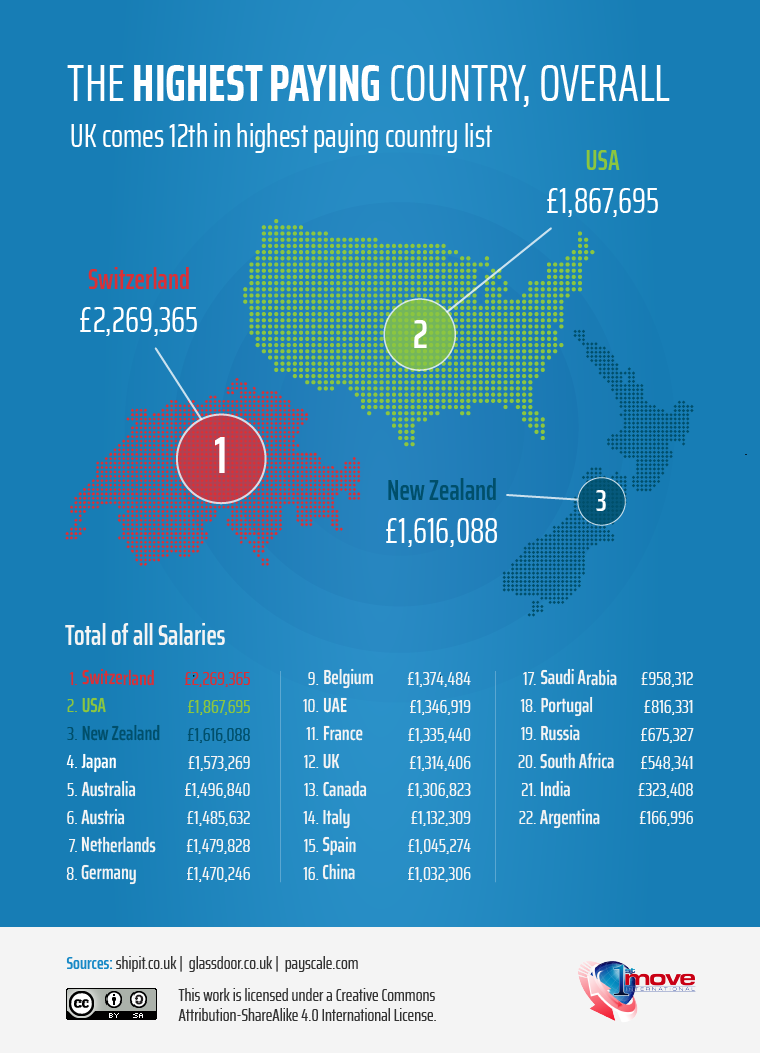 "It was interesting to see which countries came out on top," Jack Limerick, Director of Web Services at 1st Move International said of their findings. "Switzerland might not be somewhere you'd initially think to move, but it more or less came top across the board, as the best paying country in the world for most job roles. Certainly, something to consider if you're thinking of relocating!"
If you're looking to boost your salary however, maybe avoid Argentina, where salaries are a huge 84.21% down on those in the UK. India and Russia don't fare much better, with employees earning -79.03% and -48.27% less than their UK counterparts doing the same job.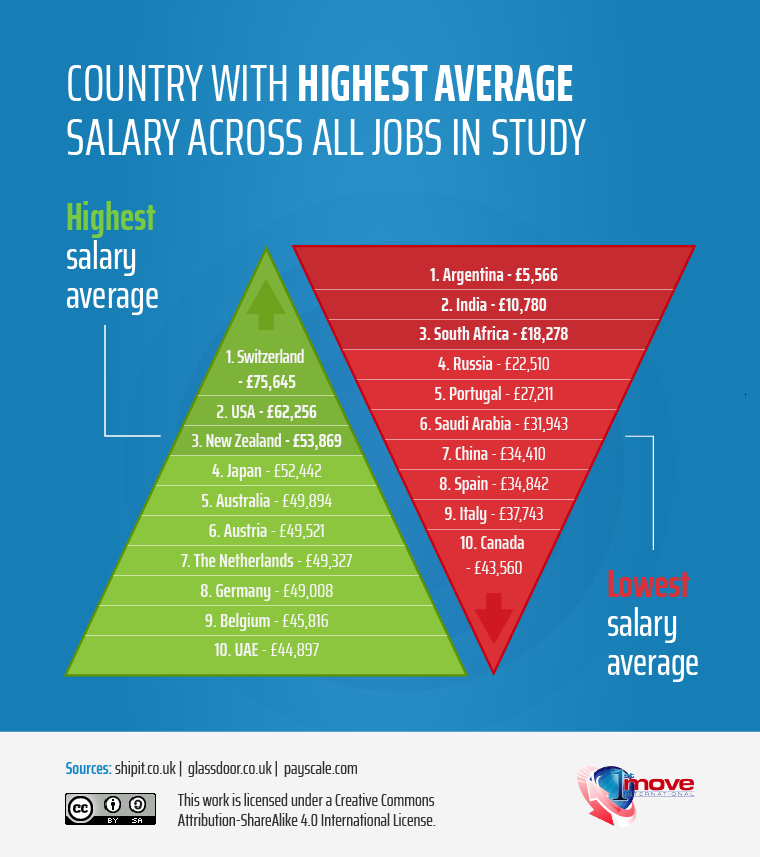 What else of the findings? What about specific roles?
Highest Paying Jobs Across Different Countries
If you're an Aircraft Pilot, for example, it may be worth considering China for your next career move – demand for new pilots has really taken off, driving salaries sky-high.
On average, pilots in the UK receive an annual salary of £60,052. This could increase up to £256,805.72 if they were to move to China - that's a huge 327.64%!
A recent Bloomberg article found that China needs to recruit 100 new pilots a week for the next 20 years to keep up with the country's growing demand for air travel.
China are offering giant salaries to lure expat pilots and fill this demand. Bloomberg highlights Giacomo Palombo, a former United Airlines pilot who is bombarded daily with offers to fly Airbus A320s in China - with Qingdao Airlines offering him $318k!
"There's no doubt that salaries vary across the globe," Limerick noted. "Whilst certain roles will roughly translate to the same amount of pay, the differences between global economies, industries and even populations all adds up, and can all have an impact on wages.

 

But what did surprise us about our study was just how different some salaries were from country to country," added Limerick. "There were some specific roles with very dramatic jumps - for example, the enormous £250k for pilots in China."
This study findings suggest that these countries have a real need to fill these roles, which maybe isn't reflected back in the UK or US.
It's not a surprise that salaries vary around the world, but the fact that you could in some cases, double or even triple your salary by moving abroad is pretty astounding." 
Top Countries for Instant Pay Rise - Inforgraphic
Here's yet another neat infographic by 1st Move International that highlights the overall key findings from their study, with highest/lowest paying jobs across ten countries and corresponding salaries. Check it out below for more details.