Bex Stirling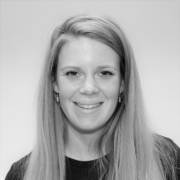 Bex Stirling is Senior PR Manager at Screaming Frog, an innovative search engine marketing agency offering search engine optimisation (SEO) and pay-per-click (PPC) advertising services.
After being told off one too many times during class for being too chatty, the careers department at school told Bex that 'there was this thing called PR, which involved lots of talking' and that 'she might be rather good at it'.
Fast forward ten years and Bex is happy to say she took her school's advice and worked for two global PR consultancies, specialising in the 'exciting' sectors of B2B tech, shipping and oil and gas, before settling down at the more varied world of Screaming Frog.
Bex loves the creativity that comes with working in PR and enjoys nothing better than implementing strategic creative campaigns for her clients and building relationships with key media across the B2B and B2C sectors.
When not at work (aka: chatting to people on the phone) Bex loves dancing and still continues to dance in various ballet and hip-hop groups across Oxfordshire. She also loves to sing and performs with semi-professional opera groups (but notably is always cast as a boy or a small child in every show).
Bex's greatest achievement in life is that she can still do the splits, even though she is pushing thirty and constantly reminded of this fact by the ever-so thoughtful, younger members of the Screaming Frog team.