25 New Year Quotes to Get You Fired Up for Success this Year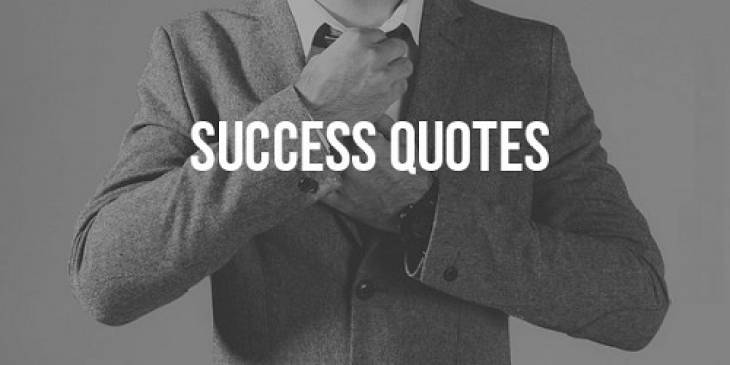 Now that the New Year is upon us, it's time to kick things into gear and get things rolling in style.
Here are energizing quotes to get you fired up about 2016, in the right mood for success and sufficiently motivated to reach all your goals this year. Enjoy.
1.  "And now we welcome the New Year. Full of things that have never been."
—Rainer Maria Rilke
2. "All our dreams can come true if we have the courage to pursue them."
—Walt Disney
3. "If you genuinely want something, don't wait for it--teach yourself to be impatient."
—Gurbaksh Chahal
4. "Take a leap of faith and begin this wondrous New Year by believing. Believe in yourself. And believe that there is a loving Source - a Sower of Dreams - just waiting to be asked to help you make your dreams come true."
—Sarah Ban Breathnach
5. "Though no one can go back and make a brand-new start, anyone can start from now and make a brand-new ending."
—Carl Bard
6. "Nature is infinitely creative. It is always producing the possibility of new beginnings."
—Marianne Williamson
7. "Smile in the mirror. Do that every morning and you'll start to see a big difference in your life."
—Yoko Ono
8. "Dates that come around every year help us measure progress in our lives. One annual event, New Year's Day, is a time of reflection and resolution."
—Joseph B. Wirthlin
9. "Genuine beginnings begin within us, even when they are brought to our attention by external opportunities.
—William Throsby Bridges
10. "If you are willing to do more than you are paid to do, eventually you will be paid to do more than you do."
—Anonymous
11. "I'm just thankful for everything, all the blessings in my life, trying to stay that way. I think that's the best way to start your day and finish your day. It keeps everything in perspective."
—Tim Tebow
12. "I hope that in this year to come, you make mistakes. Because if you are making mistakes, then you are making new things, trying new things, learning, living, pushing yourself, changing yourself, changing your world. You're doing things you've never done before, and more importantly, you're doing something."
—Neil Gaiman
13. "Every day is a new opportunity. You can build on yesterday's success or put its failures behind and start over again. That's the way life is, with a new game every day, and that's the way baseball is."
—Bob Feller
14. "Every contrivance of man, every tool, every instrument, every utensil, every article designed for use, of each and every kind, evolved from a very simple beginning."
—Robert Collier
15. "Start where you are. Use what you have. Do what you can."
—Arthur Ashe
16. "Start by doing what's necessary; then do what's possible; and suddenly you are doing the impossible."
—Francis of Assisi
17. "With the new day comes new strength and new thoughts."
—Eleanor Roosevelt
18. "You cry and you scream and you stomp your feet and you shout. You say, 'You know what? I'm giving up, I don't care.' And then you go to bed and you wake up and it's a brand new day, and you pick yourself back up again."
—Nicole Scherzinger
19. "We keep moving forward, opening new doors, and doing new things, because we're curious and curiosity keeps leading us down new paths."
—Walt Disney
20. "Old friends pass away, new friends appear. It is just like the days. An old day passes, a new day arrives. The important thing is to make it meaningful: A meaningful friend - or a meaningful day."
—Dalai Lama
21. "Let our New Year's resolution be this: We will be there for one another as fellow members of humanity, in the finest sense of the word."
—Goran Persson
22. "Good seasons start with good beginnings."
—Sparky Anderson
23. "From the end spring new beginnings."
—Pliny the Elder
24.  "It's time to say goodbye, but I think goodbyes are sad and I'd much rather say hello. Hello to a new adventure."
—Ernie Harwell
25. "Cheers to a new year and another chance for us to get it right."
—Oprah Winfrey
See Also: 25 Powerful Quotes about Perseverance to Inspire You