The Most Searched for Dream Wedding Destinations Despite COVID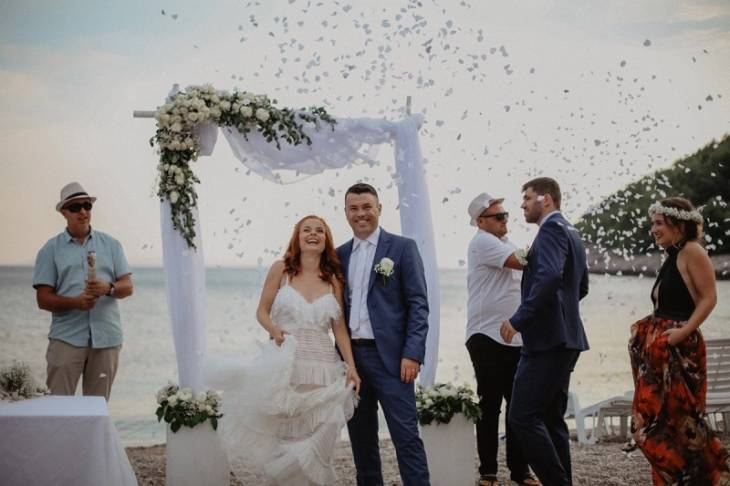 For those loved-up couples who were planning to tie the knot in 2020, the last year has been a struggle.
Plans have been aborted, reservations have been cancelled, and would-be wedding dates have been postponed.
All in all, it's been a disappointing year for any couple that was excited for their big day – especially those who were planning to jet off on a destination wedding. 
The Future of Weddings in This Year
The lockdowns have made this a year like no other, but that doesn't mean there isn't a bright future on the horizon for those who want to begin a new chapter together.
Now that the plans to ease lockdown have been laid out in m any places around the world, summer weddings are once again looking like a possibility. Since the 12th April, up to 15 people have been allowed to attend a wedding in the UK; by the 17th May, 30 guests will be permitted; and by the 21st June, it is hoped that all restrictions can be lifted. 
For those tying the knot in the UK, relatively normal weddings look possible in the not-to-distant future. For couples who were planning a destination wedding, however, plans might have to be re-hashed after government hints that foreign travel will be extended to the summer. 
So, why not bring your dream destination to you?
Top Dream Wedding Destinations and How to Recreate Them Locally
Despite travel restrictions, people have still been searching online for destination wedding locations throughout the year.
We've composed a list of the most frequently searched for wedding destinations and tips to help you plan how to re-create your dream location in the UK if you can't travel to the location. 
1. America
The most highly searched for wedding destination in 2020 was the USA (with an average of 9,406 searches per month). Luckily, America has fairly similar wedding customs to the UK, so it won't take too much re-planning to host an American-themed wedding on this side of the pond. 
To add some specific American touches to your special day, be sure to tweak the traditional UK ceremony a bit. For example, you could include the American tradition of holding a rehearsal dinner before the wedding. You could also host an American-inspired 'day-after brunch' and turn your special day into a weekend – a more common custom for American weddings.  
UK weddings tend to stay true to tradition, from seating plans to who walks you down the aisle. If you're looking for an American twist, feel free to challenge these customs a bit. You could go for a 'sweetheart table', where the bride and groom sit together instead of the bridal party table, for example.  
2. Italy
The second most pined-after wedding destination of 2020 was Italy. The country is well-known for inspiring great romances such as Romeo and Juliet, so it comes as no surprise that it's a popular place to dream of marrying your loved one. 
If you can't make it to Italy in person though, there's one key way of bringing an Italian wedding to the UK – the food. The wedding feast is central to the festivities in Italian tradition, so it's of great importance when it comes to recreating the Italian atmosphere. 
Be sure that your guests are greeted with an array of delicious antipasti upon arrival, and then serve up at least three (yes three!) primi piatti dishes (usually pasta or risottos) before the main course. 
Carry on the foodie theme by offering guests rice instead of confetti to throw over the newlyweds – an Italian tradition.
Finally, don't forget the Italian tradition of giving five sugared almonds to your guests to thank them for attending. In the Italian wedding tradition, the five almonds signify health, happiness, fertility, long life, and wealth.
3. Greece 
With an average of 6,974 searches per month in 2020, Greece came in at number three. The Greek islands may be a romantic and blissful place to escape to for your wedding, but many Greek traditions can help you bring a Greek-style wedding to the UK.  
For example, in Greece, it is traditional for the bride and groom to each wear a delicate white crown on top of their head, known as a Stefana crown. Although this tradition dates back to the 11th century, it is still one of the most important customs in Greek weddings.
After the priest places a crown on both the bride and the groom, the crowns are intertwined three times by the Koumbaros (wedding sponsor) to symbolise their union. 
Like with Italian weddings, many other Greek wedding traditions revolve around food. Baklava is a must if you're planning a Greek-style wedding in the UK. This sweet pastry flavoured with honey and nuts is an essential part of any traditional Greek wedding. 
4. Spain
Spain is another popular wedding destination for couples across the UK, with an average of 6,937 monthly searches in 2020. This year, however, it's all about bringing the Spanish experience to UK shores. 
There are many similar customs between Spanish and British weddings, but there are some distinct differences. For example, while in the UK it is customary to wear both your diamond engagement ring and your wedding ring on the ring finger of your left hand, whereas in Spain, it's traditional to wear your engagement ring on your left ring finger and your wedding ring on your right ring finger.
As well as the speeches and the gifts, there are some slightly more unusual Spanish wedding traditions that you may not have heard of. For example, some Spanish couples still recognize the tradition of the groom's close friends taking his tie, cutting it up and selling it to the guests as wedding souvenirs to raise some extra money for the happy couple. 
5. India
Indian weddings are famed for their bright festivities and rainbow color palettes. In 2020, India was the fifth most sought-after wedding destination, with an average of 4,470 searches per month. 
There are plenty of ways that you can bring the bold colors of a traditional Indian wedding to the UK and many traditions you can add to your special day to give a nod to India. Traditional Indian weddings typically last three days – much longer than what we're used to with traditional British weddings – and there are numerous different ceremonies. 
One must-do ceremony is the Sangeet party. This is when the families of the bride and groom (or just the women of the families) come together for an extravagant evening of song and dance. 
In Conclusion
Across the different parts of the world, brides and grooms are dreaming of their big days and dream wedding locations. Whether you choose to wait a bit longer to jet off abroad or decide instead to bring your dream destination to you, it looks like all weddings are set to be back on the agenda soon.