How to Choose a POS System for Café Businesses: Essential Features to Look For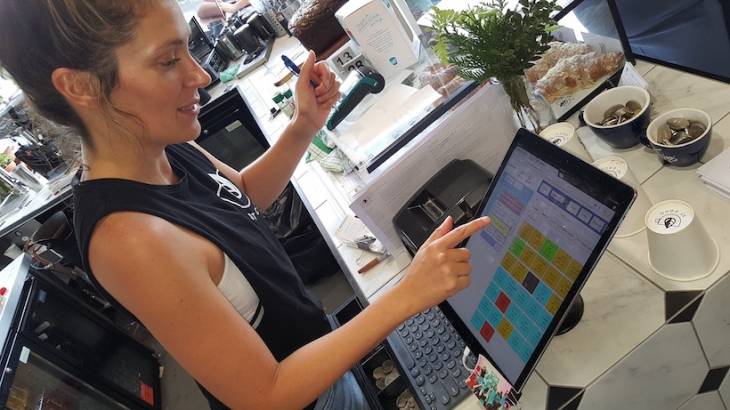 Research by the National Coffee Association (NCA) shows that 62% of Americans drink at least one cup of coffee per day. With this large pool of potential customers seeking their favorite beverage every day, café businesses are incredibly profitable due to their low cost of stock and high-profit margin.
However, cafés and coffee shops must have an effective payment processing system to accept cash, check, and card payments. This way you can to cater to all types of customers who need their coffee, reach a wider target market, and increase your business profits for success. 
A modern point-of-sale (POS) system that is entirely digital provides café businesses with several essential features for modern daily operations, regardless of whether it is a small, locally–owned café or a franchise of a large chain.
Different from the traditional cash register at a store, a cafe POS system can handle many different transactions, payment options, and also collect customer information that you can use to attract more patrons and promote the business's growth.
Key Features to Look for in a Café POS System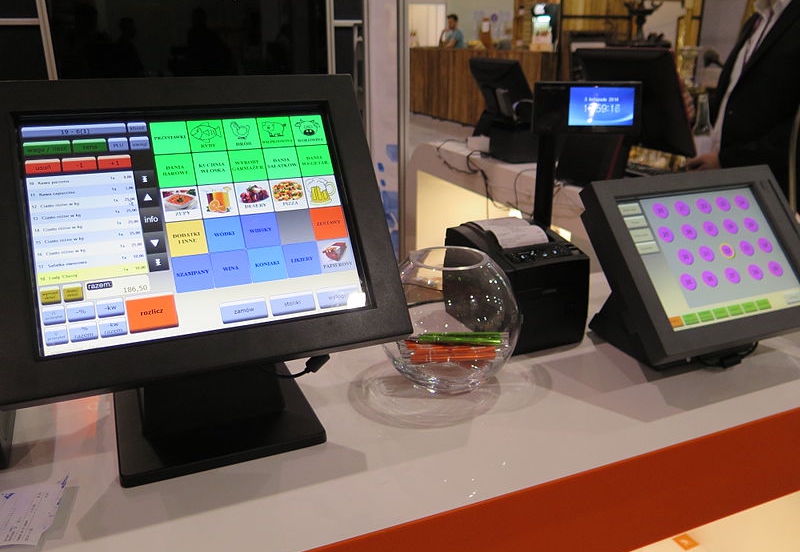 When it comes to café POS systems, each café has its own particular needs. But all owners should look for some common essential features when choosing a POS system:
1. User-Friendly Interface
Employee turnover at cafés is high, so it is important that the POS is user-friendly. Easy-to-use software means new workers can use the system's various functions without problems. This results in quicker training of employees and faster service for the customers.
You can customize the POS layout to personalize the dashboard and create shortcuts to the most-used features.
2. Inventory Management
Managing the inventory properly means you avoid having too little or too much of an item on hand. If you run out of a product, you may lose customers. If you overstock, the unnecessary items not only get in the way but may go bad before they are used.
The POS can monitor the inventory with every sale and notify you when a particular item needs to be ordered. If the software is integrated with the ordering system, the POS can automatically reorder the item.
The system can also tell which suppliers are raising prices by keeping track of each item's cost.
3. Tipping Options
Tipping is a critical aspect for employees in the food and beverage industry. POS systems with screens facing the consumer will offer automatic tipping options at checkout, so the diner does not have to figure out the tip themselves. 
For example, if the options on the screen are 15%, 20%, and 25%, the customer would choose the tip amount and sign the touch screen to finalize payment.
4. Detailed Reporting
A good POS system provides reports on several key aspects of your business operation from customer information to inventory levels, sales updates, business income, and staff information.
These reports present the data in ways to aid you in accurately analyzing current patterns and trends that can affect your decision-making and your business's success.
Detailed reports provide the information you need to increase profits by making data-based decisions.
5. Loyalty Program
Loyalty programs are an effective way to keep customers coming back. This builds a loyal customer base and also allows you to obtain more information about that customer.
The right cafe POS system can provide redeemable points, gift cards, and/or other incentives for customers who enroll in the loyalty program.
6. Payment Processing
Your POS must be able to accept payments in cash, check, credit card, and digital wallets. Ideally, the system will be able to accept all forms of cards – magstripe, chip, and contactless.
The more ways you can be paid, the more customers you will have. The more customers you have, the more payments you will receive.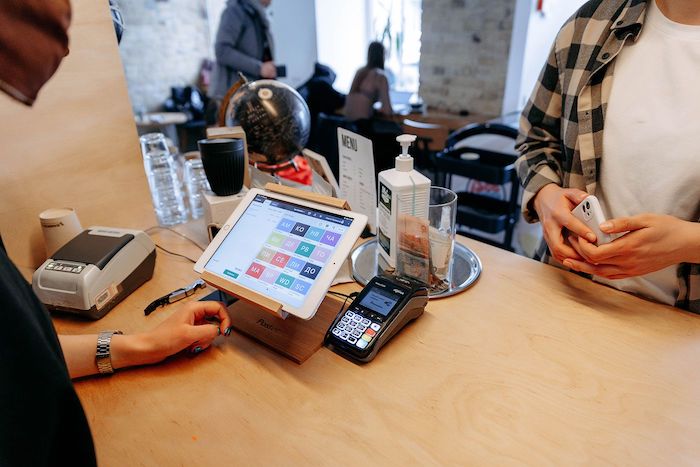 7. Customer Management
The more you know about your customer, the better the relationship you can build with that customer. The POS records customer information for each purchase they make at your cafe. It stores the information and builds a profile of the customer.
You can use this information on customers to improve customer satisfaction and develop a marketing strategy to improve or expand your business.
8. Cloud-based system
The best choice of a POS system would be a cloud-based version. It addresses all of the business's needs and provides more flexibility than one that is solely site-based. 
For example, with this cloud-based POS, you can customize the dashboard to provide quick access to the most-used functions and most popular menu items.
There are several terminal options for cloud-based POS solutions, including:
Touch-Screen Monitors
Self-Service Kiosks
Online Ordering
Table-Side Terminals
Handheld devices
The cloud-based options allow employees to move around the cafe and serve the guests. It is also good for businesses with multiple locations because it updates all of the systems each time there is a sale or reordered supplies.