The Connection Between Fashion and Art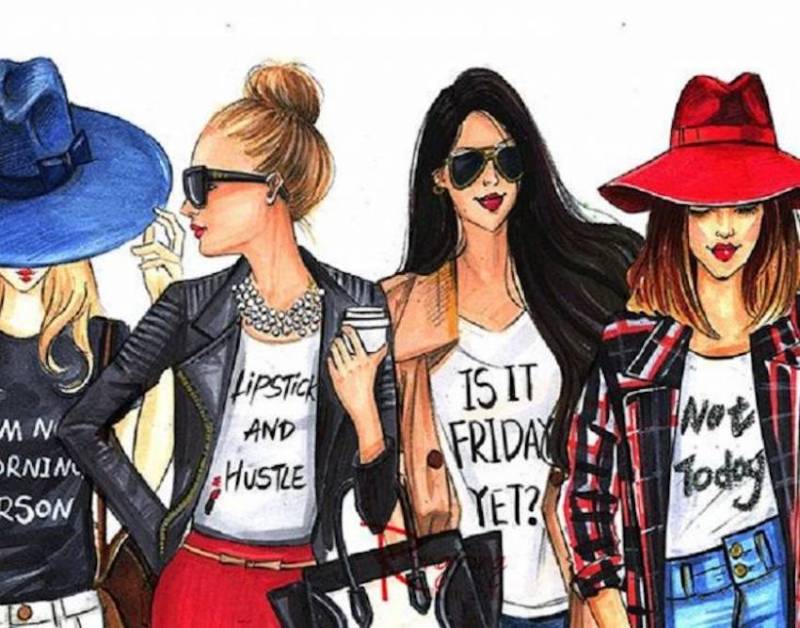 Fashion is deeply personal. Not only is our attire functional, but it's one of the best ways we can express ourselves. Through our wardrobes, we can truly be creative.
That is one of the many reasons why there's always been a deep connection between fashion and art. The natural link between the two means they were destined to come together.
Throughout history, we have seen art and style come together to create truly iconic pieces. Sometimes, we might not even realize that our favorite fashion pieces are the result of the two worlds colliding.
Fashion and Art's Creative Processes Crossovers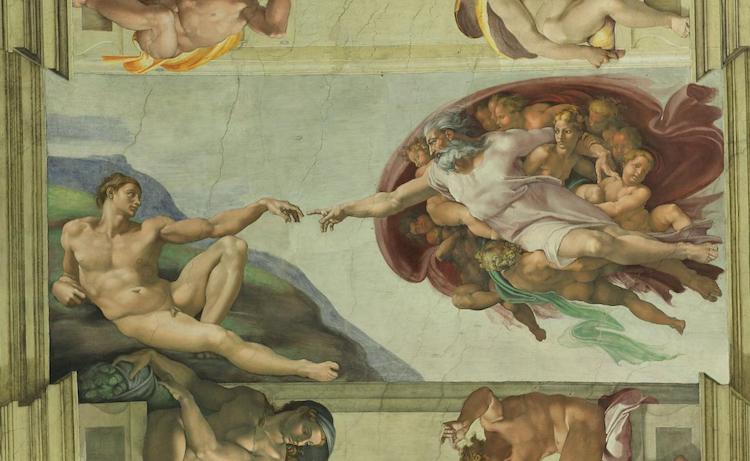 Michelangelo's Creation of Adam painting.
As a form of art, the process of creating fashion items always starts with a creative idea. Similar to any art piece, creativity is central to fashion creations.
The most renowned artists and fashion designers drew their inspiration from creative ideas and expressions. Michelangelo, the world revered painter and artist, took inspiration from the fight between science and church in his famous The Creation of Adam painting.
Similarly, the Chanel suit - designed originally by Coco Chanel in 1925 - was inspired by Coco Chanel's boyfriend's sportswear, believe it or not. The suit was modern, slightly masculine in its cut, and ideal for the post-war woman making her first foray in the business world.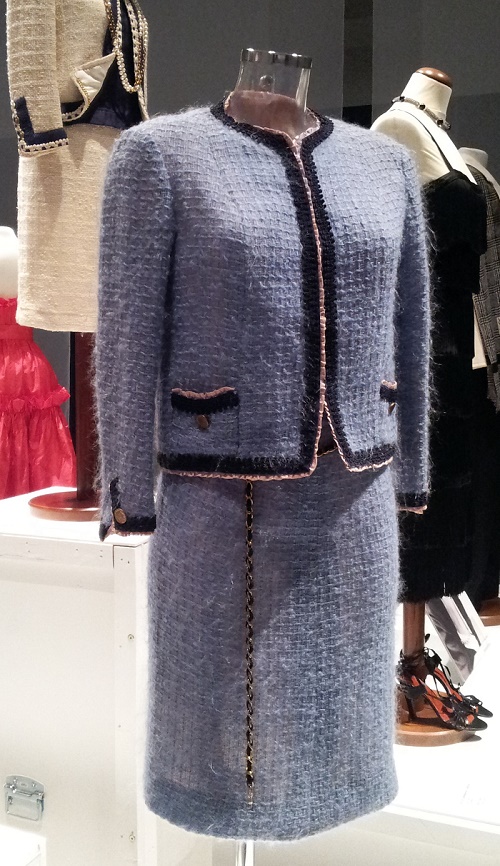 1965 purple Chanel suit.
However, for many, the first iconic art and fashion collaboration came from Elsa Schiaparelli and Salvador Dalí. Schiaparelli considered herself a surrealist just like Dalí and incorporated his designs into her work, most notably with her famed lobster dress designed in 1937.
Since that ground-breaking moment, we've seen many designers and artists team up to create amazing pieces.
4 Iconic Collaborations of Fashion and Art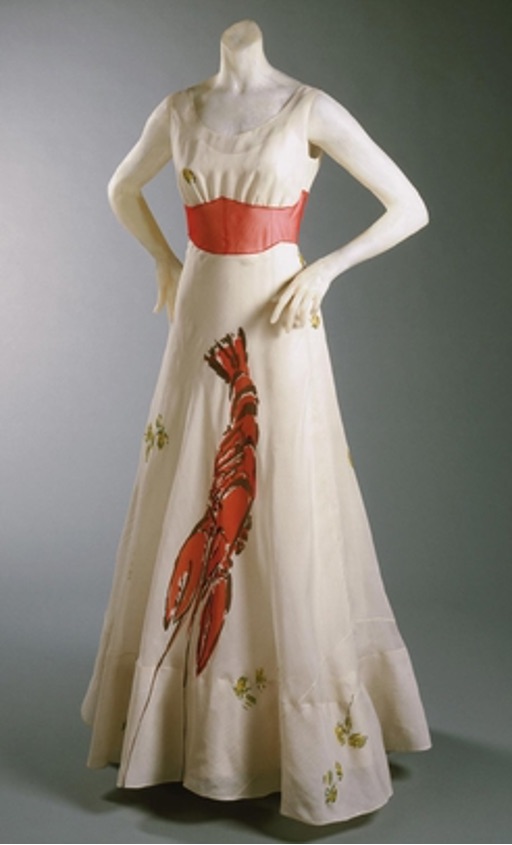 Elsa Schiaparelli's famed lobster dress. 
Some of the most iconic fashion and art collaborations to ever exist include:
I. Mondrian X Yves Saint Laurent
Both of these artists' pieces are instantly recognizable, but you might not know that one influenced the other. In fact, many of us associate Mondrian's leading abstract paintings with 1960s fashion instead of the artist himself.
Yves Saint Laurent paid homage to the artist by recreating his bold geometric prints on shift dresses in 1965, with the design considered by many as iconic 60s fashion. To do justice to the paintings' crisp, clean lines, Saint Laurent inlaid wool jersey on the dresses for a seamless finish. This heavy fabric choice gave weight to the garment, reinforcing its oft-recreated straight silhouette.
Saint Laurent was dedicated to blending art with fashion throughout his entire career in what he called a "dialogue with art." The press called this collection "revolutionary", and it has truly cemented its place in history. The original dresses are on display in museums across the world, including the Victoria and Albert Museum in London and The Met in New York. Saint Laurent also took inspiration from many other renowned artists, including Van Gogh.
II. Takashi Murakami and Yayoi Kusama X Louis Vuitton
Proving high fashion can be fun, the luxury French brand first teamed up with Takashi Murakami, a Japanese contemporary artist, to redefine the brand and make its bags appeal to a new demographic.
Traditionally, Louis Vuitton bags were earthy-hued, featuring a brown or black background with three trademark, neutral logos. Murakami breathed life into the brand, creating the iconic colorful design that was popularized in the early 2000s. The logos splashed on the bags came in up to 33 colors, and for many of us younger trend followers, this is how we know and love the brand.
Murakami stretched Louis Vuitton out of its comfort zone, emblazoning prominent cartoon characters from his work and bright, beautiful cherry blossoms onto the brand's traditional brown bags. So successful was this collaboration, Vuitton continued to branch out into new styles with Yayoi Kusama in 2012.
This collaboration was Louis Vuitton's boldest collection yet, with in-your-face primary colors featuring Kusama's trademark spotted patterns. Labelled "bold, playful, and not for the faint of heart" by Vogue, this collaboration drew plaudits from leading fashion houses as the brand stepped out of its comfort zone once again.
III. Beatrix Potter X Cath Kidston
Renowned for its hand-painted, unique prints, British fashion brand Cath Kidston has proven the collaboration of fashion and art can be accessible rather than limited to the upper echelons of haute couture. The brand, which produces kitsch, hand-drawn prints, collaborated with Beatrix Potter in 2021 to produce a gorgeously nostalgic Peter Rabbit print.
Blending its classic floral print with Potter's original sketches, the brand produced a beautifully sentimental print that it splashed across dresses, backpacks, pyjamas, and accessories. While recreating Potter's original motifs, the brand made the design its own by incorporating it into one of its most famous print styles.
This isn't the first time the brand has collaborated with iconic art characters; previously, it has collaborated with Disney artists to produce Alice in Wonderland and Bambi prints, tapping into multiple nostalgia-seeking generations of fashion lovers.
IV. Damien Hirst X Alexander McQueen
One of most recognizable modern collaborations came in 2013 as Alexander McQueen celebrated the 10-year anniversary of its iconic skull scarf by collaborating with artist Damien Hirst. Their shared love of skull iconography means this pairing was a match made in fashion heaven.
McQueen and Hirst launched 30 limited edition designs of the designer's skull scarf with designs from Hirst's Entomology series incorporated. The bold, busy prints feature skulls made from critters such as butterflies and spiders, with both artists' love of symmetry beautifully illustrated.
The collaboration was hailed as a huge success by a number of publications, who noted that the artists' shared aesthetic and love of "dark beauty", the natural world, and the fleeting nature of life and death made their collaboration perfect.
Conclusion
There's no doubt fashion is a form of art, but even when the two worlds are separate, they love to collide. From the creative processes crossovers to iconic collaborations, fashion and art are truly the perfect pair.
Trailblazers Elsa Schiaparelli and Salvador Dalí paved the way for future iconic collaborations and showed us that the coming together of these two worlds will never get old.

You might also like...