Mobile Commerce: The Stats & Future Projections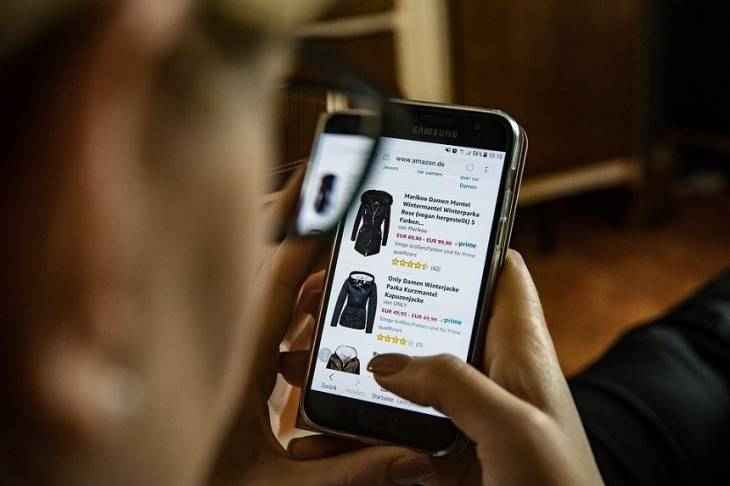 There is a saying that what goes up must come down, meaning that things change. But it seems this doesn't hold when it comes to mobile-commerce, or is this just a misconception or fad?
Well, looking at the trends cycle, M-commerce just seems to be going up and growing in popularity, and it is now touted as the "next big frontier" for businesses.
You might wonder if this upward trend will last, or you may just not know what to think about the rising trends in mobile commerce.
However, we can all believe the stats because numbers don't lie, right?
The continued proliferation of smartphones across all industries, coupled with the advancement of mobile e-commerce technology, and the enhancement of user experience, continues to drive growth in m-commerce at an unparalleled pace.
Mobile Commerce Statistics You Should Know
Some stats that show how hooked people are to their smartphones include one such as 59% of the world population has internet access.
Moreover, over 2.5 billion smartphone users in the world are spending over 3.5 hours per day on their mobile phones - and the user base is expected to rise to 3.8 billion by 2021.
The future potential of this market can be predicted by stats that show that a staggering $2.3 trillion of e-commerce transactions were made in 2017, with the mobile share of this standing at 58.9 percent, or $1.4 trillion, according to eMarketer estimates.
By 2021, mobile e-commerce could rake in some $3.5 trillion and then make up almost three quarters (72.9 percent) of e-commerce sales, per eMarketer.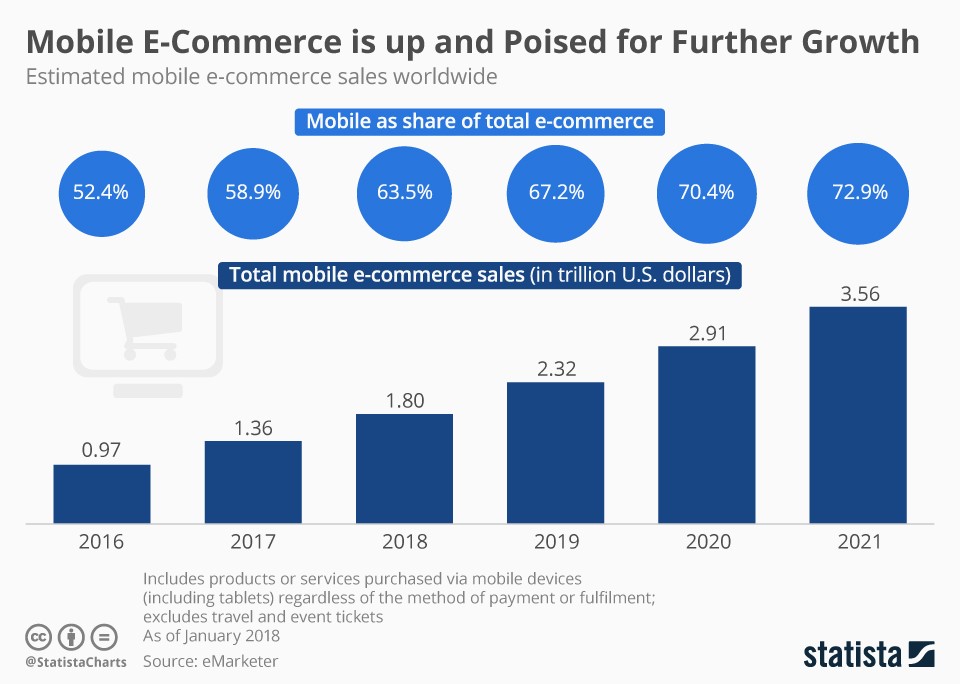 Top M-Commerce Markets
The market is expected to mark a Compound Annual Growth Rate (CAGR) of 27% by 2020-2025, with Asia Pacific being fastest-growing. Meanwhile, North America and European nations are expected to be the biggest markets for M-commerce revenue generation in 2020-2024, according to a study attributed to the Harvard Business Review.
China - $0.75 trillion
US - $0.21 trillion
UK - $63.8 billion
Japan - $34.5 billion
South Korea - $28.8 billion
Top 10 Players in M-Commerce Market
PayPal
Google
MasterCard
Visa
Gemalto
Ericsson
Amazon
Apple
Walmart
SAP
Types of M-Commerce Applications
A quick recap on what Mobile Commerce, or simply m-commerce, refers to is any form of transaction/service that is performed with the aid of a mobile device, such as a smartphone.
While the span of mobile commerce covers a wide variety of transactions, it can generally be classified into three main types:
1. Mobile Shopping
Its implementation is quite similar to e-commerce, but it can be accessed through a mobile device. Here, there are dedicated applications for each commodity one wants to buy, with social media platforms allowing in-app purchases or are connected to online stores. Examples of this are Amazon and eBay.
2. Mobile Banking
Not very different from online banking, although certain forms of transactions might be limited or exclusive to mobile devices. It requires a dedicated application to perform transactions.
3. Mobile Payment
In this case, digital wallets are installed on cell phones through an app that is linked to the customer bank account for performing any transaction when a request is raised. The transaction is completed by entering a passcode.
Coming back to the stats related to Mobile banking, over 1 billion phone users used mobile banking, according to research from Juniper Research. Also, 72% of the UK adult population will use a phone app for banking by 2023 and 62% of Europeans access banking services through a mobile app.
Out of 83% of shoppers who prefer shopping through smartphones, 87 percent of these consumers are involved in online product research before purchasing. And the conversion rate on a mobile app is around 3 times more what happens on a mobile website.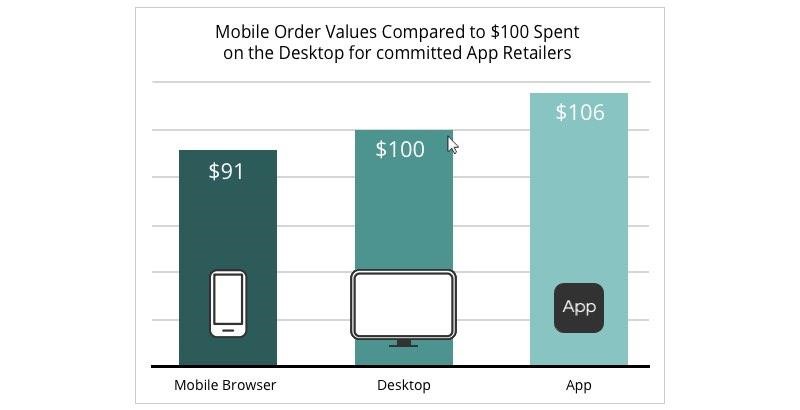 Magnitude of Mobile Payments Around the World
How huge the mobile payments around the globe is can be figured out by stats that show that around 2.1 billion people were projected to be using an e-wallet by 2019, with more than 66% living in the Asia Pacific Area. The most active age group is millennials with a user base of 35%, according to Braintree's 2018 Global Payments Report.
The use of digital payments continues to rise globally and change how the world does business.
Below is a graphic representation that clearly shows that payment made by the number of households through scanning a QR code has increased (and is increasing) steadily over time.
The e-payment total market cap is predicted to be $3,388 billion by 2022, per data published by Allied Market Research.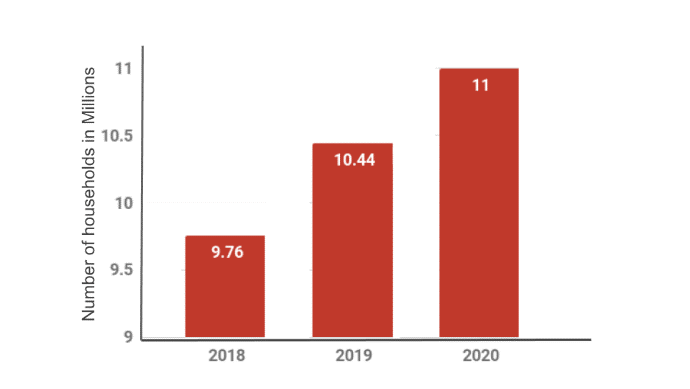 Integration of M-Commerce and Social Media
Social commerce rise is going to be inevitable as marketers are using social media platforms to drive traffic to e-commerce websites, and in turn increase their sales.
Some of the stats that prove the rise of social commers include stats showing that 85% of all e-commerce purchases for social media platforms are through Facebook.
Meanwhile, stores with a social presence have on average 32% more sales than the stores without, according to data from Bigcommerce. And 55% of the purchases are influenced by social media by pushing out Ads related to user search history.
Why M-Commerce is So Successful
Mobile commerce has changed the e-commerce sector by bringing in a number of key benefits and making it a perfect package for the end-users.
Some of the advantages are:
1. Accessibility
With a mobile device, users have an option to buy their favorite stuff from anywhere because we are always on the go in today's lifestyle.
2. International Audience
With over 2.5 billion smartphone users across the globe, mobile commerce has a great market to reach out to more audiences.
3. Easy and faster checkouts
The checkout process is smooth as they have multiple payment options wherein one just needs to enter credentials and it has done with just a click.
4. Better Customer Experience
Time and effort are reduced as the mobile apps load faster which is not in case of going all the way to an offline store.
5. Social media
Social Media is also a key channel for promotions in the eCommerce industry.
Forecast for M-Commerce
The future is bright for mobile commerce which is evident if we look into the predictions:
50% of all e-commerce sales, worldwide will be through m-commerce by 2021.
M-commerce revenues are expected to hit $423.24 billion by year 2022.
Estimated growth rate is 56.5 % of mobile coupon industry in coming years.
The predicted penetration of application users will be 17% by 2023.
53.9% will be the M- commerce sector share in the US retail sales by 2021.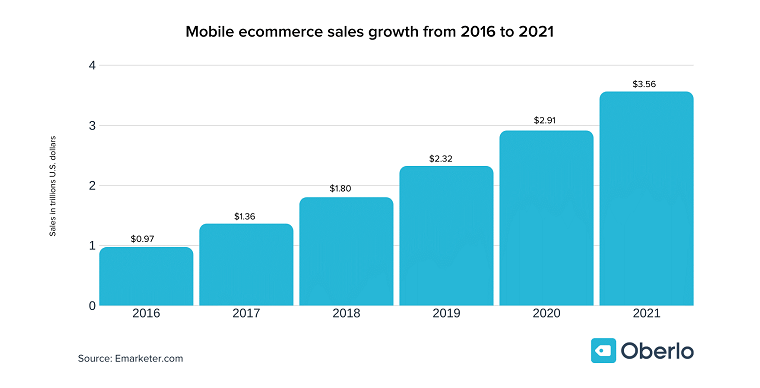 M-Commerce Future Trends
Some of the future trends that are expected to impact the industry and that you probably shouldn't missed out in the coming year as they are going to become more dominant include:
1. Augmented Reality (AR)
There is just one flaw with e-commerce that customers don't get to see and touch the product before buying it.
With the introduction of AR technology, customers can virtually try products in real-time.
2. Voice Search & Control
Virtual assistants like Google Assistant and Amazon Alexa are changing the trend of how customers do online shopping.
3. Multichannel Experience
Multichannel approaches include providing consumers with a seamless experience through platforms, channels, and networks.
4. Chat Bots
Live bots built into the mobile proving to be a game-changer in improving customer services.
5. Image recognition
People will be able to search for items on their mobiles using image recognition technology.
6. AI in customer support
7. Personalization and Customization
8. Crypto payment
Final Words on M-commerce & It's Future (Plus Infographic)
Mobile commerce will see a major change from its existing model, with the rise of emerging technology and trends. This will continue to push growth in the sector.
One of the best ways to keep up with the times and innovations is to create a mobile app for your eCommerce website. Vendors will emerge with new growth opportunities provided for mobile commerce helping you adapt accordingly and pave the path for the future.
So, with increasing mobile usage, as well as increased internet access for the general masses, m-commerce is poised to become the backbone for most business transactions.
Make sure your business goals and objectives accommodate mobile commerce and deliver great user experience so your brand can attain more sales and continue to succeed in the long run.
To learn more, here's an insightful Infographic by Magneto IT Solutions that offers a visual representation of stats and projections in M-commerce that marketers and brands should know.