Instagram Unveils IGTV to be the TV for Young Audiences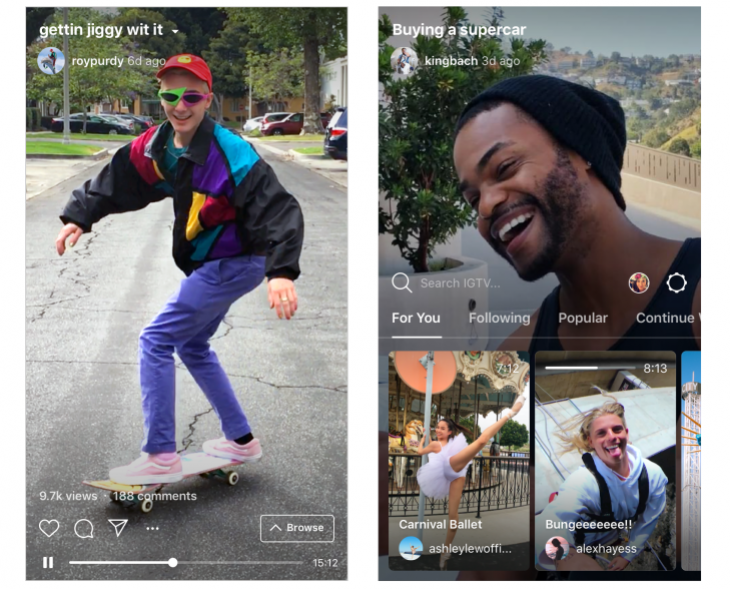 Instagram recently unveiled Instagram TV (IGTV), a new section of the Instagram app and new standalone mobile app specifically for long-form, vertical video. Speaking at an event in San Francisco, the Facebook-owned social media company said it is hoping the new video app will attract more young people to watch longer videos and TV shows on the platform.  
"IGTV is different in a few ways," Kevin Systrom, Co-Founder & CEO of the company that recently hit a phenomenal milestone of 1 billion monthly active users, wrote on the official Instagram blog. "First, it's built for how you actually use your phone, so videos are full screen and vertical. Also, unlike on Instagram, videos aren't limited to one minute. Instead, each video can be up to an hour long."
Essentially, IGTV is a rival of YouTube, Snapchat's Discover section, and maybe even Facebook Watch, the TV tab within Facebook's app. It is available for both iOS and Android.
Can IGTV rival YouTube?
When you have one billion app users, the sky is really the limit. Videos on IGTV will be displayed vertically and full screen, meaning the videos ought to be more optimized for viewing on a phone. Videos will also be longer, although it is not clear if they will feature original content similar to streaming services like Netflix. People will also be able to comment on IGTV videos and send them to friends, like you can do with YouTube videos.
One thing that could be an issue is Instagram's decision not to pay content creators for videos posted on the app. The fact that the company doesn't currently have plans for advertising could also be an issue. If you are a video creator considering publishing your content on IGTV instead of other platforms, these details are something to think about. YouTube, with 1.9 billion active monthly users, pays creators via a revenue share — and that's the main reason why it has such a strong hold on today's creators. Vine never paid its creators, and they closed shop.
However, things could change at IGTV in future. Instagram said they have plans to help video-makers monetize their content once it has a "good" number of videos on the app. Monetization of videos on IGTV will almost certainly have to do with ads. Facebook puts mid-roll or pre-roll video ads inside long-form videos on Watch, and splits the revenue with creators. It wouldn't be surprising to see a similar strategy employed on IGTV. IGTV might also use a paid subscription model to access premium content.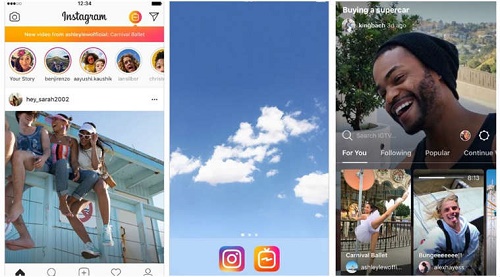 IGTV long-form, vertical videos.
IGTV star-making opportunity
Instagram is marketing IGTV as a star-making opportunity, as anyone 'will be able to become famous' using it. Brands might be able to use IGTV to reach an engaged audience, particularly Millennials and Gen Z-ers, and build brand awareness. As a video-maker on IGTV, you will also be able to post your content on Facebook Watch, which could help you reach an even bigger audience.
IGTV is currently paying established internet influencers and stars to help launch the app, including influencers like YouTuber Lele Pons, who has 25 million followers. If you are an avid Instagram user, you might have noticed some of your favorite influencers on the 'gram' also went live on IGTV with a video. These stars are generating revenue on IGTV through partnerships. You could also be able to generate some revenue with IGTV over time through paid partnerships and or traditional video ads.  
The possibility of building influence and revenue on IGTV is how Instagram is hoping to lure creators. Creators are the channels. When a user follows a creator on Instagram, their IGTV channel will show up for the user to watch as soon as they open the app. Ultimately, the success of IGTV will depend on its ability to lure creators to the platform and drive video views.   
"Instagram has always been a place to connect with the people who inspire, educate and entertain you every day," Systrom said. "With your help, IGTV begins a new chapter of video on Instagram. We hope it brings you closer to the people and things you love."