Best Places to Showcase (and Build) Your Creative Portfolio Online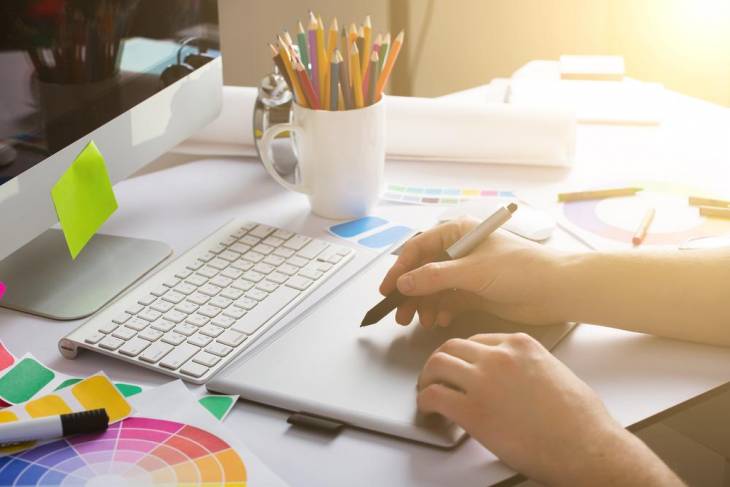 As a writer, artist, designer, author or other creative entrepreneur the internet provides a great opportunity to promote your talents. It is a place where you can showcase your creative work to a wide audience of potential clients. If done correctly, you may just land the right contacts and customers that will provide much-needed exposure and growth.
However, creating a professional and attention-grabbing digital portfolio that effectively communicates innovation and creativity can be quite daunting, especially if you have no knowledge of coding or web design. Fortunately, there are several online platforms where you can quickly compile and display a professionally designed web portfolio of your creative works.
Best Online Platforms for Building a Creative Portfolio
Here're top platforms for building and presenting an online portfolio that showcases your creative work and helps you land more clients.
DeviantART is a robust social network platform for graphics and video artists. On DeviantART, you will find photographers, animators, digital artists and even writers. This platform has several active groups where you can meet people who share interests in similar topics and genres.
DeviantART is the largest community of artists and lovers of art on the internet. Showcasing your creative talent on DeviantART exposes you to an audience of almost 30 million members. Not only can you sell your work there, but also collaborate with - and learn from - artists from all over the world.
Weebly is a simple platform founded by three friends for people to have an easy means of promoting their portfolio online. Weebly gives you the chance to create your own domain name, upload content, create forms and image galleries.
The platform offers users an easy 'drag and drop feature' and unlimited storage, depending on your plan. One advantage of Weebly is its SEO functionality. This means better ranking and visibility for your content. Weebly offers a free package and paid ones, which start at $8 per month.
Wix offers people a simpler way to showcase their creative portfolio via a website. You can create just about any type of website, without writing one line of code. It doesn't matter where your creative talent lies - be it photography, web design or graphics design.
Wix is able to accommodate any type of creative talent. As part of its features, Wix provides mobile compatibility, drag and drop website builder and over five hundred exceptional templates that you can use for your portfolio page. It also supports audio and video, photo gallery widgets and other features to help you display your creative media to the world.
You can also use Wix's ecommerce solutions to sell or promote your creative projects and work.
YouTube allows you to upload audio and videos of your work. You can create your own YouTube channel and share creative videos with friends and even strangers. This is a great platform for producers, animators, directors, videographers and talented people that can be shared via video.
YouTube is currently the largest video-sharing platform online and accounts for more than 1 million videos watched on the internet every day. This makes it the number one destination for creative professionals to showcase their creative portfolio.
Because YouTube is owned by Google, users enjoy the extra advantage of their videos being searchable via the search engine giant.
Behance is considered to be a high-level platform for professional artists to showcase their creative works.  However, it is more than just a meeting point for creative professionals.
Behance is also a very vibrant social networking platform, where you can post or view job openings, post comments and follow people with whom you share the same interests. Behance allows members to 'take creative control' and provides an opportunity for them to promote their portfolio widely and efficiently.
Behance caters to just about any kind of creative talent, including cinematography, animation, photography, fashion design, game design, graphic design and lots more.
Flickr is one of the most popular photo-sharing platforms on the internet. This photo and video sharing website, owned by Yahoo, is the perfect place for creative professionals such as photographers and videographers to showcase their creative work.
Many people use it as a portfolio website, because it gets them noticed by the public fairly easily. If you want to showcase your work to a wider audience, then you can change the user privileges under the creative commons license and remove restrictions on your content, giving it wider distribution.
If you have a portfolio website and need to have more control over its content, you should consider hosting it yourself. For instance, if you are looking for work and want to launch a website with your resume, job experience, projects completed and contact information, a static web hosting will do the trick.
Amazon Cloud Services or AWS delivers static content, such as images, videos, JavaScript and other simple files to your visitors, without any application code. This essentially provides creative professionals with an affordable way of showcasing their portfolio on their own site, without worrying about the technical aspect of managing a website.
Amazon cloud service makes use of distributed infrastructure, which means that visitors can access your portfolio from any corner of the world, without experiencing any downtime.
8. Self-Hosted Website
No matter where else you have your creative media displayed, you need to have a website of your own where you can showcase your works. A website has the advantage of allowing you to use your business name as a domain name. This improves the chances of building your brand and can serve as a landing page for the engagement you build from other platforms.
A quality hosting provider such as Hostgator or Umbrellar provides ecommerce facilities, which means you can actually promote and sell your creative media directly on your website. Whether you're a graphics designer, musician, writer or web designer, it's essential that you have a website.
Conclusion
While there are literally thousands of platforms for hosting and showcasing your portfolio online, any of those discussed above are a good place to start.
Do you know any online portfolio platforms that we've missed in this list? Share it in the comments section below.