Facebook Wants to Increase Ad Revenue Share for 'Watch' Creators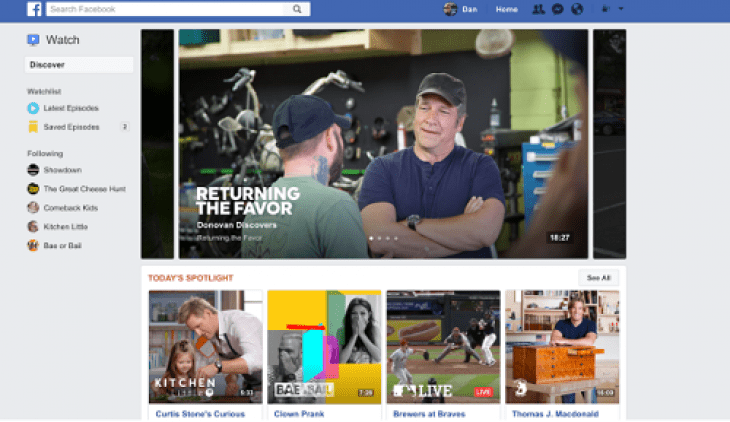 Facebook has slowly been giving content creators the tools to participate in (and monetize) the content they create on its platform. Now the social media giant is considering hiking the rate of ad revenue it splits with video creators on Watch, its nascent YouTube-style video destination.
According to a report on Adage, Watch creators may get a revenue rate increase to 55 percent as the social networking company ramps up its efforts to woo more creators for its Watch hub.  
Facebook Watch Ad Revenue Share Increase
Facebook Watch is the tech company's latest push to carve out a dedicated space on its service for videos of several minutes to half an hour or more. Similar to YouTube, Watch splits ad revenue with its creators. The more people turn to Watch, sit through entire shows even during ad breaks and go on to watch something else after that, the more is the potential to generate greater ad revenue for both Facebook and Watch creators.
However, despite Facebook's effort to increase views on Watch since it launched the video hub earlier this year, people just have not tuned in as expected. The "vast majority" of video views are still coming from the News Feed, Watch publishers say. But, in the News Feed, viewers typically scroll videos without sound, and can quickly scroll away if a commercial starts.
Many of the shows on Watch currently come from top publishers like BuzzFeed, Business Insider, National Geographic, Hearst and Time Inc. This is different from YouTube where the majority of content is from small independent creators. Facebook wants its 2 billion monthly users to think of Watch as an entertainment destination, with web series compelling enough to bring people back for weekly installments packaged with ad breaks.
However, because of the difficulty in getting exposure in Watch, the video hub's appeal to creators striving for commercial viability in digital video has been dismal. Facebook is thus considering improving its offering by increasing revenue share for creators with hopes of driving more video content and getting users to consume the videos in Watch.
News of this revenue share increase for creators comes on the heels of other recent news that Facebook is going to start running "pre-roll" ads — ads that run before you get to watch a video — beginning next year.
 Pre-roll Ads Coming to Facebook Videos
Facebook has tried to avoid pre-roll ads for a long time, but will nonetheless start formally testing this ad format next year, per sources familiar with the issue. The addition of pre-roll ads could help drive more revenue for creators. If you are a video creator, this may be a good time to try Facebook Watch.
Facebook launched Watch in August with mid-roll ads it calls "ad breaks." The company now says mid-roll ads won't appear until later in videos, and they'll only run on longer videos of at least three minutes. If you want to run more ads on your videos, Facebook advices you make longer videos that hold people's attention and help you build a thriving business on the platform.  
"While pre-roll ads don't work well in News Feed, we think they will work well in Watch because it's a place where people visit and come back to with the intention to watch videos," Angelidou-Smith and Abhishek Bapna wrote in a post announcing the video updates on the company's Media blog. "We'll start with six-second pre-roll with the goal of understanding what works best 
The social network also said it was updating its News Feed content ranking system to ramp up video distribution and monetization by popular publishers or other video content creators.
"With this update, we will show more videos in News Feed that people seek out or return to watch from the same publisher or creator week after week," said Angelidou-Smith and Bapna. "Over time we expect more repeat viewing and engagement to happen in places like Watch."
See Also: Facebook Launches a Standalone App for Video Creators.