How TV Viewing Behavior Changed During the Pandemic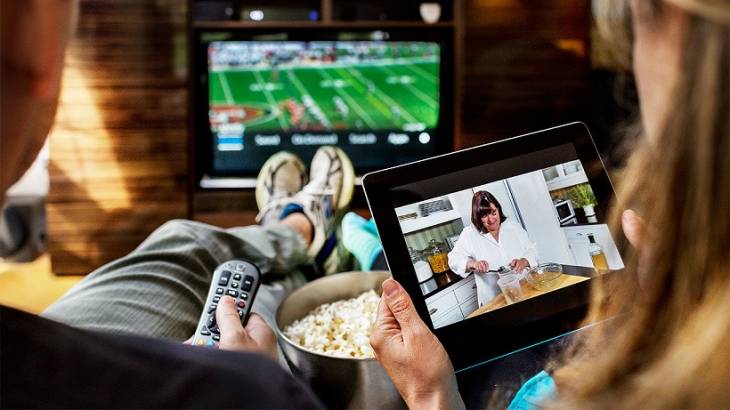 No one could've prepared for how the year 2020 was going to turn out. The US consumption of news, media and other entertainment services changed significantly during the COVID-19 pandemic period.
Media companies saw higher engagement from consumers, who chose from multiple streaming options offering engaging content in alternate packages. Be it video streaming, listening to music, or playing video games, paid subscribers had the time to make endless choices with flexibility in prices for new services.
According to a survey by Deloitte done amid the pandemic, US consumers had at least 12 paid media subscriptions. In addition, 27% of consumers, including 42% of Millennials, said that they planned to subscribe to even more services in the coming year.
Another study by ResearchandMarkets showed that OTT (over-the-top) players such as Netflix, Disney, NFL, and NBC had invested in creating OTT TV apps to bring their videos directly to the consumers.
With 40% of US homes already using a smart device to stream their content, the percentage of smart TV penetration increased significantly. They further added that more than 65-70% of US broadband households owned at least one streaming entertainment product, and 50% owned a smart TV.
As the country was under quarantine in 2020, watching TV became the most favorable medium and primary source for information, news updates, and entertainment. Along with the increase in viewership and streaming hours on OTT platforms, the content got more personalized to suit the viewers.
By mid-March 2020, there was a surge in TV viewing and by the end of the month, broadcast viewing had increased by 19%, while cable viewing increased by 73% compared to the previous year.
Reports by Nielson state that news consumption saw an increase in Q2 of 2020. 47% of the US consumers had watched or streamed news channels, making it one of the top most-watched genres. Other genres included comedy (40%) when viewers wanted a break from the news, movies (36%), or drama (30%).
The spread of the COVID-19 gave an opportunity to US consumers to try new methods to remain entertained throughout the pandemic period. During this time, 38% of the users tried a new digital activity or subscription for the first time. Some of these activities included watching live-streamed events, sharing a digital platform to view videos, viewing short-form video content, videoconferencing, and so on.
The majority of the consumers are keen to continue these trends even today post-Covid.
Statistical Study of the Shift in TV Viewing Behavior – Infographic
Below is an infographic highlighting the various other factors that contributed to the transformation of media trends, devices, and engagement patterns during the Covid pandemic.
The visual data also suggests how consumer behavior may alter in the future and evolve in the post-pandemic period.