How a Dad's Weaning Invention Became a £4 Million Business Success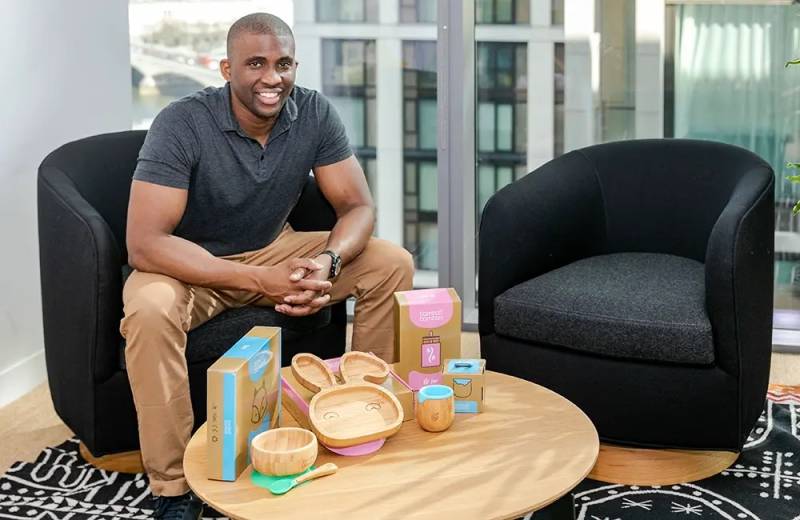 Joel Remy Parkes - CEO and Founder of Bamboo Bamboo, which makes plastic-free kid's tableware. The owner started it as a side hustle and turned the business into a £4 million thriving enterprise run by a team of just three people, including himself. Source: Bamboo Bamboo.
Have you ever been frustrated by the absence of a product or service that fits your or others' needs? Well, that's how my journey of starting a successful business began: solving a problem.
Here's how my simple business idea turned into a £4 million thriving enterprise.
Sustainability as a driving force
Every successful business starts with a good idea. Mine came as my youngest child was starting solids and I struggled to find good quality, eco-friendly bowls that would prevent food stains on my kitchen floor.
I grew increasingly tired and frustrated as everything on the market at the time was disappointing - all cheaply made and simply failing to do as promised.
I needed to do something about this, and it prompted me to consider creating my own good-quality sustainable plates and bowls with suction cups on the bottom to prevent spills and messes.
As I was developing the products, I kept in mind a magazine article that stated, "Did you know that nearly every piece of plastic ever created still exists?" This statement made a lasting impression on me and motivated me to create a product that simplified my life as a dad and was plastic-free and eco-friendly.
Bamboo Bamboo's line of cups made from silicone and bamboo. Source: Bamboo Bamboo.
Hence, why we decided to use bamboo fibre and melamine for our plates and bowls.
Starting with limited resources
I took the plunge in 2016 to create Bamboo Bamboo. I sold all the unused products and clothes in my house and invested the £2,000 I made from this into the business. We launched via our own website and Amazon. As everyone knows Amazon, I knew it was the place to be to reach a broad audience. 
At first, I was basically using my two-bed flat in Peckham, South London, as a warehouse. Switching to usingFulfilment By Amazon made our lives a whole lot easier. It is now responsible for a huge bulk of our sales and it gave us the ability to send products in record-breaking times, ultimately helping get our products in the hands of many people quickly.
Leveraging the power of Amazon and social proof
Bamboo Bamboo has seen significant success since launching, we've seen almost 100% growth year-on-year. Most sales come from Amazon (65-70%), which has given us the ability to expand into new markets quickly and easily across the globe, and allowed us to be known nationwide.
The power of reviews and word-of-mouth cannot be underestimated and are a huge part of our success. Social proof is how we grew in the beginning.
Many celebs use our products and post about them on their Instagram accounts. It's easy for people to find us on Amazon and see we are a 5-star product and have a best-seller badge. Living in an age where social proof is why people buy things, means we haven't had to spend a fortune on marketing.
We are now a successful global multi-million-pound business and have received numerous awards. We've partnered with brands like Peppa Pig and our products have been used by celebrities' children like Joe Wicks and Jenna Frumes.
In Conclusion
To become a household name, we sought to create something that can truly help people. My advice to any future entrepreneurs would be to start with solving a problem that's close to your heart. Once you are satisfied that your solution is unique and addresses a gap in the market, then it's all about leveraging the opportunities around you.
Look for ways to increase the exposure of your products and create a trusted brand, whether that's through selling on established online marketplaces such as Amazon or growing a targeted and engaged social media following on the likes of Instagram or Facebook.
Get the foundations right and you'll find yourself on a smoother path to a successful business venture.