Laptops Buying Guide: What to Look for In a Laptop for Working Online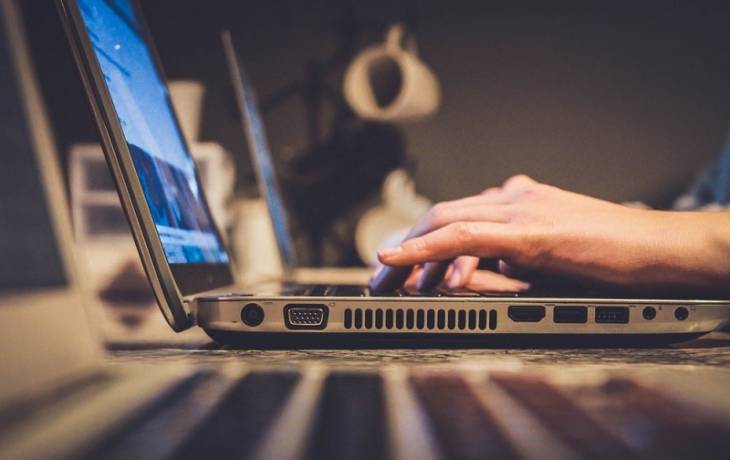 The world of technology has evolved drastically over the last few decades. Almost every aspect of our lives is dominated by technology. This has led to a market for online workers – a market that is ever growing with tons of advantages of working online.
You can get paid a lot of money for a job that is satisfying. Also, online work has the advantage of reaching a huge audience, which in turn means the possibility of scoring more online jobs.
For all these reasons, many people have taken a keen interest in online jobs, and they want to know what they need to start. One of the most important things you'll need is a good laptop.
If you are confused as to what type of laptop you require, then this article is tailored for you.
Factors to Choose the Right Laptop for Online Work
As you probably already know, the market for laptops is huge. The key to finding the best one is to know what to look for in a laptop that is best suited for online work.
Without further ado, let's dive into eight key things to look for when buying a laptop to get the best one for online work:
1. The right type of operating system (OS)
The three OS that dominate the laptop market is Windows, Mac and Chrome OS. They all have their advantages and disadvantages.
Mac is Apple's very own OS, so you expect high-quality performance from it. It is probably the best out there when it comes to security. For online work, however, Mac may not be your best choice. Mac comes built-in with only Apple devices, which are relatively expensive. The tight security of Mac also prevents you from fully utilizing your resources for online work.
Chrome OS, on the other hand, is very user-friendly, but the lack of features makes it unsuitable for online work. So, the best option would be Windows. Windows is constantly improving its more open, user-friendly interface. Although it might not be the most secure, it's a great option.
2. The size
The popular saying goes, "Size doesn't matter." When choosing the right laptop for online work, however, size does matter. Too big a laptop will be cumbersome to carry around. This reduces portability and is restricting when doing field work, which may be required in your work.
A very small laptop will make working long hours a nightmare. Can you imagine how much strain your eyes will undergo? So, which size is the right size for online size?
After researching a lot of options, I've reached the conclusion that 13-14 inches are the best size if you do online work. This size provides the perfect combination of portability, usability and performance.
3. Keyboard and touchpad
It goes without a saying that most online work require rigorous typing for long periods of time. What you need to look for in your laptop's keyboard is solid tactile feedback, plenty of vertical travel (distance the key goes down when pressed, usually 1 to 2mm), and enough space between the keys. These factors will ensure the most efficient typing and, of course, make your online work a lot more comfortable to perform.
The right keyboard and touchpad will immensely increase your work speed, which in turn means more productivity and success for you.
For the touchpad, look for the right amount of sensitivity. I personally prefer laptops that have a small touch pad included in the keyboard. This ensures small selections can be made without even lifting your hand from the keyboard. This again increases work speed.
4. Display
In the current market, you'll find laptops with very sleek displays. But however mesmerizing the display is, it doesn't mean it'll be the best for online work. Only in jobs like graphic design where displays with high pixel density (pixels-per-inch) may be nice to have is this an exception.
Most online work have little to do with pixels. So, my advice would be to just buy a laptop with an HD display, or if you have some extra funds then full HD.
Displays on the higher end of spectrum will simply not be price effective if the sole purpose of your laptop is typical online work. This applies for laptop graphics chips, too. if your laptop isn't going to be used for 3D designing or gaming, then graphics chips aren't necessary.
5. Battery life
This is perhaps the most important feature people that do online work overlook when buying their laptop. A thing about online work is that it requires long hours without interruption. Thus, fast power-drains needs to be tackled. Laptops that have a battery life of 8+ hours are best for online workers. Although this might require you to pay a little extra, it will be worth it in the end.'
6. CPU
The 'CPU' stands for central processing unit. In layman's terms it is the brain of the computer. So how responsive and 'fast' a laptop is impacted by the CPU.
The best CPU really depends on what type of online work you are doing, but in most cases an average Intel Core i3 to i7 CPU processor does the job for online workers.
I recommend intel I5 chip, this will probably be the most price effective chip for your online work. If you want to cut down your budget, you can browse through some of the low powered CPU, it will not make much of a difference for the everyday online works.
7. RAM
If you have a basic idea on what CPU is then you know what RAM is. In simple terms, RAM allows the CPU's power to be used. Therefore, both RAM and CPU are important for performance.
Most cheap laptops come with a 2GB RAM, but I would advise strongly to not buy these laptops, because they can be annoyingly slow. And a slow laptop speed will negatively affect your productivity and effectiveness when doing your online work.
I'd say 8 GB is the optimum amount of RAM you need to look for these days, but if you are tight on budget then you can go for laptops with 4 GB RAM. These will do the job just fine.
8. Build material
This might appear to some as a frivolous feature to consider when buying a laptop for online work. But in the long run the build material is extremely important.
For instance, the build material is important in deciding the durability of your laptop. A fragile laptop isn't recommended because online work can be rigorous at times, such that the sturdiness of your laptop is tested many times.
Besides, if you aim to make loads of money via online work then spending your hard-earned money on a new laptop every other time isn't a good idea.
Aluminum is probably the most cost-effective laptop material, but you can use your own discretion in picking a build material that you find best.
Pay attention to the brand of the laptop as well. a laptop from a well-known manufacturer will have certain quality standards that'll serve you well for your online work.
At the end of the day, it's how the laptop is manufactured that matters. So, a laptop from a well-known manufacturer will certainly serve you well for your online work.
Conclusion
Obviously, there are various types of online work, and each of those will have their unique laptop needs. Choose features that meet the requirements of the type of online work you do.