House Cleaning: Step by Step Guide to Cleaning Your Bathroom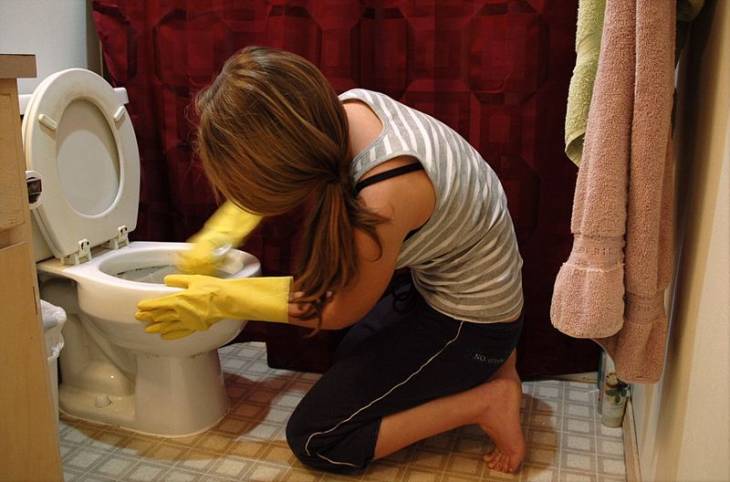 A woman cleaning her bathroom toilet. Photo: Emergency Brake / Wikimedia Commons
The bathroom is probably everyone's least favorite room when it comes to cleaning. Getting rid of all sorts of buildup on the surfaces and different parts of the bathroom can take time and even make you feel icky. But it's a necessary chore that has to be done.
Fortunately, there is a way to clean your bathroom efficiently and fast. You may want to wear a mask and a pair of gloves while cleaning.
Here is a step by step pro guide to cleaning your bathroom.
Step 1. Take out all the items in your bathroom.
You need to empty out the bathroom before you begin. Don't try to remove the items as you go because you will not get your bathroom cleaned thoroughly when you do that.
Take out all the products from the bathtub and shower as well as the ones on the counter and sink. You also need to toss the rugs and used towels outside.
Everything must go, except the ones that you can't move.
Step 2. Begin dusting and sweeping.
Grab your duster and start dusting from the topmost parts of the bathroom, including the ceiling with cobwebs. Use a long-handled duster to reach the cobwebs and other high places that you need to dust.
You may need to use a ladder to remove the cobwebs that you can't reach. Don't sweep each time you dust because it can eat a lot of your time.
Finish dusting first before grabbing your broom to start sweeping. You can also use a vacuum cleaner to remove the dust, dirt, and debris on the floor.
Step 3. Use a cleaning agent to clean the bathtub and shower.
You may apply an all-purpose cleaner to your bathtub and shower if you are cleaning your bathroom on a regular basis. Use the all-purpose cleaner if you are certain that you kept any gunk or dirt from building up.
You may use an acid-based cleaner to remove any stubborn buildup. This usually happens inside the shower door and shower track.
Let the area or part with serious buildup soak in the cleaner for a while to loosen up the dirt. Only do this if applicable.
Step 4. Proceed to clean other surfaces.
Put some all-purpose cleaner on your clean rag, sponge, microfiber cloth, or other cleaning tools that you can use to wipe the different surfaces.
Wipe the window sills, blinds, doors, baseboards, shelves, towel racks, and others. You need to start from the top of the room going to the bottom, and starting from left going to the right.
Step 5. Prepare the cleaning solution that you will use on the floor.
Get a bucket and fill it with warm water. Pour in the recommended amount of cleaner according to the package of the cleaning agent you are using. Mix it well and set aside.
You will use this later to mop the floor. You need to prepare this beforehand while waiting for the buildup and gunk on the bathtub and shower to loosen.
Step 6. Finish cleaning the bathtub and shower.
By now, the cleaner already did much of the work and all you need to do is scrub away the loose buildup and dirt on your bathtub and shower.
Make sure to thoroughly clean the floors, walls, and other surfaces of your bathtub and shower area before rinsing it all. You should not miss a single spot.
Step 7. Clean the countertops, faucets, and sink with an all-purpose cleaner.
Apply some all-purpose cleaner on countertops, faucets, and sink. Get a clean cloth and wipe them clean. If there's a stubborn buildup in the soap dish or sink, you can use a scrubby sponge to scour the buildup before you wipe it clean.
Spray some glass cleaner on the mirror and use a newspaper to wipe it to prevent lint marks, which you can usually get from cloth rags.
Use a damped cloth in removing the dust in the faces of the cabinets. If your cabinets have glass doors, you can use a glass cleaner and newspaper to wipe them clean.
Step 8. Scrub the toilet.
If you give the inside of your toilet a dose of scrubbing each day, you only need to use the all-purpose cleaner to get things done. In case there's a buildup, just use a cleaning agent that's suitable for toilet use.
Spray or sprinkle some cleaning agent on the specific area and use a toilet brush to loosen the buildup. Flush the toilet to rinse.
Spray some all-purpose cleaner on the outside of the toilet and wipe it with a clean cloth.
Step 9. Begin mopping the floor using the solution.
You can now immerse your mop in the bucket of the solution that you prepared earlier. Wring the mop to remove the excess water. Press it onto the floor and start cleaning.
You may need to make a few more passes to make sure that the floor is truly clean. Submerge the mop into the bucket and wring it each time you need to make another pass. Make sure that your mop is not adding another layer of dirt every time you use it on the floor.
Once the bathroom floor has dried, you can put fresh rugs and newly cleaned trash can inside the bathroom.
Step 10. Return the items that you removed earlier.
You can now return all the other items that you removed earlier. Make sure that you wiped them clean, and you return them to their original spots properly.
If you have a glass door, spray some glass cleaner all over it and wipe it clean using a newspaper.
Bonus Tips
To make sure you clean more efficiently in less time, you may implement these additional tips in the succeeding days:
- Place a hand-held vacuum in your bathroom that you can use to pick up hairs and other dirt on the floor. You need to make sure to keep it safe and out of children's reach.
- You may install a hair-catching device in your drain and sink to avoid clogging and buildup.
- To avoid watermarks from ruining your shower walls, keep a squeegee around and use it on the wall after you shower.
- Store away the small items in baskets and bins to keep them from rolling around.
Keep all these tips handy, and you can never go wrong.
If for some reason you cannot do it all yourself, you can always consider getting help from a cleaning service, for example, if you don't have much time to clean yourself. They'll do a professional cleaning job for you.