How to Make Beautiful DIY Outdoor Curtains from Drop Cloth: Best Tips and Strategies
An outdoor space is the perfect place to sit and enjoy a cup of tea or coffee before you start your day, or relax during the day. You can even use your outdoor space to entertain friends and family and just have a good time together. But if the sun is too hot, that can prevent you from enjoying the outdoor space.
Luckily, outdoor curtains provide the sun protection and privacy from peeping neighbors and other prying eyes that you need. The curtains create an elegant, flowing look as they move in the breeze, creating a beautiful dappled effect while also letting some sunlight into the space.
You may be surprised to know that you can make the best outdoor curtains using simple drop cloths, but in a strategic way.
Here are a few tips and tricks that you should follow. These are budget friendly solutions for patio decoration.
Budget Friendly Solutions for Patio Decoration
You will however need some specific supplies to make the best use of the drop cloths.
First, you should get some medium weight drop cloths. You will get these in the paints section of a home improvement store. These are cheap and therefore will make a cost-effective option.
Then cut one in half because these are bulky. However, you will need to know the measurements accurately so that you buy and cut the drop cloth according to the size required.
As for the supplies, you will need spray paint of different colors such as lagoon, key lime and seaside. In addition to that, you will also need:
Painters tape
Paper bags and
Heavy washers to weight the curtains.
Once you are ready with these supplies, you will need to take measurements of the space you want the outdoor curtains. Create the bottom hem and paint your stripes using the spray paint and water-resistant colors. This will prevent molds growing on them.
Once you are done painting, hang the curtain from a DIY curtain rod.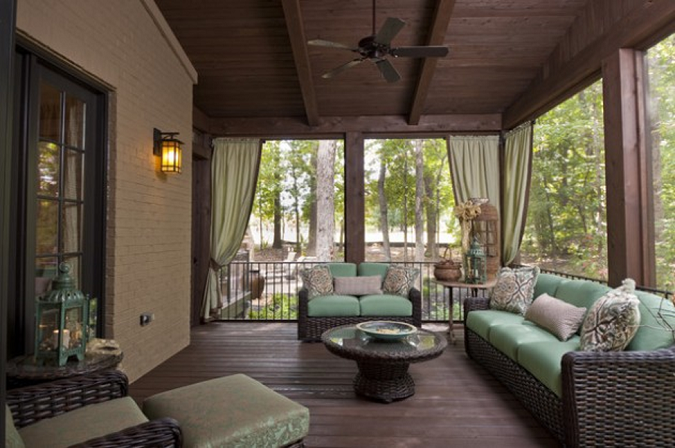 Image: Source
Other things to consider
There are a few other specific things to consider when you design your outdoor curtains apart from the canvas drop cloths and the spray paint. These are:
A thick painter's tape
Few drapery clips and
Rope
You will also need large eye screws. In addition to that, you must pay special attention to the seam and its measurement. It should be down the middle and run vertically instead of horizontally.
Also make sure that you open up the cloths first so that it is uniform before you paint. When it comes to hanging the curtains make sure that you use something that will not rust. An aluminum rod may be used but super salty air rope could be your perfect choice. This will provide a natural flair and elegance to your curtains.
You can add to the beauty and appeal by adding some fancy captain's knots but make sure that these are as taut as possible. Ideally, a little tie halfway will do the magic.
Make sure that the curtains provide the required sun blocking that you need and at the same time will not be overbearing or dark.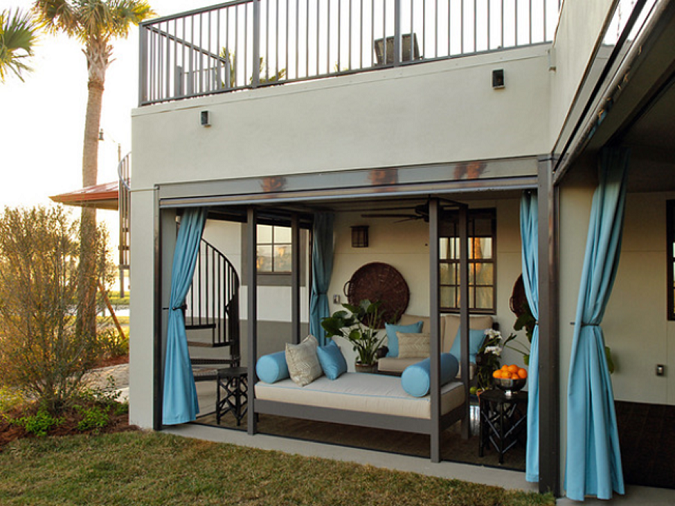 Image: Source
Important elements to determine
When you hang your outdoor curtain, there are a few specific things that you should determine, such as:
You should determine the placement of the rod to hang the curtain.
You must also determine the length of the rod so that it holds the curtain properly and makes it look evenly spread when drawn.
You must cut the rods and thread the pipes as well and even paint it according to your choice, if required.
Also make sure that the pre-drill holes, the floor flanges, the tee piece and the slide curtain rings are fixed properly to the pipe rod.
And there you have it! Your DIY curtains from drop cloth will complete your outdoor room.