Consumers Desire More Tech Solutions to Feel Safe on the High Street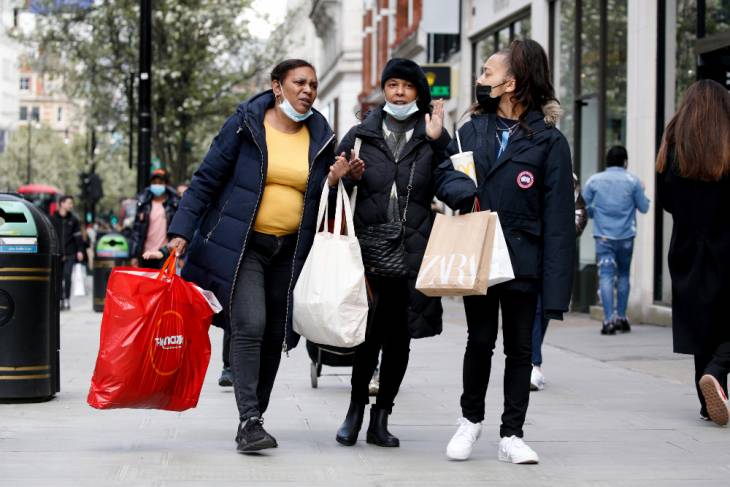 Photo: David Cliff/NurPhoto via AP
Heralding the return of customers to non-essential retail stores, footfall across high streets, retail parks and shopping centers has increased by 330% in the UK against the same week in 2020.
Further to this news, despite representing the only point of contact for millions during the worst of the lockdown, research from Kantar has found that take-home grocery sales in supermarkets rose 5.7% in the 12 weeks to April 18. This all comes amidst metrics measuring consumer confidence predicting a "snap-back" economic recovery in the summer.
Nonetheless, there is still a palpable desire from consumers to ensure that their safety is safeguarded in supermarkets and retail outlets. Studies throughout the pandemic have emphasized that retail outlets are some of the most common places to contract the Covid-19 virus.
In November last year, Public Health England found that supermarkets accounted for 18.3% of infections, while last month, the Irish Health Service Executive found that despite developing vaccination programmes, all retail outlets accounted for 55% of the shared places in which infected participants in the study had visited.
In a new national research commissioned by retail-tech pioneer, Ubamarket, 52% of Brits have considered supermarkets and retail venues as the most infectious place to contract Covid-19. The result of this has meant that a further 57% of Brits have agreed that their perception of what it is to feel safe in supermarket and retail venues has permanently shifted. 
New study findings:
57% of Brits (27,822,000) agree that their perception of what it is to feel safe in supermarkets and retail venues has permanently shifted
52% of Brits (25,498,000) consider supermarkets and shops as the most infectious places to contract Coronavirus and therefore they want to minimize touching everything except the produce they purchase
39% of Brits (19,059,000) agree they will never feel comfortable going back to retail, supermarkets and hospitality venues unless permanent measures are put in place, irrespective of how well the pandemic is being managed.
While certain aspects of retail, such as supermarkets, have significantly enhanced their technology offerings in-store, there is a clear desire from customers for further implementations of technology to ensure their safety. 
Ubamarket LTD – founded in 2016 –, for example, has established itself as a pioneer of 'Scan Pay Go' technology, offering the most innovative solutions to providing the fastest 'in and out' visit to supermarkets. The Ubamarket app features a range of AI-backed features, which dramatically enhances the shopping experience and ushers in a new age of physical retail. 
Once shoppers have built their shopping lists ahead of their journey, the app dramatically reduces the amount of time spent in-store by guiding customers around the store to scan their products using an aisle sat-nav, before allowing them to pay in-app and bypass the tills- all through their own device.
Other features such as facial recognition and live stock levels ensure that customers are provided with the fastest and most contactless shopping experience ever.
Will Broome, CEO of Ubamarket LTD, commented on the necessity of implementing technology further in retail stores and supermarkets:
"Retail venues, chiefly supermarkets, have done a fine job throughout the periods of lockdown, and their presence has been hugely appreciated by the public. Whilst many of the supermarket chains have implemented some degree of technology in their stores, many of the offerings are limited, and do not totally eradicate unnecessary contact. 

 

Now that non-essential retail has reopened, our research has shown that of course, there will be a sense of trepidation as we return back to normality, but through Ubamarket, we are providing an app that will bring reassurances and comfort to customers and retailers alike.

 

Once the lockdown measures are reduced, we will have produced the fastest, cheapest and most tech-enabled solution to many of the problems Covid has highlighted."