Ayar Labs Secures $35M Series B Investment to Solve Critical Computing Challenges through Optical I/O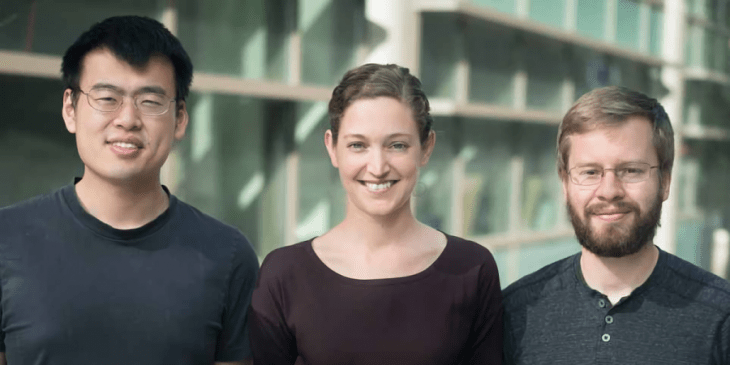 Ayar Labs cofounders (L-R) Chen Sun, Alex Wright Gladstein, and Mark Wade. Ayar Labs has five current team members, including CEO Charles Wuischpard and Chief Architect & cofounder Vladimir Stojanovic. Photo: Courtesy of Ayar Labs.
Ayar Labs has announced completion of a $35M Series B funding round from Downing Ventures as the co-lead investor.
Ayar Labs is a Deep Tech organization that is solving semiconductor interconnect (I/O), bandwidth and power bottlenecks by moving data using light, with its TeraPHY™ monolithic in-package electronic/photonic chiplet-based solution. The result is a vast improvement in bandwidth, bandwidth density, latency and power consumption across a wider distance.
 
The round was co-led by Downing Ventures and BlueSky Capital with additional funding provided by Applied Ventures LLC, Castor Ventures and SGInnovate (Singapore) in addition to existing investor participation from Founders Fund, GLOBALFOUNDRIES, Intel Capital, Lockheed Martin Ventures, and Playground Global.
Ayar Labs will use the investment to continue product development and commercialization of its optical (I/O) solution, while also expanding its presence in the UK and Europe.
Solving Critical Computing challenges

Ayar Labs was founded to drive the next phase of Moore's Law through its Optical I/O technology. They are disrupting the traditional performance, cost, and efficiency curves of the semiconductor and computing industries by driving a 1000x improvement in interconnect bandwidth density at 10x lower power and latency of copper at distances of up to two kilometers.
 
Warren Rogers, Partner and Head of Ventures at Downing Ventures commented:
"Ayar Labs represents the future of interconnects which have eventual applicability to every electronic device on earth. We have the highest confidence that when their optical I/O technology is applied to computing, the industry can accelerate faster than Moore's Law and redefine the boundaries of computing.

 

We have been extremely impressed with the team at Ayar and how they have proved themselves by already being market leaders in what they do. Charlie and his team are at the frontier of solving critical computing challenges and we are delighted to be supporting Ayar Labs at a global level as they scale up the business and roll out this technology across different markets making photonics the new standard of I/O."
 
Redefining the Boundaries of Computing

Ayar Labs, headquartered in Emeryville, California, United States, is using its technology to help companies keep up with skyrocketing volumes of data by miniaturizing fiber optic transceivers and making them in silicon chips, bringing the super-high bandwidths and low energy use of fiber optics inside computers.
Ayar's patented approach uses industry standard cost-effective silicon processing techniques to develop the optical I/O TeraPHY™ chiplets and SuperNova Light Supply multi-wavelength lasers to replace traditional electrical based I/O. These smart optical I/O chiplets enable System-on-a-chip (SOC) companies and system-integrators to focus on their core function integration and process scaling, while offloading the I/O tasks to low-power, high-throughput and reach optical I/Os, enabling logically connected but physically disaggregated systems.
 
Charles Wuischpard, CEO of Ayar Labs added:
"We are excited to have Downing Ventures as a partner and investor, especially as we prepare to expand operations internationally.

 

Integrated Optical I/O (OIO) is a multi-billion-dollar market opportunity and Ayar Labs remains at the forefront in terms of demonstrated technology firsts and industry and ecosystem traction." 
 
Ayar Labs is the first company and the current leader for in-package optics to solve some of the key challenges related to using photonics within an existing system architecture. In solving the bandwidth and power issues using this technology, they are able to service a wide variety of market verticals including: Aerospace & Government, Artificial Intelligence (AI), High-Performance Computing (HPC), Cloud, Telco, and LIDAR.
The company was founded in 2015 and received prior funding from Playground Global and Founders Fund as well as a number of seed round investors. The company has also received strategic investments from GLOBALFOUNDRIES, Intel Capital, and Lockheed Martin Ventures. All major investors have continued to participate in this funding round.
Downing Ventures is an evergreen fund investing in seed to Series A companies, with the possibility of follow-on investments. The London-based investment management firm invests in a variety of technology sectors, including Healthcare, Deep Tech, Industry 4.0/Mobility, FinTech and Enterprise.
Downing has a portfolio of 71 companies as of September 2020. It works alongside a number of investment partners and accelerator programmes and incubators, including the London Co-Investment Fund.