5 Reasons to Install Digital Lobby Signs in Your Commercial Buildings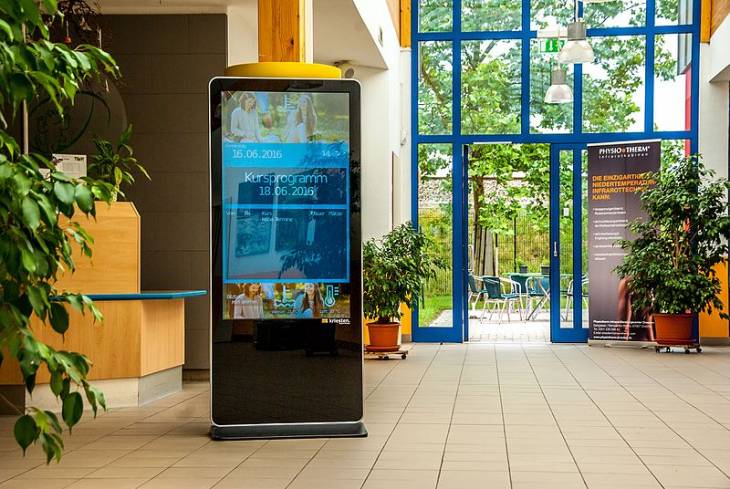 Digital Signage in a comercial building. Photo: Kriesten objekt design/Wikimedia.
Digital signs have become a common feature in many commercial buildings, including offices, hotels, and restaurants. They help visitors find their destination or way around, and also serve a variety of other purposes that make management much easier.
High-end interactive digital signs can be a little expensive to install, but considering the benefits they offer they indeed are worth it for many reasons.
If you want to make a positive impression on your guests, here are five reasons to install digital signs in your hotel, restaurant, or other commercial building:
1. Provide Directions
If your commercial building is sprawled across several floors with multiple wings, then digital signs in the lobby are a lifesaver. A digital lobby sign can help your guests find their way through the corridors and help them get access to the rooms and sections they want to go.
Modern signs are very interactive and include all of the necessary information you want them to display. For example, they can contain floor-by-floor information that helps your guests navigate through your hotel or office even when the staff is busy, say, during peak hours.
2. Help with Check-Ins/Check-Outs
Today, digital signs are used in many high-end commercial buildings and hotels in particular for check-ins and check-outs. They help to save valuable time particularly when the front desk is crowded or the staff is busy handling multiple guests.
Modern self-check in and self-checkout digital signs are equipped with the capacity to read visitors' card information, get their digital signature, and provide the necessary information about their stay and access.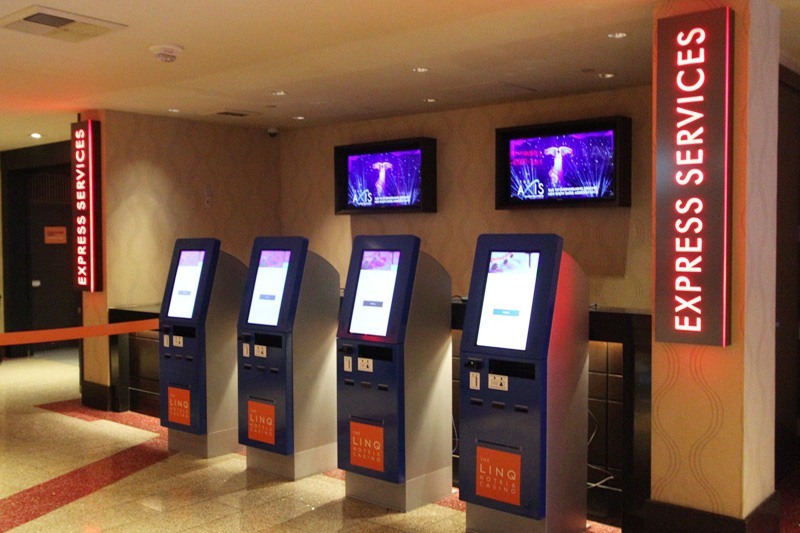 Photo: Linq Hotel in California self-check in digital displays.
3. Display Weather Reports
The weather plays an important role in determining your day-to-day plans and activities, especially when you are away from home or visiting a new city or country. Modern digital signs can be set to provide guests with weather related information.
You can connect your digital sign to the internet for up-to-date data about the weather guests might be interested in, ranging from the week's weather report to traffic situations in the city.
4. Facilitate Events Hosting
Today, commercial office buildings and hotels are not just places to work and stay. They also often host high-profile corporate events, meetings, and private functions. Digital lobby signs can be used to tell your guests how they should participate and reach desired locations.
The digital signs can also provide additional information about who is in charge, the duration of the event, its purpose, prominent attendees, and timings.
In other words, the participants who come for the event will have all the information they need clearly displayed on strategically placed digital sign as soon as they arrive or walk in the lobby.
5. Enhance Your Marketing Messages
Digital signs are a great way to promote your business to guests. You can display the various amenities your office or hotel offers, it's services, and distinguishing aspects to visitors.
Any information about an upcoming event that your company might be planning or a reward program you may be organizing can be displayed here.
Best part of using digital signs is that they can display stunning images that are sure to catch the eye of the viewer and leave a lasting positive impression on them.
For example, you can display high definition images and video clips of your property and any new additions to the premises. The dazzling screen will have your guests' attention in no time.
Ultimately, there is so much that you can achieve with digital signs to give your patrons a wholesome, immersive, and interactive experience in your commercial building. It can be a clear demonstration of your commitment to stellar hospitality and service within your establishment.