4 Secrets for Building a Successful Travel Blog
Would you like to turn into a travel entrepreneur and support yourself and your family with your blog's income?
That's great!
But do not jump into building your WordPress travel blog just yet. To begin with, you have to develop a business mindset towards your travel site.
Just before you log a single traveling experience, you need to be able to describe what is unique about your travel site/blog.
You also need to be able to recognize the people you are trying to connect with.
A different way to say this is:
First Select a Niche
Choosing a niche will allow you to stand out from thousands of other travel blogs. It will help you make it possible to attract a laser-targeted audience who share exactly the same interests as you. That's very important for a travel blog.
Many travel blogs fail to generate any money because they do not have or stick to a niche. Oftentimes such blogs end up staying side projects or just as random travel journals. These types of blogs do not have a unique value proposition or any target audience.
If you are looking to only have an online travel journal, there is no problem if you do not have a niche. However, if you want to create an income generating site and earn a full-time income from your travel blog, you will need to have a niche. Successful travel bloggers atest to that.
Niche Travel Blogging Examples and Advice
Monica from The Travel Hack clarifies the value of having a niche:
"Unfortunately, 'The travel blogging' is just a saturated niche so if you wish to create it, you need to aim your niche even further to a specific area of travel."
She says that you should consider combining two niches, for example:
Travel + fashion
Travel + cooking
Travel + children
Travel + reviewing boutique hotels
Travel + fitness
Travel + spas
Travel + festivals
Basically, Monica is suggesting that you combine your passion for traveling with another one of your passions to produce an ultra-specific niche.
Monica's site's niche is definitely travel. However, she targets those who have full time jobs and are trying to plan weekend journey travels.
So her niche is weekend+travel.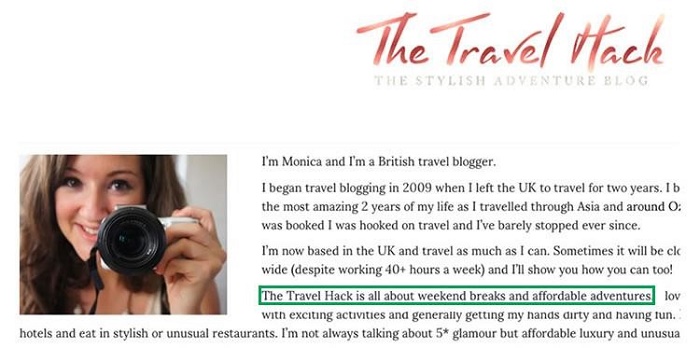 The idea of combining two niches may seem weird in the beginning, but there are many other travel blogs like yours that have found success by doing so. It's a secret successful travel bloggers use that not so many budding bloggers employ.
Another good example of a successful blogger using this strategy is 'The Travel Bite' blog. At The Travel Blog, blogger Rachelle Lucas unites travel with food.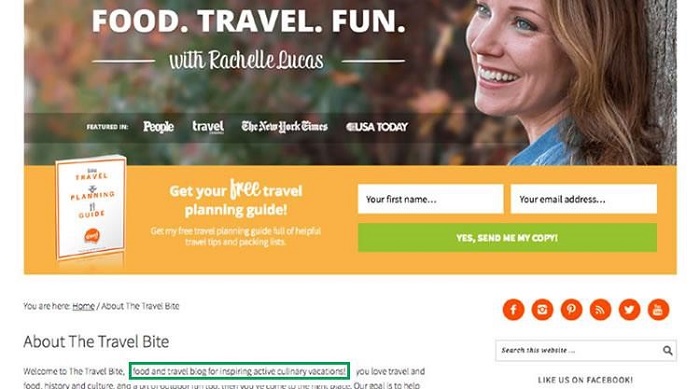 Similar to how Rachelle and Monica do it, you too should consider transitioning from being just a general traveler to a specific type of a traveler (blogger).
Narrow Your Travel Blogging Niche
Think out of the box and find that narrow niche that's best for you. To find that travel blogging niche, consider mixing two niches you are passionate about.
For example, you could specialize in covering travel+festivals. Alternatively, you could specialize in covering food festivals, whichever suits you best.
If the above-mentioned brainstorming ideas do not seem like a good fit for you, Jessica from Global Girl Travels lists some other ideas you can use:
Budget travel
Solo travel
Female travel
Travel photography
Adventure travel
Luxury travel
Around-the-world travel
Traveling for work
Food destinations
Music destinations
Off-the-beaten path travel
City or country guides
While selecting a specialized niche does force you to cater to a narrow segment within the broad travel-loving crowd, it is also the only real way to connect strongly with this particular market segment and become their go-to resource whenever they're planning their travel journeys.
When you connect with a niche of travel fans, they will grow to trust you overtime and purchase stuff you recommend enthusiastically, such as:
Travel gears
Tour packages
Hotels
Restaurants
Flights
Your recommendations will give you a means to earn revenue from your travel blog. The more users trust you, the more they will trust your recommendations, and the more your earning potential will grow as they buy by following your affiliate product links and recommendations.
So, before you proceed with the blog setup, take a moment and fill out the following template:
I am a travel blogger who covers ___________ travelling. I want to connect with those who _____________.
Once that's filled satisfactorily, you are ready to begin building your own travel blog.
Next Steps for Building a Stellar Travel Blog

Let's explore the next thres steps that are essential for building a successful travel blog after you have identified your travel blog niche.
#1: Get the website up and running with a domain name and hosting
Give your blog a suitable, easy to remember name. You can name it whatever you like, but it is best to avoid terms like traveler, vagabond, trip, adventurous, and such because the market is filled with blogs with those names contained in the blog title.
A simple alternative is to use your name as your travel blog's domain name.
When setting up your blog, you may wonder:
i. Where to register your domain name?
When you have zeroed in on a name, then go to domain registrar like Namecheap and register it as your blog domain name. Namecheap is one of the most popular domain registrars that offers competitive pricing and good customer service.
ii. Which hosting service to use?
After you've registered your domain name, you will need to purchase a web host that will host your travel blog online. I would advise going with either InMotion Hosting or SiteGround for a WordPress blog, although you can go with any other web hosting company you like depending on your requirements and budget.
#2: Select an outstanding travel blog theme
When you have chosen a domain name and hosting, your next task is to select a theme for the travel blog.
WordPress has many free travel blog themes that are well developed you can use.
   Best Free WordPress Travel Blog Themes
    Here are two favorite, completely free themes I'd advise anybody to start with:
Free theme #1: The Minimal
I would easily call The Minimal probably one of the most used and balanced WordPress travel themes. It's a clean typography and includes an amazing homepage slider. It is responsive as well, which means it looks good on mobile and tablet devices too.
The Minimalist comes packed with helpful widgets such as the popular posts widget, the recent posts widget, the social media links widget and as well as the author bio widget.
If you had to do the work of setting up and placing all these widgets, you would simply take a long time. This theme utilizes the widgets amazingly and has these at the perfect places.
Also, there are two menus, which means you've more control over your website's navigation. It is very likely that when you install this free version theme, you will love it so much that you might like to update to the pro version.
The pro version prices $59.00 and comes with six amazing page layouts, as well as some other pro functions.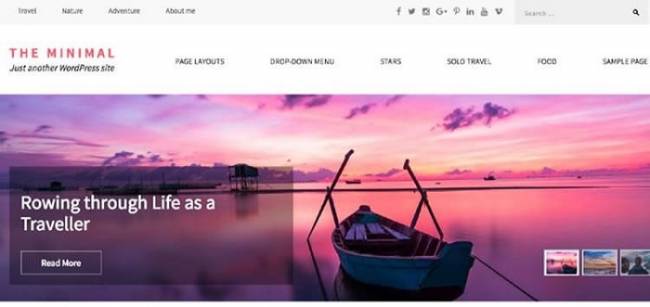 Free theme #2: Nomad
The Nomad WordPress theme is yet another good option to consider. It is responsive and includes a slick slider on the homepage.
Also, Nomad has around four featured articles under the slider. I like the advertisement slot in the theme's header, too. You can use the ad slot to advertise offers from your partners.
Moreover, this free WordPress theme has a widgetized area that you can use to provide more information to your reader.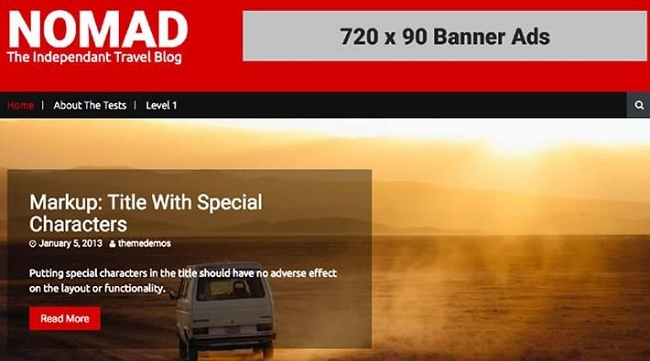 If you are looking for more premium features and look, you can go for paid WordPress themes instead of the free ones.
   Best Paid WordPress Travel Blog Themes
Along with the above free themes, here are three paid themes for your own consideration.
I had a tough time finding these themes, and that is not because there aren't a lot of great WordPress travel blog themes, but as there are way too many. And selecting the one that  strikes the perfect balance between usability and design is quite a task.
I hope that you love the following picks:
Paid theme #1: The Trip
It is a great travel blog theme that comes packed with a highly powerful page builder. The Trip's page builder enables you select one of the in-built page layouts and insert design components from the builder's library to design amazing site pages within hrs.
It supports WooCommerce and includes an elegant store web page. You can use this to sell your products and affiliate products.
Another interesting quality of the theme is it enables you to schedule backups. Hence, the theme will automatically take a backup of your content on the dates or days you decide.
The backup function removea the need to install or purchase a separate plugin for making backups.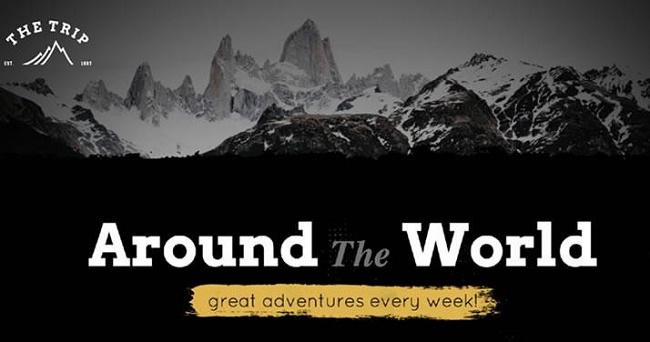 Themefurnace allows you to test drive the theme before purchasing. Just visit the TestLabs region, sign up, and you can use the theme on the supplier's test environment.
Paid theme #2: Travelop
Travelop is an amazing WordPress travel blog theme  that utilizes plenty of white space. Its design is simple on the eyes and also helps the reader concentrate just on the content.
It comes with three blog designs: list, masonry, grid. You also get three header styles. I checked out the demonstration and also the blog/site layouts seem amazing.
If you do not like full width themes, then you can select the boxed layout choice. You are also able to position the sidebar as you wish.
When I consider this theme from a blogger's point of view, I would not ask for more than exactly what this theme gives.
Obviously, Travelop WordPress theme does not come with the bells and jingles of other themes that have web page builders and all, but you do not always require all those things.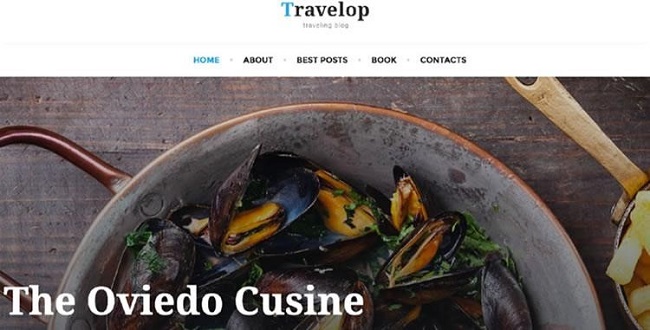 Additionally, if you love minimalism, one more theme that you need to check out is EightyDays from Greta Themes.
It is not like Travelop but come with a very zen feel to it, thanks to white space. You are able to snag EightyDays for $40.
Paid theme #3: Hermes
This will likely stun you. After you check out the theme, you will find more than 39 layouts. All of these demos independently show how flexible Hermes is.
You can use Hermes to produce any type of a travel blog and make it look as minimalist or as active as you would like. 
Also, you get a page builder, so you can possibly design customized designs from scratch.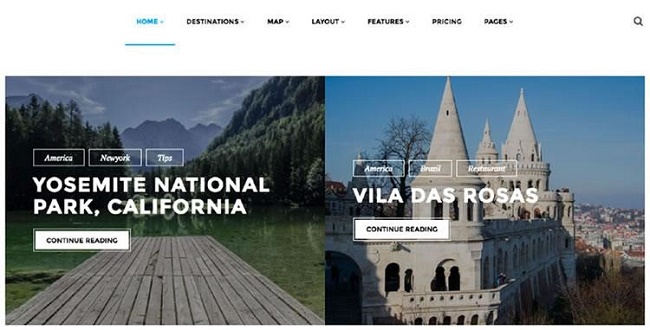 Travel Blog Themes' Features to Look Out for
When choosing your travel blog theme, consider these three functions and features that make a WordPress theme a good option for a travel blog.
Feature #1. Pro vision to accept paid listings through Wiloke Submission
It makes it possible for any user to sign up for an account on your own website and submit content regarding their products or services.
Thus, you can use this plugin to allow advertisers, such as inn-keepers, travel gear vendors, transport services travel agencies, to write content including their products and services, and also charge them for publishing. This is an amazing way to monetize a travel site/blog
Feature #2. A beautiful ratings widget
After you establish yourself in a niche, your own followers will believe in your recommendations and reviews. A beautiful ratings widget will help to spice up your own reviews for readers to see. Hermes has you covered here.
You can let your readers contribute their own ratings to the products and services you discuss on your website. This could provide a lot of social proof to your own reviews.
Feature #3. An elegant poll widget
Even better, publishers can utilize polls to engage readers. Hermes includes a very simple poll widget that you can use to add polls to some portion of your website.
Step #3: Install Essential plugins for your travel blog
You'll probably not find any distinctive plugins that add travel blog-specific features to your WordPress website. However, there are some essential web optimization tools and plugins that are going to help your improve your blog's search engine rankings and its overall user experience:
i.) SEO by Yoast
This WordPress plugin will help you optimize your own content for target keywords.
ii.) WC Total Cache
It helps optimize a website's performance. Primarily, it is a cache plug-in which serves a visitor cached copies of your site.
iii.) Thirsty Affiliates
It helps you beautify your affiliate links.
Conclusion
Once you have identified a blogging niche and have your blog set up with all the optimization plagins and measures done, it's time to start blogging and promoting your posts. With enough consistency and high-quality content, you'll be well on your way to travel blogging success.