Why You Need to Add Live Videos to Your Marketing Plan Now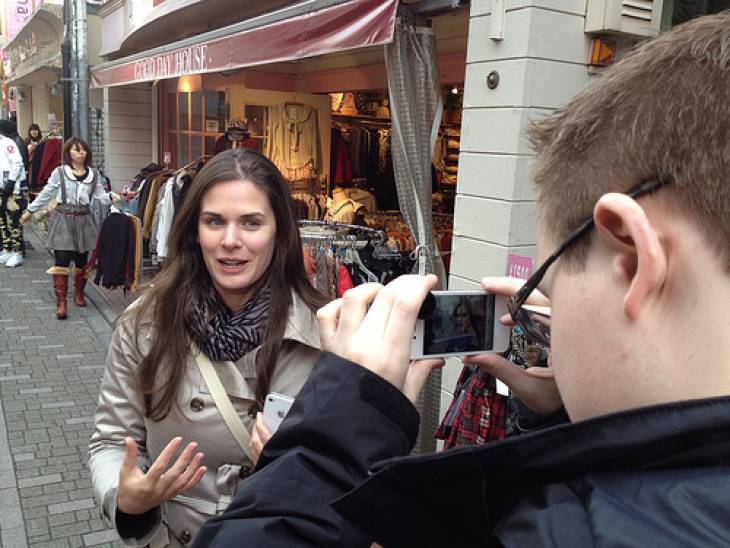 People are watching billions of hours of video content daily, and with more and more social media giants like Facebook, Instagram and Twitter rolling out interactive video features, the trend is all set to blossom in the coming years.
The year 2018 has been a full-on video revolution for marketers across the length and breadth of the globe. According to a recent report by Wyzowl, 81% of businesses have already started using videos as a marketing tool, up from 63% in 2017. Out of those, 85% of businesses feel video marketing is an important part of their strategy. Whereas, 78% of businesses believe that video gives them a good Return on Investment. 99% of businesses that use video say they will continue to do so in 2018.
Apple's iPhone X video ad has garnered over 35 million+ views since its release on YouTube. This is more views on a single video content than what many professional YouTubers get. With the above example, it is clear that video marketing has so much potential and marketers have found a powerful weapon to add to their armory. But –
Should You Use Videos in Your Content Marketing?
With the majority of internet users termed as content scanners, live or pre-recorded videos are assured to be more beneficial than blog content to reach online audiences. It is no secret that videos are not bowing down any time soon as they drive more engagement, traffic, and views.
A 2018 study conducted by video platform Livestream reveals that a whopping 80% of internet users would rather watch live video from a brand than read their content marketing posts. Hence, it won't be a stretch to say that video will dominate marketing content in the upcoming years.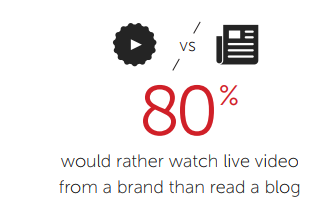 Think about it yourself, would you rather watch a puppy video or read a 15 minutes text explaining how a puppy jumped over the wall to hug his owner when he saw him after two years.
People want to see more of live content than they want to read your posts because we were born with the ability to process images faster than text-based content. We can retain 80% of what we see, but only about 20% of what we read.
The most popular live video platforms today are YouTube and Facebook, and it all makes sense when you look at the user base of these platforms.

Benefits of Live Videos Marketing
Video marketing demands consistent effort and quality output, but it promises solid, long-term results as well. Below are six reasons why you definitely should use pre-recorded or live videos in your content marketing.  
1. Videos Build Trust among Leads 
The whole concept of marketing is based on trust and creating long-term relationships with customers. Trust is the foundation of conversion and sales, and in videos it does all that written text cannot do. People trust brands that inform them about products or service more than promoting only. This is the reason why popular brands focus hugely on informing before promoting.
Some consumers are still suspicious about buying products and services on the internet because they fear fraud and cheating. But effective marketing videos present your products in a conversational form. That creates a sense of trust, which is why 57% of consumers say that videos gave them more confidence to purchase online.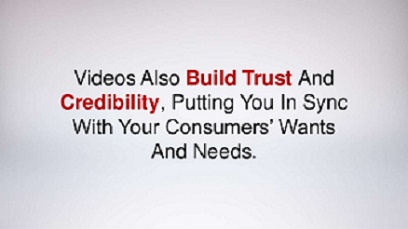 Video is ideal for informingg and educating people because it is engaging and has the ability to ignite positive emotions that build trust. It's no wonder YouTubers are the most powerful media figures to promote a brand because their content keep the audience more engaged. Therefore, if you are serious about content marketing, you must be serious about video, too.
2. Videos Have Higher Retention and Conversion Rates
If you post informative videos you will soon realize that 65% of viewers watch more than 3/4 of your video content, which is more than text based content. Videos keep visitors engaged for a longer time, thus increasing their chances of buying from you. Plus, visual content will always be the first thing a visitor sees on your website due to its moving visuals capabilities. 
Moreover, research shows that 71% of marketers say video conversion rates outperform other marketing content. Personally speaking, I have a habit of making a purchase after watching a product's video demonstration. It gives you better insight into what a product has to offer. Imagine how engaging these moving pictures are and what they can do for your business.
3. Videos are Mobile Friendly
In recent years, immersive video content has experienced a snowballing effect on the web. The trend includes live streaming, 360-degree videos, WhatsApp and Instagram stories, virtual reality, and so on. The new video features have proven very effective and engaging as more people are using them. Most of these features are a part of mobile-based applications and if you can create similar content that users are drooling over, then you increase your chances of reaching an even wider audience.
Over 90% of the population watches videos on their mobile devices, which is the reason why mobile video views are growing year after year. YouTube reports mobile video consumption rises 100% every year. Since people like to watch videos on the go, and the number of smartphone users is growing, your video audience keeps getting bigger and bigger.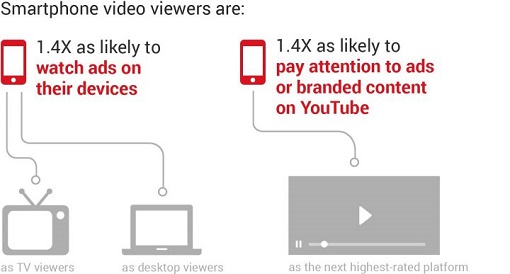 Clearly, you do not have to adapt to every video trend as your business probably won't have the budget for it. Posting a video with the famous doggy filter might also not come across as professional. But, try a handful of top trends and focus on the ones that are relevant to your audience.
4. Video Shares on Social Media Are Up
Any video that can evoke a strong emotion is likely to get shared by millions of users online via their favorite social media channels, which equals greater reach. 76% of users say they would share a branded video with their friends if only it were entertaining. So, create fun, entertaining videos to encourage social shares. Social shares can boost your reach and bottom life.
However, not every video is shared widely or at all, there are set parameters that make a video successful or go down the drain. Here are some stats you should know to make winning videos:
For a 15-second non-skippable YouTube video ad, the viewer's completion rate is 92%. That's only because you cannot avoid the unskippable adds in videos you want to watch. However, for skippable video ads the rate is 9%.

Obviously, the 9% represents those winning ads that excite a viewer to not skip to what he/she was viewing earlier. Your videos need to target and be among that 9%. So, invest in making videos that are interesting from the 1st second to the last to increase your message delivery and conversion.
5. Google Loves Videos
It is not fanciful imagination. Google actually loves video content more than your 2000-words article. There is a simple explanation why this is so – because users love visuals more than words. Marketers often neglect the fact that everything Google does is to help optimize search results for the end user. Thus, if you place a video on the landing page of your site, you are 53% more likely to rank higher on Google's search engine results page.  
When it comes to ranking a website, Google always looks at the average time a visitor spends on the website. The longer the visitor will stick to a website the better its ranking will be. Video content is a great way to keep users engaged and stay longer on your site. Therefore, add videos, give them great titles and descriptions to boost your site's online presence.
6. Video Engages Everyone
Today, people are preoccupied with 100s of things and more of us do not have time to read long written texts and descriptions. Now, you can understand why product unboxing videos are so popular and fun to watch online. Customers want to see a product in action, and this preference for video should be your cue to use videos in content marketing.
Moreover, video marketing has the ability to attract a wide audience range from kids to elders. It works for any mood and personality type, such that even the laziest person will find videos appealing. Make sure you target not only the eyes, but also the ears and hearts of the potential client watching your video. This way your competitive advantage gets double power.
Advancements in technology are favoring video content. It would not be wrong to say that the future of information dissemination and advertisement is resting on moving images. Because video marketing is becoming affordable thanks to an increase of video solutions in the market, and video can spread rapidly on the internet in a matter of hours and days when done right, it presents a great opportunity for you and your business.
So, are you using video in your content marketing strategy?
Story updated September, 2018.