10 Things Customers Consider Before Purchasing Online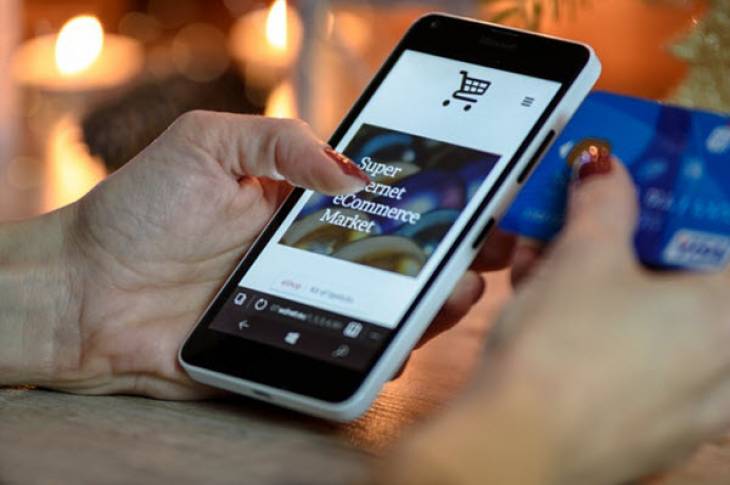 Whether you are selling an information product like an eBook, a software solution, or a physical product, you want to know what factors people consider when shopping and making purchases online to ease customer fears and increase sales.
There are least ten common consumer expectations that influence purchasing decisions. Interestingly, these ten things are most commonly considered by online shoppers.  
Factors Influencing Online Shoppers' Buying Decision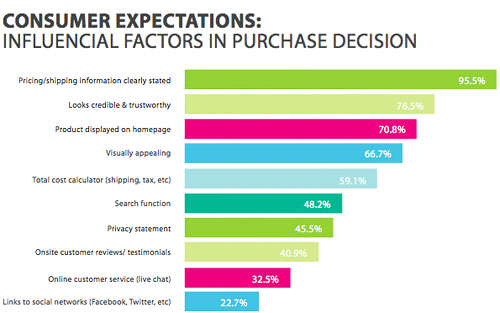 Source: Oneupweb.com
The graph above, created by the Michigan-based digital marketing agency Oneupweb, provides a snapshot of things that influence people's buying decision when shopping online.
Let's examine in detail how these factors play out and influence the buying decision. 
Read on...
1. Information on pricing and shipping
Studies have found that a sudden rise of costs of products (an unexpected 'sticker shock') is one of the top reasons for shopping cart abandonment.
So, it is imperative for ecommerce entrepreneurs to curate a concise and informative product page with accurate pricing to attract more customers. A lack of full cost disclosure is problematic and kills sales.
Indicate everything from discounted price to delivery options, payment approach, and money back guarantee. This information helps in the buying process. Consider it carefully because price-conscious shoppers certainly will consider it before buying.
Note that if the price is too cheap, that can be a problem also.     
2. Seller credibility and trustworthiness
A huge percentage of people consider the trustworthiness and credibility of a seller before deciding to buy from them. Entrepreneurs should, therefore, provide objective trust markers that reassure customers of the brand's credibility and authenticity.
Build this credibility and trust by adding online security badges, store ratings, brand mailing address, telephone number, and so on. These trust markers will let customers know you are genuine and they can trust you. They'll then think positively about your business.
Trust is a psychological factor that triggers the buying impulse of consumers and building it will lead to increased sales.
3. Website visual appeal
According to a study by web design agency Artversion, a high number (75%) of customers trust businesses based on the look of their website.
"Simply changing the design of a web page for a marketing campaign can produce big lifts in conversion," says the Chicago-based creative web design agency.  
Make sure your website is visually appealing, user friendly and professional-looking to boost user confidence and sales.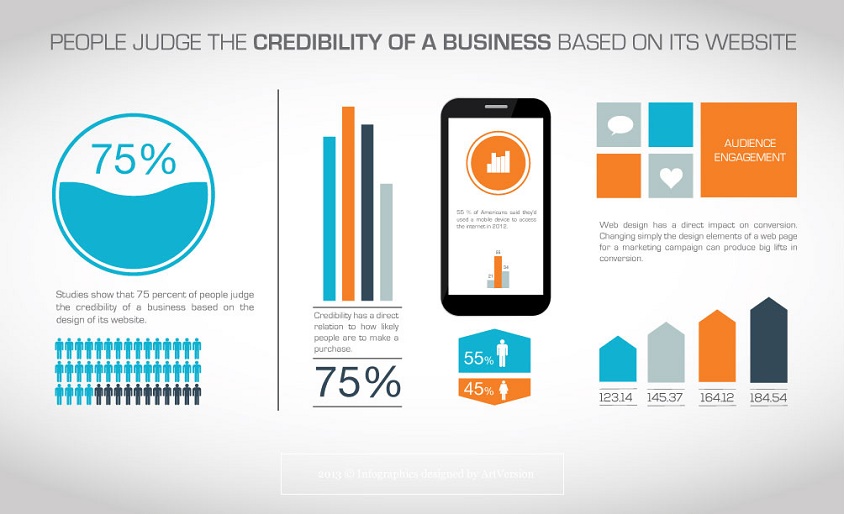 Source: artversion.com
4. Images of products on homepage
E-commerce businesses typically display the images of the products they are selling on the product page. However, it is crucial to understand that nowadays customers want to see your whole range of products on sale displayed on your e-commerce website homepage.
In short, customers prefer to have an idea of what to explore on the website without having to use the menus and search boxes directly. But, showcasing the products on the homepage is not enough. Design the homepage in such a way that it is intuitive and creates an impact.
Take a look at this example for inspiration: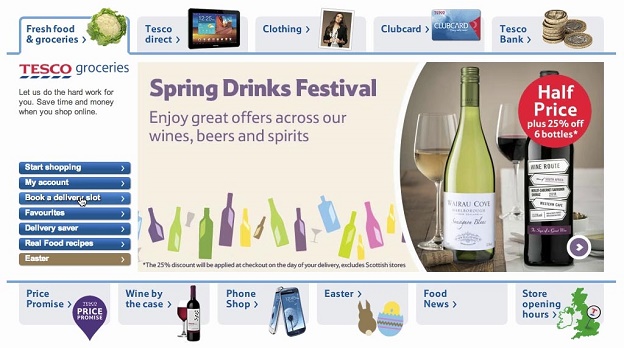 Source: baymard.com
5. Total cost calculations
Customers want to know the total taxes and shipping charges before purchasing. Showing the taxes and charges at checkout often reduces the rate of checkout abandonment. However, it may not enhance sales immediately. Sometimes customers will still prefer to leave before they complete checkout if they see that the additional charges are pretty high.
So, provide an effective tool or means that makes it easy for customers to adjust their orders at checkout and calculate how much they now have to pay for selected items. This is something shoppers like and it encourages them to buy based on their budgets.
Take a look at the example below for inspiration: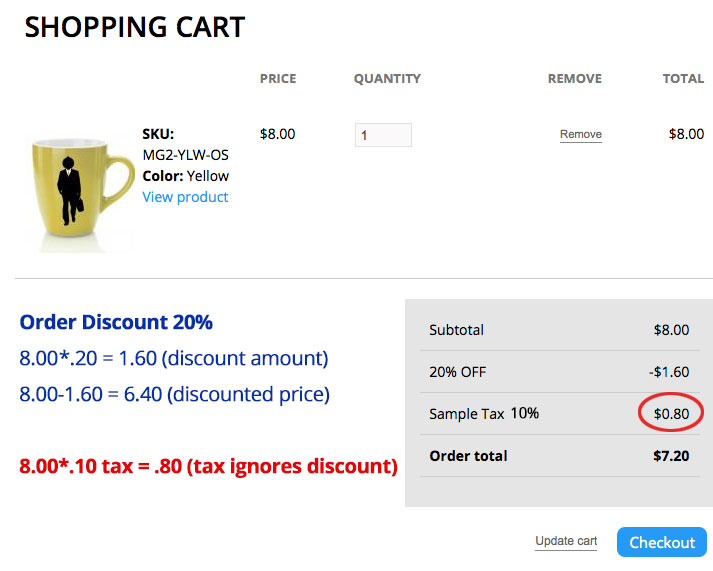 Source: drupal.org
6. Search function
If your online store has a huge, comprehensive product catalogue, you need to provide a "search site" option. No successful e-commerce brand comes without a search bar.
Keep in mind that just having a search box is not enough. Rather, what really matters is the functionality of the search option. Add features like smart autocomplete that enhance e-commerce product searches by, among other things, reducing instances of 'zero search results found', which can frustrate shoppers and drive them away without buying. 
Shopify provides an example of great search function, as shown below: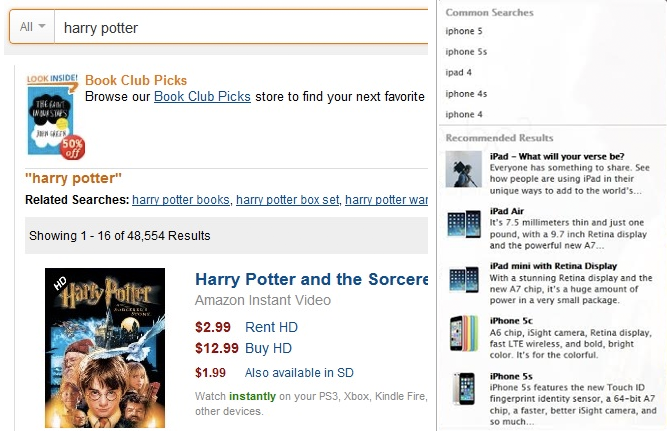 Source: shopify.com
7. Privacy policies
Although the legalese and fine print of privacy policies are often tedious for many online buyers, and most of the time they don't read them, still some people do read through privacy policies before making a purchase. Hence, as an online seller or e-commerce owner, you need to make sure the privacy policy is easily accessible on your website.
Check out below a good example of how you can do that: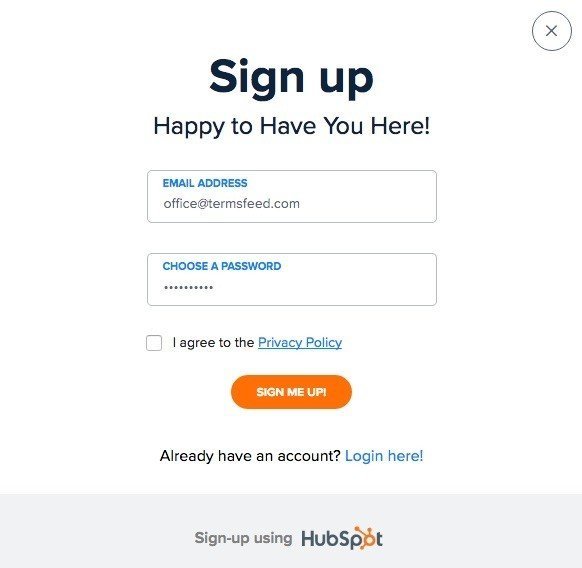 Source: termsfeed.com
8. Customer reviews and testimonials
Many studies have found that ratings and reviews are really important for customers when they are buying something online. When there are enough online reviews, it reduces their risk of making a bad purchase. Surprisingly, even negative reviews are considered positive when it comes to the trustworthiness of an online seller. If there's no negative review, people start to think that there's something suspicious going on.  
With the right kind of reviews, online businesses can also improve their search engine ranking, because a wide array of relevant keyword phrases are used in reviews rather than only on the product descriptions. Good search engine ranking improves your business' likelihood of being found by people online and closing more sales.
So, use testimonials strategically to grow your e-commerce business.
9. Online customer service 
People really consider customer service before buying from a business. Having proper online customer service in the form of live chat lets your e-commerce store reach customers in the best possible way. People can ask questions about your brand, products, and so on, in real time, which improves trust and encourages buying.
Interestingly, a study found that 76% of customers prefer to enquire about checkout problems they encounter through one of the online customer service options a business provides. Live chat is a great option in this case.
Live chat can help prevent shopping cart abandonment. So, include it in your e-commerce websites to enhance customer service and attract more sales.  
10. Social media accounts
The statistics say that more than one out of five customers prefer to see social sharing tools on e-commerce websites. This is because social sharing buttons gives them an opportunity to share their experience with others who might be interested in the same products. It's a win-win for buyers and sellers. The online seller will enjoy free user promotion by including social media sharing buttons on their e-commerce websites.
Ultimately, if you are selling anything online, keep the aforementioned factors in your mind. They will certainly increase your sales online.