Coronavirus-Induced Economic Inequalities You Should Be Aware Of
Tents of the homeless on the sidewalk in Skid Row, Los Angeles. Skid Row is a neighborhood in Downtown Los Angeles. The area is also known as Central City East. In Skid Row, tents still line entire city blocks amid the coronavirus pandemic. Photo: Wikipedia.
With over 2 million deaths and trillion-dollar losses in the global economy, COVID-19 is one of the greatest health and economic downturns in history. It has caused unprecedented household debts, job losses, business shutdowns, and untold financial hardships worldwide.
COVID-19 has also widened the global inequality, making the impacts much more severe on some people than others. This article looks at five different ways the pandemic has widened the gap among various economic status.
Wide Disparities in Job Losses
The pandemic has significantly increased the global unemployment rate as millions across the world lost their source of income. According to the International Labor Organization (ILO), global labor income has declined by an estimated 8.3%, amounting to $3.7 trillion.
While there have been various degrees of income losses across different economic status, the effects are more severe on some than others. The low and medium-income earners have experienced greater burden compared with high-income earners.
More low-income earners have lost their jobs or reduce work hours, compared with high-income earners. That is because most of them work in the least-paying industries and have the least education.
The most affected industries by the pandemic, such as entertainment, restaurants, and hotels, have a large concentration of low-income, low-skilled workers. This explains why they are the worst-hit in the world's labor force.
In June 2020, the United States unemployment rate rose to 21.1% for workers with less than high school education, compared with 8.4% for those with university degrees. In some parts of the EU, job losses among workers with less than secondary school education rose to 8% between the last quarter of 2019 and the second quarter of 2020.
Contrastingly, over the same period, a 3% job increase was recorded among workers with bachelor's degrees and higher.
While there is hope that the second half of 2021 will mark the beginning of economic recovery, low-income industry workers are likely to bear the pandemic's financial downturn for a much longer time. This is because there is "a risk that the recovery will be uneven," says ILO.
The World's Mega-Rich Got Richer and the Poorest Poorer
The COVID-19 pandemic has further revealed the unfairness in the world's economic structure, which disproportionately favors the top richest. According to a report by Oxfam International, while it could take the world's poorest people at least 14 months to recover from the COVID-19 economic downturn, the world's 1,000 richest people have recouped their own losses within just 9 months. This suggests that the COVID-19 recession is over with the wealthiest.
The "rigged" economic order enabled the mega-rich to amass wealth while the rest of the world grapples with one of the worst economic recessions in history. In the United States, as 40 million people filed for unemployment a few months into the pandemic, billionaires in the country grew their net worth by half a trillion dollars.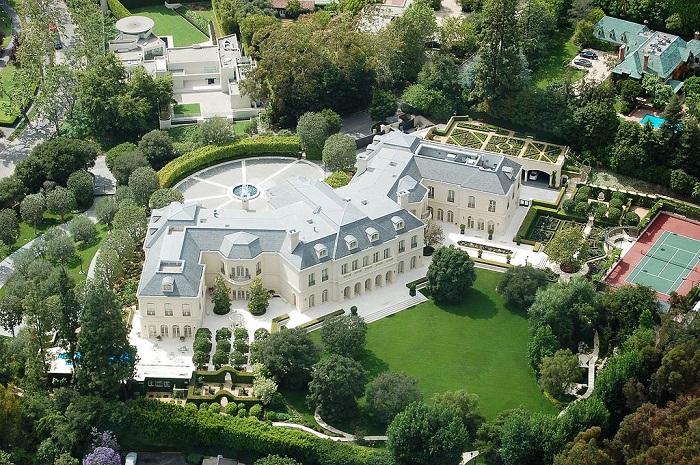 An affluent house in Holmby Hills, Los Angeles, only miles from downtown Skid Row. Photo: Wikipedia.
A look at the 2007 housing bubble burst shows that this is not the first time to witness such a disparity in the country. Between 2007 and 2009, the financial crisis made the stock market fall by 50%, 8.8 million Americans lost their jobs, and 3.1 million homes foreclosed. However, despite the economic fallout from the bubble burst, between 2009 and 2012, the country's top 1% grew their income by a whopping 31.4%, compared with only 0.4% for the bottom 99%.
Digital Divide
Technology gap across the world is one of the major contributory factors to the COVID-19 economic disparities. This has created a huge economic gap between countries with adequate digital facilities and those lagging behind in the digital race. For instance, only a quarter of the Sub-Saharan population has access to the internet, compared with 85% of the American population.
Apart from poor internet service, epileptic power supply is another challenge bedeviling many of these technologically-disadvantaged countries. This made teleworking extremely difficult or impossible for most workers in those countries during lockdowns. And thereby causing unprecedented income loss and household debts.  
A sharp contrast also exists between entrepreneurs and workers in digitally-enabled industries and industries with little or no teleworking option. This explains why some businesses stayed open digitally while others were forced to shut down during lockdowns.
Unfortunately, the least educated, low-income earners are also the most affected by this factor. Findings show that about 70% of workers with a university degree can work from home, compared with only 15% of those with less than secondary school education.
In the most affected industries in the US, employment fell by 42% among workers who cannot work remotely between February and April 2020, compared with 22% for those who can telework. In the Netherlands, the share of home office hours for workers with university degrees significantly increased from 11% to 68%, compared to only one-fifth among low-educated workers.
Financially Disadvantaged Children vs Privileged Children
Though children are the least affected by COVID-19 health effects, its economic downturns are more telling on them, especially those from poor homes.
Academically, the pandemic has widened the learning gaps between children from wealthy homes and their peers from poor households. In the US, around 1 in 10 of the poorest children has little or no access to technology for learning. This has further widened the age-long educational disparity between them and their rich peers who have access to digital learning.
Besides learning loss, COVID-19 school disruption may also cause higher high-school drop-outs among students from poor homes than those from wealthy homes.
In Africa, the pandemic has caused severe financial hardships and great academic crisis for children from poorest homes. In Sub-Saharan African, the continent's poorest region, a report by UNICEF showed that COVID-19 school closures affected around 250 million students.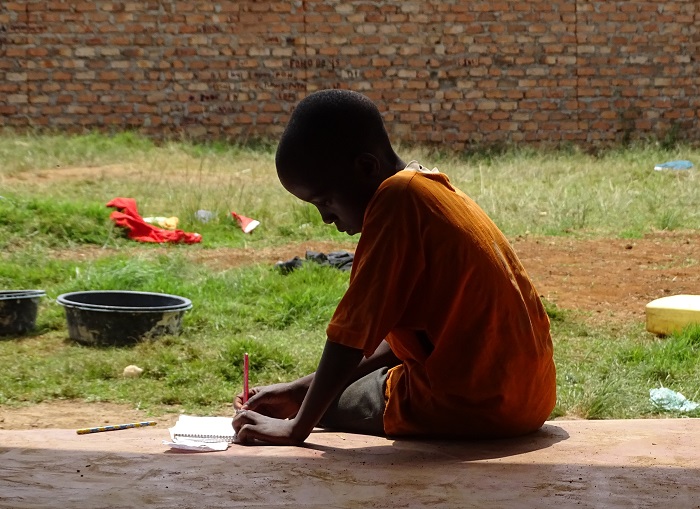 Boy sits on the porch of an orphanage near Kampala in Uganda he was staying. The orphanage has one incredible mission: taking the kids of the streets and educate them for a better future. Photo: Stijn Kleerebezem/Unsplash.
Millions of these students in Sub-Saharan African could end up as permanent drop out, adding to the region's high number of out of school children. Child poverty has also worsened in the region, as millions of them, especially those from crisis-torn areas, face serious food crisis, hunger, and acute malnutrition.
Disabled vs Non-Disabled
The pandemic's health and the financial crisis have hit the world's disabled population much harder than the non-disabled. Even before the pandemic, there has been a huge economic disparity between people with disabilities and the general population. They face more difficulties in securing employment and keeping up with job demands and health challenges.
And since the pandemic outbreak, many reports have shown that they are more likely to lose their jobs and reduce work hours, compared with non-disabled workers. This has significantly affected their finances. In the United States, as of August, around 1 million people with disabilities had lost their jobs.
Comparison between the unemployment rate for workers with disabilities and non-disabled workers showed a difference of 13.2% to 8.4%. Apart from disproportionate income loss, disabled people also experience other forms of hardship, such as a decline in aid and debt. They are also more likely to rely on food banks and go hungry.
Way Forward
The pandemic has once again revealed the need for bridging the age-long disparities across the various economic status. The world's policymakers double-up on their commitments to reduce poverty, bridge educational gap between the rich and the poor, and ensure disability-inclusive developments.
Tax laws and other economic policies that give undue advantage to the world's richest should also be reviewed towards ensuring a level playing field for all.