Necessities Restaurants Should Have to Serve Customers Safely During COVID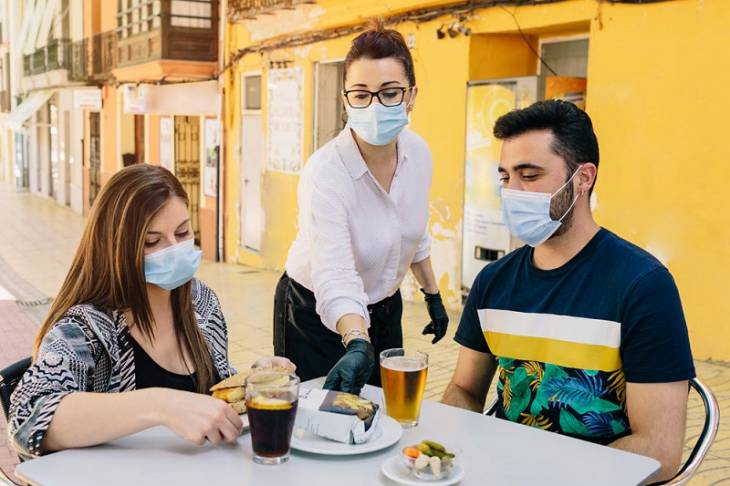 COVID-19 changed the whole dynamics of business operations. The entire global supply chain industry was disrupted, with one of the most affected industries being the restaurant and dining industry.
Given its nature, the restaurant business is primarily dependent on its day-to-day activities. The pandemic constricted everyone to their homes, and so most restaurants and diners had to stop operating for a few months during quarantine.
Nearly half of the US workforce employed in the leisure and hospitality industries, for example, was laid off. Thankfully, the rolling out of coronavirus vaccines has brought much needed relief and a phase where people are once again excited to get out of the house and carry on their lives outside as before.
Restaurant businesses are also slowly getting back into their daily groove, but life in these pandemic times is not exactly the same as before. Restaurants, like most other businesses, have to adapt accordingly to meet the emerging challenges and opportunities.
Restaurant Life During and After COVID-19
With the introduction of vaccines, many people may have thought they would quickly go back to living their own lives outside just like they did before COVID. But let's be honest, life is not ever going to be precisely the same as before, at least not any time soon.
We still have to be extra careful and more conscious of our daily habits and activities when outside until coronavirus is contained or fades away from our collective memories. Until then, running a restaurant or other hospitality business is going to be different than it was before.
Restaurants have to change their guidelines, policies, and practices to adapt to this new way of life. Adapting to changes is the only way the industry can survive. Positive changes by restaurants will have an outsize impact on the future of the entire industry.
Let's highlight some important developments happening within the hospitality sector, and what restaurants should have to keep operating safely in the current pandemic times and post-COVID:
Masks on
The CDC recommends masks to reduce the risk of COVID-19 spread. In many Asian countries, wearing a mask is a standard part of people's lifestyle. This has proven helpful as it has contributed to a lower coronavirus death rate in parts of Asia and the Middle East.
According to the CDC, masks help in lowering risk of contracting COVID, and are now recommended for everyone whenever they are going outside, especially when social distancing measures are difficult to maintain such as in restaurants.
Of course, when running a restaurant, you have to let people eventually lift their masks to eat their food. But, restaurants must set policies that ensure employees wear masks at all times when interacting with customers.
Employees should have their masks on and you should implore customers to also keep their masks on as much as possible until it's time for them to eat. This way you can protect everyone and prevent infections and the virus spreading in your restaurant.
Sanitization station
Restaurants today should have sanitization stations put up at an accessible place in the restaurant, so that patrons can sanitize their hands properly before entering.
While many people now carrying a small bottle of sanitizer in their bags and pockets, sometimes the customer can forget to carry their own. A sanitization station is really handy in this case.
To maintain proper hygiene and protection against coronavirus, set up a separate section solely for employees also to ensure they too sanitize their hands and clothes before starting their shifts.
Moreover, encourage frequent employee handwashing with soap and water for at least 20 seconds, before, during, and after preparing food. Increase monitoring of this practice to ensure adherence.
And provide gloves and require they are worn by employees when performing their duties, including touching food and disposing garbage.
Contactless payment
In this pandemic period, handling and handing over cash or the cheque increases the risk of contracting the coronavirus and other germs. Contactless payment or digital payment is now the way to go. It is an alternative transaction method widely preferred in these difficult times.
There are many cashless payment options available today, including Google pay, PayPal, and WhatsApp pay. Offer as many of these contactless payment options as possible in your business to keep everyone safe and comfortable while in your establishment.
Up your hospitality skills
People have been hardly visiting any restaurants and now whenever they do, you should make sure that they get the best service so that they keep coming back. To do so requires upping your hospitality and customer service game.
A restaurant should be well-equipped in every area all the time. For example, customers shouldn't have to deal with soap or toilet paper running out in your restaurant amidst the pandemic. Plan well to ensure all supplies are available in order to give your customers the best experience.
To cut the costs off the hospitality budget, you can buy the supplies you need in bulk, including buying bulk hand sanitizer (containing at least 60% alcohol), wipes, masks (as feasible), no-touch/foot pedal trash cans, and bulk toilet paper.
Outdoor dining area
If you are a restaurant that has a garden or any space nearby, then you can use this space to set up more tables for your restaurant outside to comply with social distancing protocols.
That is a great way to create room and space for customers. Keep in mind that the risk of COVID-19 spread increases in a restaurant setting as interactions within 6 feet of others increase.
Brief and neat menus
Instances of staff handing over the menu could be ground zero for coronavirus infection. There is an alternative to handing over and taking back a printed menu, which is reading the menu aloud.
Having a shorter, more direct menu that's easy to read in full can be a faster and safer way of ordering food, and also a helpful hack to spare staff the effort of talking too much explaining the menu.
Drive-through window
Where possible, incorporate a drive-through window in your restaurant. People are once again choosing to eat outside, but many would rather take their food away with them than dining in.
Offering a drive-through window will cater to this latter group of people who may still be nervous about gathering together in a restaurant to dine and wine.
Ultimately, as a restaurant owner, it's important to try and accommodate everything that's necessary to run not only a profitable business, but also a safe space for everybody to enjoy their meals.
In this difficult times, we all have to be mindful of each other and stick together to survive.