6 Ideas for Writing Blog Posts that Act as Sales Copy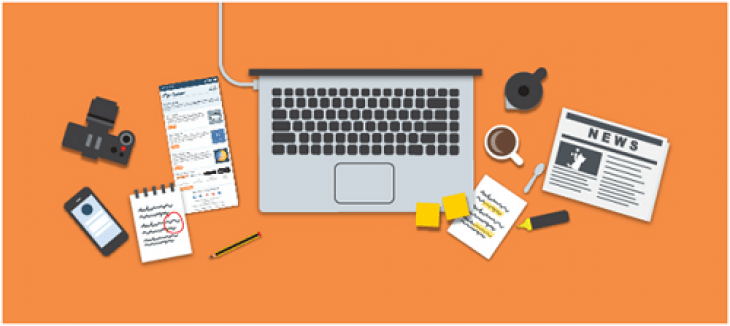 Imagine writing blogs that instantly convince your readers to sign up for your newsletter, download your guide, or visit your company's online store to make purchases. The amazing content that took you a while to write would immediately translate to cash in the bank.
Unfortunately, this is not always how things work. Readers don't automatically become customers after reading blog posts. They tend to remain readers until your content by design compels them to make a purchase or convert.
So, how do you write compelling blogs that convert readers into buyers or subscribers?
How to Write Compelling Blogs that Drive Conversions
It may seem like a daunting task to write blogs that inspire people to buy from you, but to achieve that goal you have to be consistent and follow some specific tactics when writing your content.
Here are some quick tips for writing blog posts that act as sales copy.
1. Avoid sounding like a salesperson
Are you writing to sing praises for your company or to provide value and in so doing convert visitors to your site into loyal customers?
Readers are not solely interested in what your company's goals are. They want to know what your company/product/service has to offer them that they can benefit from. What's in it for them?
Of course, you want to increase your sales but bragging about your company will not work when writing a blog. It can be off putting. To gain business via your blog, stop thinking like a salesperson and start acting like a knowledgeable guide who only has the reader's best interests in mind.
When writing your content, make sure you answer the three main questions that pass through every consumer's mind:
Why do I need this?
Why should I buy from this company?
Why should I buy it now?
Also note that the tone of your content also matters. To engage readers, incorporate a conversational voice and avoid a corporate, rigid write-up. This way the reader will relate to you and your content will resonate with them such that they trust your company and its products.
2. Compose catchy headlines
Catchy headlines are essential if you want to spark the interest of your readers and win over their trust and willingness to purchase from you.
You also may have probably decided not to watch a movie because its title and cover was not attractive enough for you. And how many times have you decided not to read through a web page's content because you didn't find the heading appealing?
All of these scenarios confirm what we already know: the title of your content must be appealing if you want to draw readers and win their attention. If your headline is not catchy enough, chances are that readers will not take another look at the blog post.
So, compose catchy and compelling headlines. Studies show that solution headlines tend to be more attractive to readers, receiving detectable increase in the number of clicks compared to non-solution headlines.
Moreover, spend time practicing your headlines and use tools and "Power hooks" to create the titles that will draw in readers so your blog is more enticing to them.
3. Know your audience
A good fisherman will always change the bait according to the fish he wishes to catch. The bait will also be adjusted depending on the time of the day, weather, and sea conditions.
Similarly, copywriters and content marketers should also familiarize themselves with their audience. Hence, when writing a business blog to gain consumers, make sure you know your target audience so that you can talk about things that they care about and convince them to buy from you.
Of course, don't just guess the prospective consumer. Use detailed analytics as well as a CRM software to segment your customers accordingly.  
4. Include images and videos
A picture is worth a 1,000 words, so the adage goes.
We also live in a visual world and our brains process information much faster—60,000 times faster—when provided with visual data than text, according to some studies. In fact, 90 percent of information transmitted to the brain is visual.
People's brains are hardwired for visual content. Adding pictures, videos, and even GIF in your blog posts will increase engagment and help to convert readers.
You can post original pictures and videos on your blog or use free stock images available on the internet if you don't have original photos, you can get tons of royalty free images to enrich your content with on photo sites like Unsplash, Pexels and Shutterstock.
5. Optimize for SEO
Google's organic search engine drives a huge chunk of traffic to blogs and websites, far more than other channels, including social and display advertising.
Search is the #1 driver of traffic to blogs and content web pages, delivering 53% of site traffic, according to a 2019 study from BrightEdge.
To maximize your blogs' visibility on search engines like Google, make sure your blog posts are optimized for search.
Some search engine optimization (SEO) tips to use include:
Improving user experience across the entire website
Designing for mobile first/optimizing your site for mobile
Publish information-rich content
Adding a proper META description
Incorporating your target keywords
Using images/visuals
Linking to relevant, high quality content
Optimizing and adapting your content for voice search.
Moreover, read widely about on-page SEO optimization and consult an SEO specialist where necessary to ensure your blog is fully optimized for search engines. 
6. Add a clear call-to-action.
Last but not least, add a clear call-to-action (CTA) at the end of your blog post. A mistake bloggers make is forgetting to include a call-to-action.
A CTA basically refers to the use of words or phrases that can be incorporated into web pages, blog posts, sales copy, and advertising messages to compel an audience to act in a specific way. Studies have found that a clear call-to-action attracts more customers and gets 371% more clicks than blogs that don't have any.
You don't want your readers to just read the blog and leave your company's site without taking any action. You actually want them to take an action that you have predetermined. In this way, the blog post is there to serve a purpose. So, ask them in no uncertain terms what it is you want them to do after reading your content.
Whether you want your readers to leave a comment, share your blog post, or purchase your product or service, make sure you include that call to action so that they know exactly what you want them to do next. You can also add a call-to-action button that's easily distinguishable and stands out to convert your readers.
In conclusion
Your blog can be a powerful tool for conversions. Treat it with the care and respect it deserves. The key is to understand your audience, create value-rich content, and don't forget to ask your readers to do what it is you want them to do—sign up, subscribe, share, or make a purchase.
With these tips, you will have no trouble writing powerful blog post that act as sales copy and result in more profits and conversions for you.