How to Keep Seniors Protected Online During the COVID-19 Pandemic
Seniors in general have seen and done it all, including witnessing three to four other global pandemics (1918 H1N1, 1957-58 H2N2, 1968 H3N2, 2009 H1N1 pdm09) that killed millions of people, so the current COVID-19 crisis is nothing new to them.
The only difference is the technology they use to keep in touch with people, make travel arrangements, and do a little online shopping can be weaponized and used against them.
According to a Pew Research Center Survey, 66% of Americans 65 years old were internet users (2018) and the number will only continue to grow.
The internet is an excellent place for seniors to read the news, watch a movie, catch up with old friends, meet new ones, do a little banking, and rejoin the workforce - all from the comfort of home. Some even find romance through online dating.
However, senior citizens have always been a soft target for cybercriminals because most aren't as tech-savvy as the younger generation.
Spike in Online Crimes Against Seniors
It's almost a certainty that online scammers and hackers are salivating at the fact that ALL seniors will be staying at home because they're the most at-risk age group for COVID-19 infections.
Not surprisingly, the current coronavirus pandemic has seen a dramatic rise in cyberattacks that target the most vulnerable sectors of society, and senior citizens are one of the most vulnerable.
Isolation, quarantine, and lockdowns mean senior citizens would be online without tech guidance, and cybercriminals are ready to take advantage of this golden opportunity. Instead of staying safe, many seniors face scammers trying to trick them into sending money or other worse things.
Even before the pandemic, it's estimated that seniors lose around $30 billion a year due to online scams, and 8% of all identity theft complaints belong to elderly people.
Another painful statistic is 954,000 seniors have to skip a meal or two due to the financial impact of getting scammed online.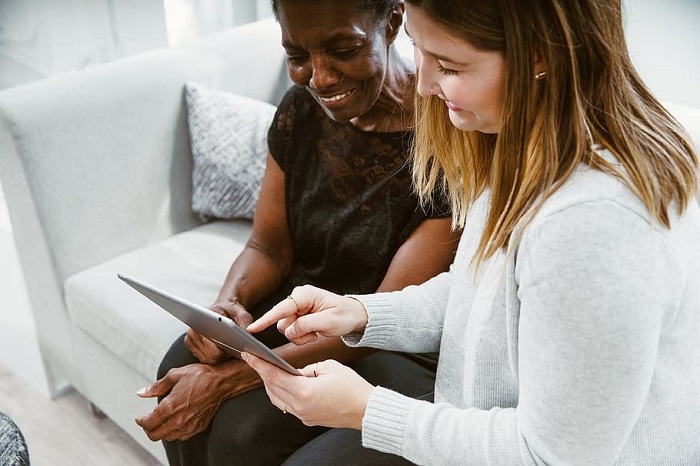 Stop Online Scams that Target Senior Citizens
Information is the best defense against scammers and cybercriminals. So, arm yourselves with information that can help stop online scams against seniors.
Here are some of the most common scams that target seniors so you can help them identify one before it's too late.
Cybercriminals post social media messages or send phishing emails that appear to be from someone the victim knows, claiming that they're in trouble with the law or their wallet was stolen while abroad.
Seniors should always find a way to verify if all this is true, such as reaching out to the person directly. You can also help by running an email address lookup to get more details about the source email.
Getting a message like the ones outlined above could mean the friend's email or social media accounts got hacked, and criminals are using it to scam all his or her contacts.
Scammers pretend to be from a government agency or bill collector and send emails about money "owed" by the target or a family member. If the victim doesn't pay up, these criminals threaten fines and even jail time, often saying that there's already a pending case in an unfamiliar jurisdiction.
Seniors should never respond to these kinds of emails until legitimacy can be confirmed. You can help by offering to find free public information if there is indeed a court case or arrest record filed anywhere.
While lots of people have found love online, many threat actors pose as love interests on dating websites, waiting for the right person to scam. Victims not only lose their money but get heartbroken, too.
Seniors need to be wary of people who send pictures that look straight out of a magazine. Another red flag is spelling, grammar, and punctuation errors - most dating con artists are not native English speakers.
Scammers call and say that they're from Microsoft or another tech company and claim that the target's computer is infected with a virus and offer to fix it. Another ploy is to hijack the browser and tell the target to call a number and do not shut down the computer or this, and this can happen.
Of course, these are all scams. Microsoft or other tech companies will never call their customers because of an infected computer or whatever issue unless the client initiates a support ticket. Seniors should hang up on calls such as these and consult someone he or she trusts if the computer is acting up.
Since most charities have websites where people can donate online, cyberthieves have been creating fake websites and buying spoof domains that read or sound like the original.
Seniors should be wary about emails that appear to be from a charitable organization and should consult CharityNavigator.org or lookup the email online to verify authenticity.
Also, never click on any links or download anything from these emails as they may lead to bogus websites or files loaded with malware.
Essential Safety Steps for Seniors to Stay Safe Online
Since the coronavirus pandemic encourages social distancing and staying home, you may not always be present to help the senior citizen in your life with online safety.
You can still make a difference by sharing these safety steps via email and going through each one over the phone.
Don't respond to unsolicited emails, phone calls, chat, and text messages from unknown senders or strangers, regardless of who they claim to be. Hang up immediately and call someone you trust to help verify it.
Never click on links on an email, social media message, or text as these can redirect you to a fake website that will harvest your credentials to compromise online accounts and banking details or be used for identity theft.
Never download files from unknown senders and software from unverified sources. If you get an email that looks like it's from someone you know, but the message is out of the ordinary, contact this person directly first.
Use strong + unique usernames and passwords for your computer and online accounts. If you're having trouble changing your credentials, call someone you trust for assistance. Never rely on anyone else or a third party claiming to be an IT professional.
Enable multi-factor authentication or two-factor authentication (2FA) on all your accounts. If you're having trouble setting this up, call someone you trust to help you.
Use security tools such as a firewall and antivirus to keep your computer safe from hackers and malware. Using a VPN or Virtual Private Network can help encrypt your internet traffic so you can be anonymous online. Ask someone if you need help installing and setting these programs up.
All these steps will go a long way in helping seniors stay safe from coronavirus-themed attacks and scams that specifically target them.
Remember, information and vigilance are key to helping mitigate the risks of being active online, no matter who you are, your age, profession, or social standing.