How Drone Technology Is Revitalizing the Construction Industry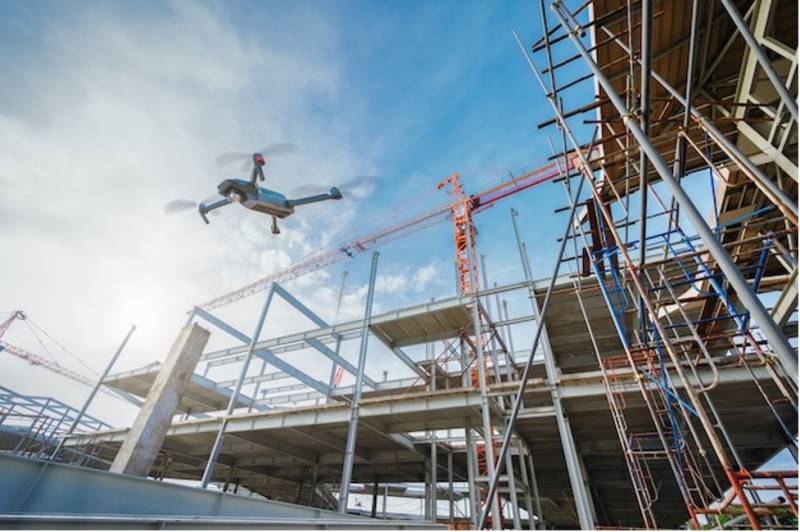 Drones have emerged as one of the most alluring construction trends in recent years. With the advancement of technology, app development companies have started to create apps that can help construction companies integrate drone data into their workflows.
Drone use in the industry has increased by 239% year over year, more than in any other commercial sector. The unmanned aircraft systems are a useful tool in the industry that provide advantages ranging from on-site safety to remote monitoring thanks to their aerial vantage point and data gathering capabilities.
The use of drones in the construction industry will continue to grow significantly as the industry matures and projects become more challenging. Fortunately, construction companies can hire app developers to create custom drone and business apps that meet their specific needs and requirements.
Key Roles Drones Play in Construction
Drones can increase productivity, reduce costs, and streamline workflow thanks to their real-time data recording capabilities and distinct aerial advantage. 
Here are some applications of drones in the building industry.
1. Maps of the topography and land surveys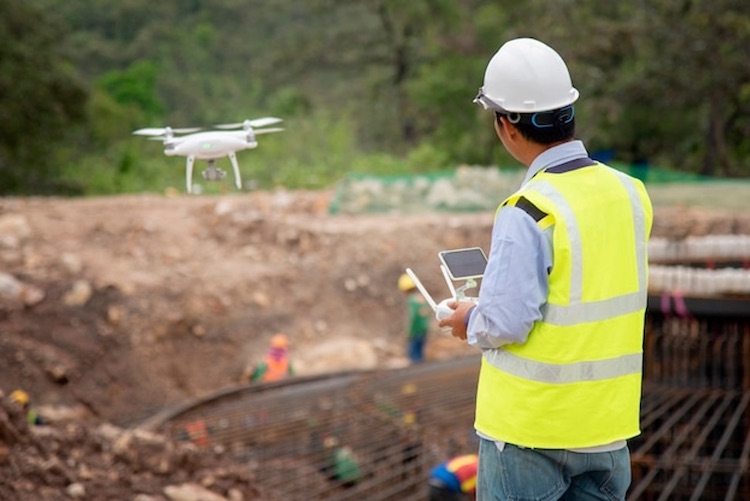 Drones can reveal costly errors in designs that are not suitable for a particular terrain. This is particularly true considering that planning intricate, extensive construction projects requires consulting topographic maps. Topographic maps are useful, but they are costly and labor-intensive to produce. Maps are therefore not always updated at the beginning of a job.
Drones can significantly reduce the time needed to visualize the topography of a site due to their capacity to map large areas of land. This guarantees accuracy before the project is started and aids in keeping the project on budget and schedule. This data can be gathered to help with design and feasibility analysis.
In addition, the 3D models created from the high-resolution images taken by drones can be used by the construction team to identify problems before they arise and find errors in the scope, ultimately saving time and money thanks to app developers.
2. Tracking of Equipment
There are typically many lengthy spreadsheets involved in a construction project, which can quickly become an Excel nightmare (unless you have rental management technology). And getting confused about where the equipment is at each job site is a challenge that almost every project manager has encountered.
Additionally, drones can detect if a piece of equipment that needs to be terminated is still present quickly, avoiding costly unintentional extension fees. The same manager can quickly determine whether the equipment is where it should be by performing a flyover with a drone.
Before operators even arrive at the job site, they can quickly and easily send recorded data to repair technicians at equipment rental companies for faster and more precise diagnostics.
Since mistakes with the equipment are another frequent problem. The recording capabilities of drones could be used to detect problems remotely and provide visual representations that help explain those problems.
3. Online Progress Reporting and Monitoring
The visibility drones can give clients is yet another beneficial aspect of construction drones. When clients are unable to visit a site in person, drones can produce stunning aerial views and help them understand how the project is progressing.
Drones can also enhance team collaboration internally by sending data to connected software during flyovers, in addition to client communications. Clients are reassured that their money is being used effectively thanks to this.
Construction managers, design teams, engineers, workers, and owners can all simultaneously access the data, follow the project, and spot any potential mistakes. Additionally, drones can leave a useful paper trail that teams can later access.
4. Security monitoring
If you've ever had a piece of construction equipment stolen from a job site, You understand how devastating it can be. According to a survey, less than 25% of the stolen construction equipment—worth over $300 million—is ever recovered.
So, maintaining equipment security is crucial to job management. You may lose tens of thousands of dollars or more if an excavator or boom lift is stolen.
To quickly determine whether a piece of equipment is in a secure enough location, a drone operator can perform a flyover. By doing so, you can deter theft or damage and spot trespassers.
The drone can do regular flyovers over the entire construction site and check security cameras to see if anyone is coming onto the property without authorization.
5. Visual inspection of the structure
Drones can deliver a crucial inspection in place of large scaffolding and labor-intensive machinery. Heat leaks, cold spots, and any electrical problems can all be found using thermal sensors. In the long run, this level of quality control benefits client relationships.
In addition to gathering high-resolution imagery for analysis, they can be flown around buildings to check on their stability and small details. Drones can be used to perform planned maintenance on larger structures like scaffolding, towers, bridges, and roofs. A drone operator can complete a task in a matter of hours as opposed to a whole team of surveyors.
6. Employee Safety
One of the top priorities for construction companies is worker safety. In particularly, falls are responsible for 34% of worker fatalities. When taking manual measurements, workers frequently have to climb on to high platforms and maneuver around dangerous situations, which increases risks of serious accidents.
Drones can replace humans in these situations, lowering the risk of accidents that construction workers are exposed to. Aside from the obvious benefits of saving lives and money, the use of drones for aerial photography is also a great way to get a closer look at the world around you.
Projected Future of Drones in the Construction industry
Drone technology continuous to advance. Drone applications will likely also enable pilots to guide autonomous vehicles as well. Systems that pair drones with self-driving cars and delivery trucks have been tested by Amazon and other manufacturers. Similarly, the technology could help with transporting building materials and guiding construction vehicles.
In the future, drones will be able to perform more construction-related tasks than ever before as technology develops. For example, 2020 saw the release of Kaizen Aerial Solutions' new xFold industrial drone, which can lift up to 1,000 pounds. Due to its high lifting capacity, this drone can transport heavy loads like construction materials around construction sites.
Although companies have been using drones in construction for some time, they are now implementing them more quickly than ever before thanks to advancements and availability of drone in the market today.
Drones have proven to be extremely useful in the field, whether they are used for land mapping and surveys, surveillance,or transportation of equipment. Additionally, innovative drone add-ons like robotic arms, sensors for 3D mapping, and droppers for fire-extinguishing balls make the application of drone tech in the sector all the more exciting.