8 Email Marketing Tips for eCommerce – Plus 1 Absolute Gamechanger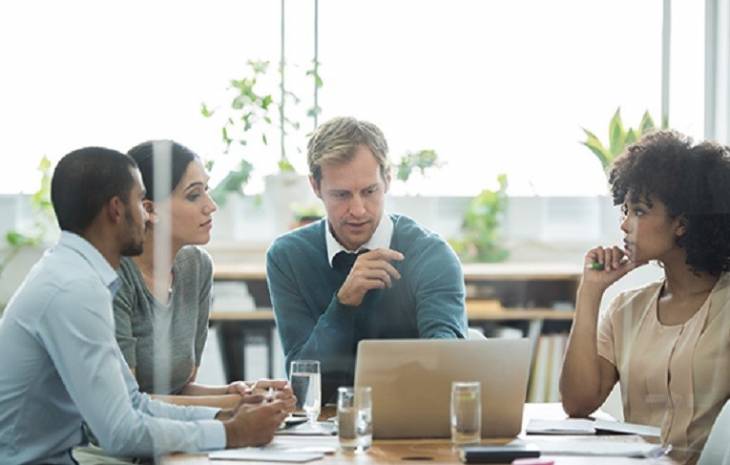 Running an eCommerce website is hard work. Besides merchandising and logistics, you also need to make sure you're marketing your products right and making the most out of every dollar you spend in promotion. This is why a channel like email marketing can really amp up your Return on Investment (RoI).
Here are eight tips that you can implement now and turn around your marketing:
1. Welcome to the club
When you get a prospective customer, someone who has just volunteered to offer their email address, the first thing you do is send them a welcome email. This is key to setting a good first impression.
You can be certain that there are several brands out there that are vying for your future customer's attention span, so you need to get in his/her mind soon. Plus, offer them whatever sign-up incentive you promised, like a first-time user discount or free shipping.
Here's what clothing brand Naadam sends when you sign up:

Image courtesy: Really Good Emails
Fortunately for you, welcome emails are the same for every prospect and are fairly easy to set up using pre-designed email templates like Mailchimp templates. 
2. They love you; they love you not
Turning a prospect into a paying customer is not easy work. If you are too aggressive, they will be put off. If you shower them with offers, they might shelve you permanently under the discount brand folder, which is why you need a set of drip emails that will automatically fire based on the decisions a customer makes (or the lack thereof).
In simple terms, drip emails follow a flowchart of decisions. For instance, the customer opens your welcome email but doesn't click on anything. Your follow-up email showcases your bestselling products. This time, the customer clicks but doesn't buy anything. So, your next email outlines your easy, safe payments process and reminds them that their signup discount is expiring soon.
Each email results in a decision and each decision results in a follow up email, until the prospect places their first order with you and becomes a customer. You can use HTML email templates with clear Call To Action (CTA) links to set up drip emails that close leads.
3. Abandonment issues
Here is a scenario that is all too common. Numbers show that your site is getting thousands of visitors daily. You have also surpassed the problem of getting them interested – by giving them either a great product offering or a good mix of offers and discounts – and conversion is growing. Except, it's not growing as much as you expected. You investigate and realize that while a lot of the customers are adding products to their carts, they are not following through with the purchase.
Every eCommerce company faces the issue of cart abandonment. Customers browse products and just before taking the final call on it, they vanish, like the person who ghosted after the first date; giving no explanations or feedback of any kind.
While we won't go into why this happens, we can help you find solutions for it using email marketing. Using triggered emails is one of the most common ways marketers fight abandonment. Check out how footwear giant Asics handles abandonment.

Image courtesy: Really Good Emails
By setting up a trigger for cart abandonment and preparing a set of emails that follows up with a customer automatically - anything from a gentle reminder of items waiting in cart to free delivery promotions - over the next few days, you can make sure you have no stone unturned when it comes to closing a sale.
4. What's the ETA?
When a customer buys from you, they want to know exactly how soon it will be before their product is in their hands. A series of emails tracking the shipment, from dispatch to delivery, is now industry standard.
Automating an 'order update' series of emails using HTML email templates is not only easy to set up for you, but also gives your customers the reassurance they are looking for.
Ideally, you must contact them at every stage of the delivery process, even if it means acknowledging delays. In fact, it becomes more important to acknowledge delays and own up to your mistakes, because being stuck in limbo is the last thing someone expecting a package has to go through.
Here is how Tradesy does it. In addition to sharing the shipping details, the email also promotes the referral program which is indeed a great way to generate more business.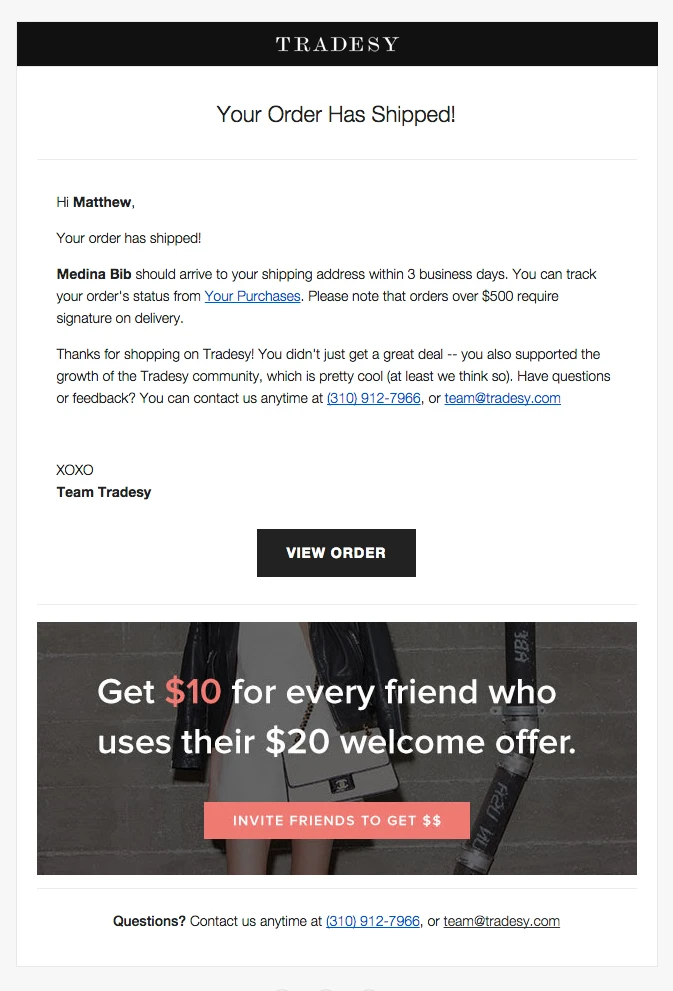 5. Dates, dates, dates
If you have ever forgotten your own anniversary or your best friend's birthday, you know how important (dangerously so, in this case) dates are.
Most of us celebrate at least a few special days during the course of the year, and secretly at least, want to feel special and be pampered. This is why getting in touch with your customers on their birthdays and anniversaries and spoiling them with special offers – like discounts, free delivery coupons, etc. – is one of the more sure-shot ways to ensure engagement.
Take a look at this email example by Birchbox that totally nails it with their cute birthday wish, birthday-themed CTA, and relevant product recommendations.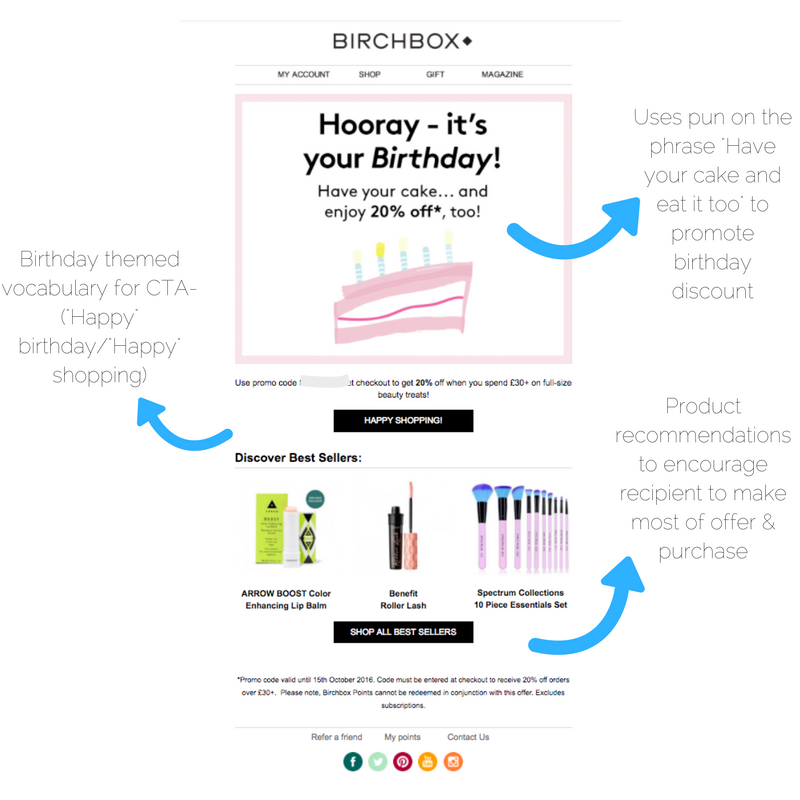 Image courtesy: Ometria
Scheduling personal emails like these or post purchase ones like reminding a customer to bring their bike in for an annual service for instance, to go out on set dates is something that we can help you set up. 
6. VIP treatment
Among all your customers will be a few who make those big purchases. Customers whose Average Order Value (AOV) is just way above the median figure. The creme de la creme.
No business can afford to overlook their top spending clients and treat them like all the others. You need something to set them apart. Some companies do this with a loyalty program. However, there is an easier way of doing it. Setting up a set of premium emails – which could include anything from special offers and discounts to new product previews and personalised services – will show them how much they mean to you.
There are countless business email template examples out there that you can use to do this. The makeup brand Sephora does a whole lot of things for its club members like members-only sales, extra discounts and sales with up to 4X reward points.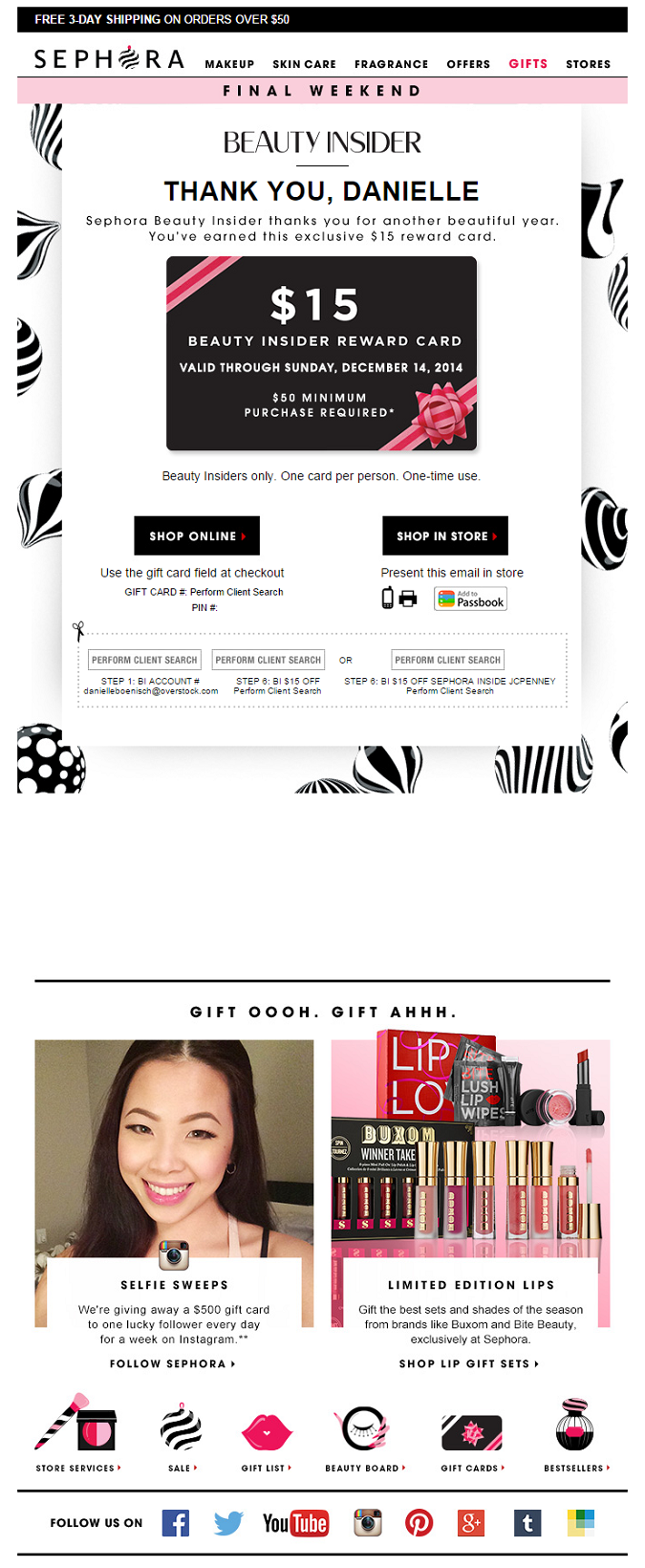 Image courtesy: Pinterest
7. The A/B of email marketing
Email marketing can be a great tool for experimentation and learning. By doing what marketers call A/B Testing, you can see exactly what kind of content is getting you attention and what is not.
When you run an A/B test, you divide your recipients (customers or prospects) into two groups and send each group a different email to see which one does better. This lets you discover not only what products or offers worked but also finer details like which subject line did better, what colour combinations were more preferable, etc.
That brings us to the best tip we can give you today.
Aaaaand drumroll…
8. Personalized recommendations
If you have a recommendations engine working for your website, you know that personalization is a gamechanger. A study found that in the United States, an email with a personalized subject line and message pushes up your click rates from 0.2% to 5.9%. That's nearly 30 times! And it doesn't stop there. Personalization has been shown to boost conversion and tackle bounce rates like few other tools can.
Here's how you can wield personalization to your advantage. Say you have a small start-up that makes shoes. You see a lot of site visits but the bounce rate is pretty high too. This is when you introduce personalized recommendations over email. You show someone who has browsed one product similar items they would love, or bucket your users into affinity groups (i.e. people who have browsed more than three products in the same category, like loafers or sneakers in this case) and showcase the most popular products within those categories.
And the best part is all this can be set up to run without much need for regular monitoring.
Amazon does a great job at sending personalized recommendations in their emails. Here's an example to inspire you.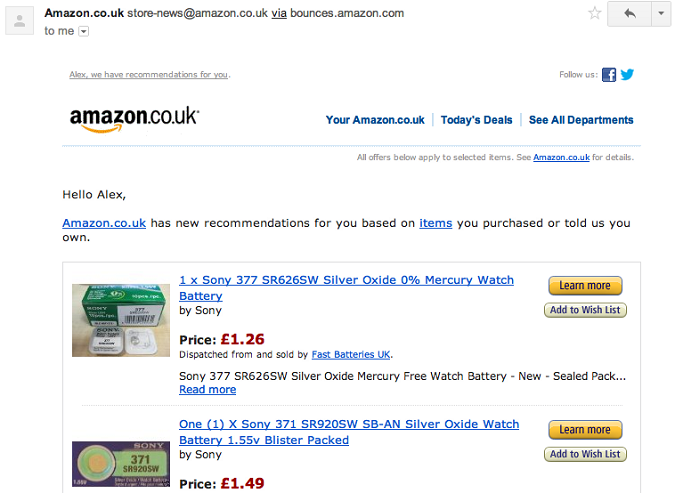 We would love to know which of these tips you liked. Let us know in the comments below if you have implemented any of these tips and generated higher revenue.