REVEALED: The Most Fitness-Apps-Obsessed Locations in the UK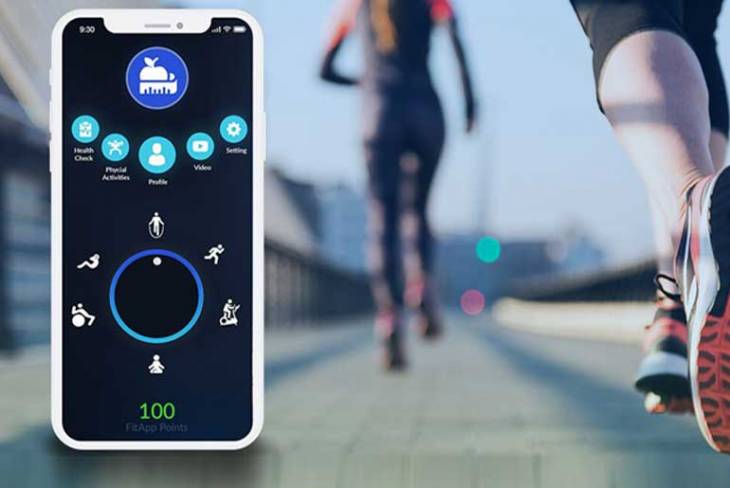 Throughout the pandemic, concerns over the people's health and fitness have been highlighted as gyms and sport centres were forced to close.
In an attempt to help people maintain a healthy weight and exercise schedule, while preventing COVID-19, the UK Government issued advice on how to exercise effectively. 
The nation was informed to limit exercise to just one hour a day when the first lockdown was announced. As a result, more and more people turned to digital assistance for fitness guidance and healthy lifestyle advice, as is also happening in other places around the world.
There are many ways we can improve our health both physically and mentally. ranging from improving our diet to walking the dog and meditating. However, can our digital devices help us out more than this, as oppose to just being used to watch TikTok and Netflix for hours on end?
For fitness fanatics out there, mobile apps are great ways to track your heart rate, calories, and activities. In an attempt to replace the exercise you would be doing in a gym or with others, more people have turned to the likes of Strava and Fitbit. However, have some areas in the UK jumped on board this trend more so than others?
One leading manufacturer of health supplements, Pharma Nord, used Google search data to investigate which fitness apps and devices have increased in popularity over the last year, and which towns and cities have seen the biggest growth in terms of activity advocacy.
Apps and devices based on popularity
The market boasts a variety of fitness apps to download. However, some are clearly more popular than others.
The UK public searched for Fitbit more than any other across the most popular apps and devices. With 550,000 monthly searches, the smartwatch and fitness tracker fought off stiff competition from Strava, a dedicated running app, which had 301,000 searches per month, and MyFitnessPal, a diet and exercise tracker, with 110,000 searches per month.
The place that was most active
There were strong searches for these fitness apps and devices across the 53 most populated UK towns and cities. However, some locations showed more motivation to start their fitness journeys than others.
In comparison to all other UK towns and cities, Inverness accounted for the highest number of searches for fitness apps and devices. With 1,560 average searches per month, the city had the highest proportion of their population looking for fitness apps.
In fact, the people of Inverness searched for fitness apps 117 per cent more than the average person in the UK.
Behind the Scottish city was Chester, which searched for popular fitness apps and devices 80% more than the UK average, and Exeter which searched 46% more than average.
The location that was least active
Despite Inverness and Chester showing a keen interest in fitness apps and devices, some UK towns and cities appeared not to feel the same.
The Google searches found that Royal Turnbridge Wells was the least likely to search for the digital tools. The people of the western Kent town were 82% less likely to ask Google for these apps and devices than the rest of the UK.
The likes of Newport and Swansea took slightly more of an interest in these apps. However, their searches were still 77% and 72% below the UK average.
Most Digitally Active Locations

Most Active UK Locations

 

Least Active Locations

Rank

Location

Percent Above UK Average

 

Rank

Location

Percent Below UK Average

1

Inverness

117%

 

1

Royal Tunbridge Wells

-82%

2

Chester

80%

 

2

Newport

-77%

3

Exeter

46%

 

4

Swansea

-72%

4

Lisburn

45%

 

3

Cardiff

-62%

5

Bristol

45%

 

5

Bangor

-52%
Additional activity advice seeking
The study also helped to reveal the core aim the public have for using these fitness apps.
Alongside the known branded applications, people also searched for apps to help them with specific activities. The most common of these was 'running app', which amassed 6,600 searches per month in the UK.
Other than helping with their physical fitness levels, people were using apps for their mental health too. In second place, searches for 'meditation app' and 'sleep app' each achieved 4,400 searches per month.
Throughout the pandemic there has been an increased focus on the importance of mental health. The virus and the isolation of lockdown have caused considerable anxiety among the public. Using your phone to help improve your mental wellbeing and improve your sleep can be just as important as taking care of your physical health.
As for other apps that received high search volumes, 'walking app' also with 4,400 searches, 'step counter app' with 3,600 searches, and 'cycling app' with 2,900 searches.
As for the most populated UK towns and cities that were searching for specific activities, Lisburn accounted for the most. They searched for core activity apps 246% more than the average UK town or city.
Meanwhile, Bradford searched for these apps the least, falling 78% below the average UK search scores.
In Conclusion
Maintaining a healthy lifestyle has been made a lot easier by using smartphone and smartwatch fitness applications. The fitness and workout apps can track everything, from steps, heart rate, and even our sleeping patterns.
It's clear that the past year has emphasized the need to stay active. For those looking to start on their fitness journey, your smartphone or smartwatch may be the best port of call.