How Blockchain Technology Is Lifting Digital Marketing & Advertising Sectors
Blockchain, the technology that supports Bitcoin and numerous other innovations, can be defined as an unalterable, decentralized and distributed ledger or digital record of transactions in the participant's network.
Another definition from Ledger SAS describes a blockchain as "a distributed ledger similar to a database, but rather than being controlled by a central authority (i.e., a firm like Google, small company, or individual) the ledger is dispersed across multiple computers, which can be located all over the world and run by anyone with an Internet connection."
Under pre-defined rules, the Blockchain ledger entries are governed and validated by a peer-to-peer (P2P) network of participants. The ledger can either be public like the Bitcoin or can also be private, with all Blockchain entries having selected participants who are all "peers" in the network and serve as equal validators of the state of the ledger.
You might have come across articles discussing the technology and linking Blockchain to smart contracts, crypto-currency, and so on. Blockchain began to emerge as a viable, real-world technology option around 2016 and 2017 and is now changing the advertising industry in much the same way it has revolutionized other industries.
This technology is ingenious, allowing digital information to be distributed but not copied. It not only disrupts the financial sector and advertising industry, but also transforms digital marketing.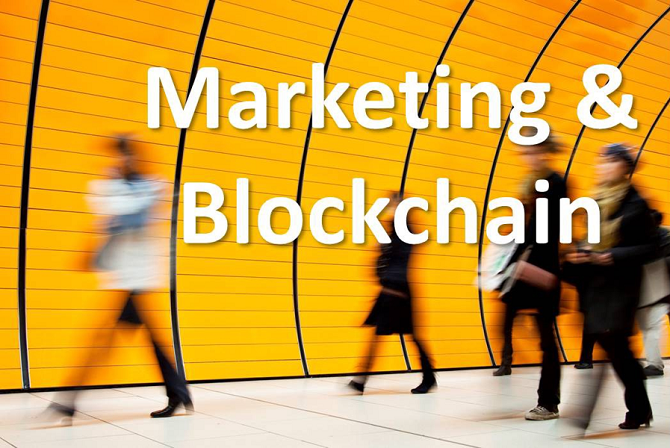 Rise of Blockchain Tech in Digital Advertising and Marketing
As both beneficial and disruptive, Blockchain has emerged as an important tool for advertising and marketing professionals who ought to keep a close watch on this P2P network.
If you are wondering if Blockchain is a fad or if it will continue to rise and disrupt different sectors of the economy, including the marketing and advertising industries for the foreseeable future, some statistics may provide answers:
In 2016, approx $290 million was raised by Blockchain start-ups, 

as interest in leveraging the disruptive potential of blockchain increased among companies.

Over 1.4 million was invested by tech and financial firms in BlockChain.
In 2017, the average investment made on Blockchain projects was $1 million.

Spending on blockchain solutions

 is projected to grow from $1.5 billion in 2018 to almost $19 billion by 2024.
The international BlockChain market is expected 

to expand at a staggering CAGR of 58.90% between 2016 and 2024, boosted by wider use in practical enterprise application

, according to projections by Transparency Market Research (TMR).
Over the years, online advertising industries have generated substantial profits through well-known ad providers and titan ad networks, such as Google Adsense.
However, with the emergence of Blockchain technology, the advertising industry can and probably should attain a completely new approach and different level of growth, if it leverages and manages the technology properly. 
Some of the improvements offered by Blockchain are:
Making contracts smarter and faster as well as speeding-up payments
Minimizing ad frauds by creating unalterable audit trails between consumers and  brands
Replacing or augmenting advertising infrastructure, permitting advertisers and publishers for buying and selling ads directly
Eliminating or exposing middlemen benefiting from the programmatic ad contracts
Transforming the value of attention on online platform
Why the Advertising Industry Needs Blockchain Technology
There are a couple of key reasons why Blockchain technology can be a boon in the advertising industry. Firstly, there is a lot of fraud in the advertising industry, which is being exposed at an alarming rate.
The fraud exposure is affecting greatly the community of internet users. Thankfully, the emergence of Blockchain technology can be deployed to minimize rates of ad fraud.
Secondly, visibility issues have been growing more important over the last few years due to an errossion of trust in the ad industy. There is a real need for more transparency and Blockchain-based ad tech alternatives offer hope of re-establishing trust in an ad industry that is rapidly losing it.
Now, let's shed more light on how much beneficial Blockchain can be for the advertising industry as a whole and the present digital marketing landscape:
1.  Targeting & Engaging Right Audiences
Based on behavioral data, many marketing and advertising professionals in different industries do not always succeed in targeting the right customers. That often means chances are very slim that the audience will click on the ads and convert.
Middlemen are hired to perform a better advertising job, but they are notorious for charging very high fees. To solve this issue, some tech savvy and innovative businesses are building decentralized search engines that eliminate any need for third-party advertising intermediaries. Advertisers then use the engines to target the right audience.
Using traceable tokens in ads, these businesses motivate their audience to click and in that way users can share their data. So, whenever the audience will click on the company ads, they will get paid. This results in hyper-targeted ads and the audience views only those ads they are interested in and from which they can earn.
This is how Blockchain solves the present challenges of targeting and customer engagement. China based ATMChain and BitClave are two examples.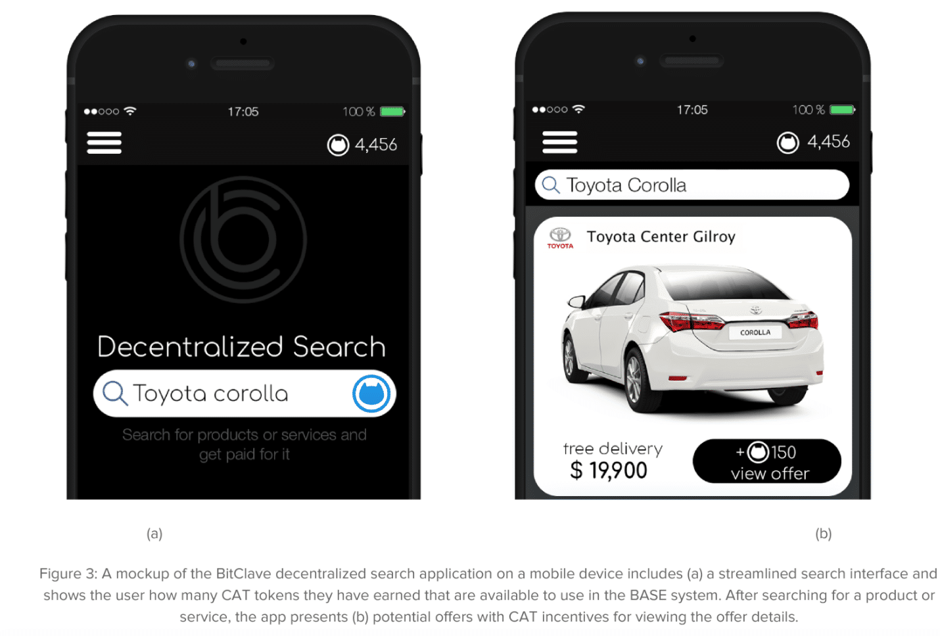 2. Fraud Prevention
For the advertising industry, ad fraud is the biggest issue of concern as the industry continously grapples with fake clicks. In January'17 alone, studies determined that in every five clicks one click was fake and that cost marketers tons of money.
Along with emptying marketers' pocket, ad fraud also disfigures their data which adversely affects their marketing strategy and advertising tactical decisions.
With Blockchain technology marketers can easily resolve this issue, since the technology displays every click-through in real-time. Also, with the help of Blockchain technology, marketers can rent out their ad space and bring in quality traffic.
In fact, using the Blockchain tech, PPC advertising has already been disrupted by entities like adChain that automatically tracks digital advertising's supply chain and BitTeaser, which is essentially a blockchain-based advertising network based on the concept of "teaser" ads.
3. Decentralization of E-Commerce
Have you ever anticipated that the manner in which individuals used to purchase things online would be completely decentralized by BlockChain?
Some of ecommerce platforms such as Open Bazar use of this technology to sell their goods directly to consumers without the need to pay to the intermediaries.
Also, those platforms have in-built Bitcoin wallet through which consumers can pay, as well earn rewards in crypto-currency.
4. Disrupting Crowdsourcing and Data Collection
Every marketer knows how powerful good data can be, but despite the availability of plenty of tools to gather data they cannot efficiently find accurate and quality consumer data. Also, marketers often find that they cannot complete the consumer profile because of poor quality of data. It is usually only the consumer who can provide the most precise data.
Blockchain together with crowdsourcing initiatives can be used to motivate and give incentive to consumers to share their information securely and in return acquire some type of compensation that would also result in highly relevant ads and authentic data.
BlockChain firms like Dataeum gather verified and precise data and make those data available for all interested advertisers via a decentralized bazaar. The collectors of data get accurate and reliable data, whereas the providers of data are rewarded heavily for providing the data. Thus both parties benefit.
5. Disrupting Influencer Marketing
Brands and marketers today have realized that their audiences tend to believe more on what other people have to say about their brand, instead of merely believing in what a company is speaking about its brand. According to a Tomoson Survey, 60% of marketers are consequently making plans to increase the budgets for influencer marketing.
Some decentralized influencer advertising marketplace platforms, are utilizing Blockchain for identifying the influencer's authenticity, such as on social media.
Leveraging Blockchain technology's immutability as well as transparency, these helpful platforms assist marketers and advertiser in approving influencers by authenticating their fans, followers and influence, and also deriving an assurance on ROI via smart contracts. 
6. Disrupting Reward Systems and Loyalty Programs 
Customer always have a favorable opinion of a brand whenever it treats them with something special. This is the reason why loyalty programs are so popular and boost sales.
Now, how can a marketer use Blockchain technology to create amazing and memorable customer experiences? Well, with Blockchain technology.
BlockChain is a secure tool for issuing and maintaining loyalty programs and gift cards. Often, customers accumulate so many gift cards that they cannot use, either because only a few bucks are left or with those cards they cannot buy something useful. What is the consequence? The money in the gift card is left unused and this creates a bad user experience for the consumers. By leveraging Blockchain technology, this issue can be solved.
With Blockchain the gift cards can be converted into digital wallet/coins, thereby permitting the consumer to easily redeem the gift cards. It would also be possible and easy to combine gift cards and different loyalty coupons so that they can be spent on a single transaction.
Firms like OrionCoin and Centz are using this concept successfully and saving pretty good amount of dollars. Gyft, a digital gift card platform, also leverages loyalty programs where you can shop and buy gift cards with Bitcoin, enabling exchanging and redeeming of gift cards seamless without any hassle and hiccups.
In Conclusion
It should now be clear that Blockchain technology can be a boon to your advertising and advertising strategies. Globally, Blockchain has proved very helpful to many companies by enhancing their transparency, helping them target audiences and establishing trust with advertisers. Be it a large business or a small one, Blockchain can be a very good choice.
Consumer experience should always be a priority for every business, and as such marketers must keep on looking for innovative and better ways to improve their marketing and advertising strategies. Blockchain when coupled with your current marketing techniques can lead to exceptional results, boosting consumer satisfaction, authenticity and relevancy.
By unlocking the real power of Blockchain, you can benefit by creating a transparent, secure and genuine customer experience in your business. So, don't shy away from seeking a thorough understanding of how the technology can be applied in your business. Blockchain technology's versatility is exciting and should be compelling enough for every marketer to try it.

You might also like...