Austin Kleon's Steal Like an Artist Reveals 10 Things Nobody Told You about Being Creative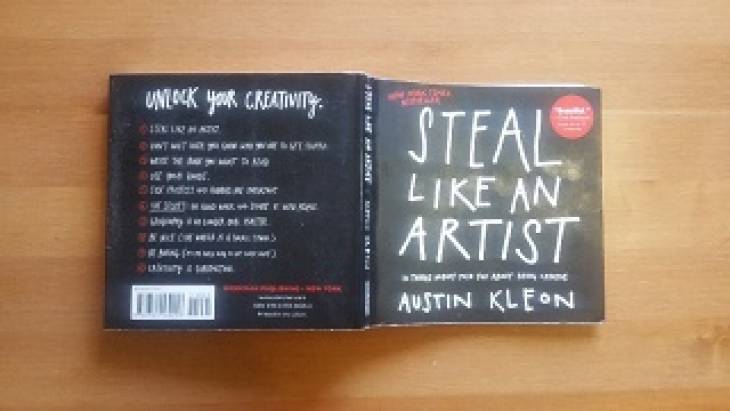 When New York Times bestselling author and artist Austin Kleon was asked to address college students in upstate New York, he shaped his speech around the ten things he wished someone had told him when he was starting out as a young creator.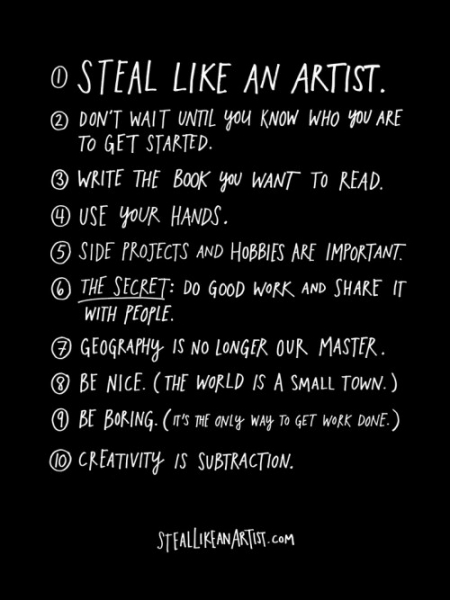 Kleon went on to talk about the combinatorial nature of creativity and the role of remix in the idea economy. The talk went viral, and its author dug deeper into his own ideas to create Steal Like an Artist, the book.
Steal Like An Artist is a manifesto for creativity in the digital age, an age characterized by combinatorial creativity and remix culture. The book opens with a timeless T.S. Eliot endorsement of remix culture:
"Immature poets imitate; mature poets steal; bad poets deface what they take, and good poets make it into something better, or at least something different."
Kleon points out that creativity is everywhere, creativity is for everyone. He stresses that you don't need to be a genius to create; you just need to be yourself. And you shouldn't be afraid to "steal" creative ideas — that is, draw inspiration from people you admire —  artistically.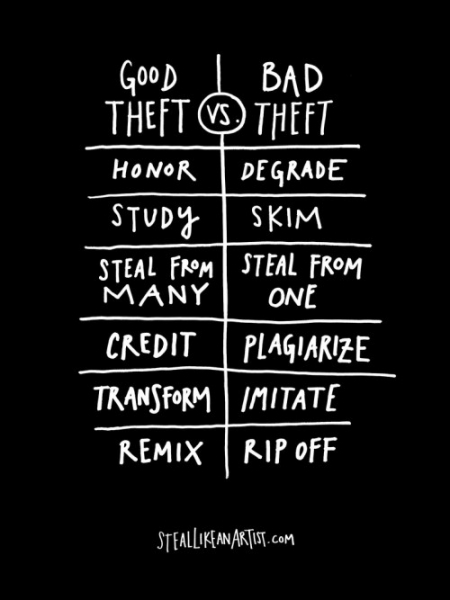 Kleon highlights the qualities you will need to cultivate for the creative life — things like curiosity, kindness, "productive procrastination" and "a willingness to look stupid." Thus he demonstrates that "creativity" isn't some abstract phenomenon bestowed upon the fortunate few but, rather, a deliberate mindset and pragmatic ethos we can all architect for ourselves.
Steal Like An Artist is indeed a thoughtful, little guide about creativity in today's world. It's positive message, graphic look and illustrations, exercises, and examples will put readers directly in touch with their artistic side. As Kleon writes, "you are a mashup of what you let into your life."

Buy now:   $7.39 - Amazon.com