10 Amazing Apps to Make Life Easy, More Productive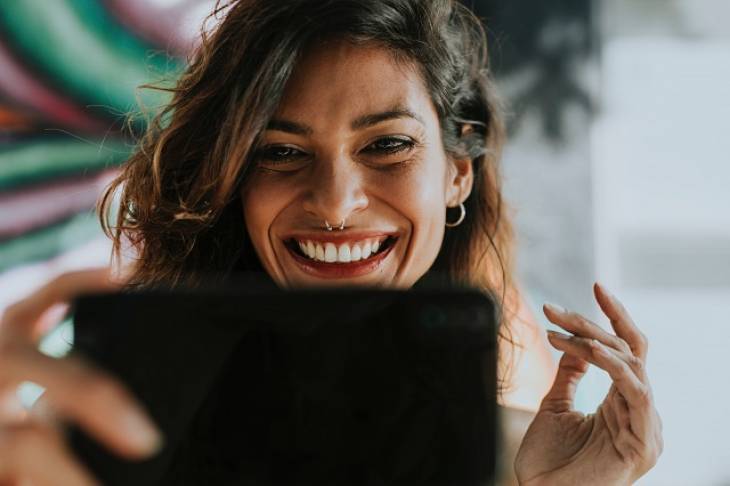 Technology has changed our lives so drastically that if someone was to come from the decade of the 90s to visit us, they would be shocked to see the world we are living in today.
Our world is so much better technology-wise and we are always on the lookout for new ways to make our lives a little more easier and efficient. This desire to make our lives easier and more efficient is captured clearly by the constantly updated online app stores.
As a lot of our time is spent on our mobile phones (many of us are actually addicted to technology), apps have become pretty much the tech entities closest to us—carried with us always in our handheld devices.
Apps Make Our Lives Easier
There are literally tons of useful apps available today, ranging from productivity apps, to health trackers, personal aids, and so much more. Sifting through all of them opens a world of possibilities and capabilities that dramatically improve our lives and businesses.
However, it can be overwhelming sometimes to find the apps that are best suited for your specific needs. With all of the choices out there, you may wish there was a magical sieve that churned out only the best apps.
Worry not, though, we have crunched the numbers and worked out a list of 10 amazing apps that will actually make your life easy.
So, let us begin with the list.
Insanely Useful Apps for Creative Professionals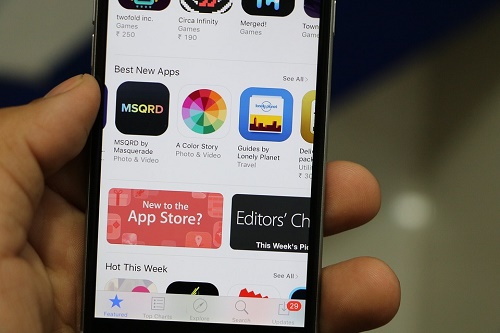 Cool Reader does full justice to its name. It's one of the coolest free reading and references app available for Android. With this app, you can read your ebooks in any format present under the sun, including fb2, epub, txt, doc, rtf, html, chm, tcr, pdb, prc, mobi, pml and so on.
Additionally, you can also customize the text size, font, color, margins, line spacing, and brightness for a customized reading experience. Now you can take all your ebooks anywhere on a single device.
The weekend is here. You are planning to meet up with your friends or colleagues for an after-work party or meeting. So, you dress up in your best outfit, pick up the car keys, mobile phone, and wallet. You turn on the car stereo to listen to Pink Floyd while you drive. But there is one problem when you arrive. There is no parking space available. Argh!
The only thing you're thinking now is how to get a parking spot without burning a hole in your pocket. Bummer.
Parking Panda app solves the problem of finding and reserving parking space in advance. Give one minute of your time to Parking Panda and you'll find loads of parking spots and garages in the vicinity of your destination hassle-free. The app also displays cost of the parking spot and gives you the luxury of paying in advance for the spot.
If this is not a great way to save time and keep anxiety at bay, I don't know what is.
The modern life is as fast as it can get. Everyone is in a hurry. You always have a plethora of things to do. But, in these busy times and ever-present tension, one thing that takes a backseat is your mental peace. Headspace, a meditation app made simple, can be a great option to streamline your life and bring calm. From Olympic athletes to entrepreneurs, different pros love it. Richard Branson and Ariana Huffington are among the app's 10 million users.
Headspace provides guided meditation and mindfulness to help you live a happier, healthier life with just a few minutes of meditation a day on the Headspace app.
The app has an option for free users and also paid subscribers. The free version introduces you to meditation for 10 minutes a day over a 10 days period. The subscription version takes you deeper with exercises ranging from 2 minutes to an hour. Regular usage of this app with apt dedication yields amazing positive results.
 If you've always wanted a meditation guide, give this app a chance.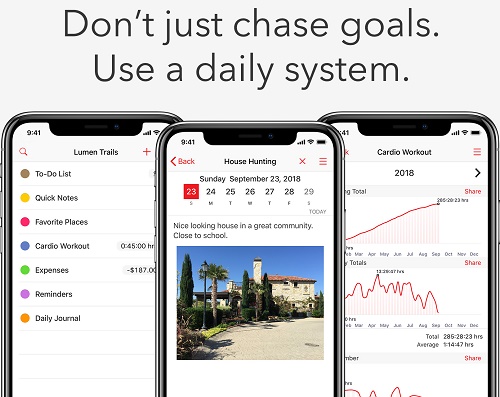 Are you one of those people who are not able to keep track of important things in your life? Try Lumen Trails app and you will see the tables turn.
Lumen Trails can track your diet, calorie intake, expenses, sleeping hours, workout time, and more. There are hundreds of categories that allow you to monitor even the tiniest details of your life.
So, if you were always worried that your life was not organized enough, put an end to that with Lumen Trails.
This app basically filters the high-energy blue light from your computer and devices' screens that causes eyestrain. There are many other cool features too, like a timer can be set to begin screen dimming at whatever time you want. This app is a boon for those night owls whose nights aren't complete without typing or reading on a phone or PC.
Filtering the blue light ensures that you can go on using the phone late into the night without worrying. If you are one of those who works on your computer at night, this app is tailored for you.
Self-employment has loads of benefits. You have no boss, neither are you accountable to anyone. But, if time is money, and money is a reason for your employment, then it's vital that you keep track of your time.
Hours Keeper app helps you manage time spent on multiple clients, allowing you to sort the hours by pay period and create invoices. You can either enter time manually or use a timer.
For freelancers, this app will help you become better organised and subsequently better focused. So, to achieve efficient time management, look no further than Hours Keeper. The app offers a free and a paid version.
MyScript Calculator app takes the human interface with a smartphone to a whole new level. This is not your average calculator. You just write the mathematical expression on the screen of your smartphone with fingers and the app calculates. This app instantly converts your handwritten mathematical expression into digital text and gives accurate results.
If you do not wish to get into the sophisticated typing issues during digital calculations, this app is a gift.
There is a quote that goes like this, "We don't travel to escape life but for life not to escape us." Traveling is a way to expand your worldview and rejuvenate yourself. But, in modern times, there is lot that comes with traveling. Flight tickets, hotel bookings, car rentals, emails and what not.
TripIt is a perfect answer to all of these problems, whether you are traveling for business or for pleasure.
You can organize everything in one place and easily access anything. The app allows you to share plans, ticket details, and itineraries with family, friends and whoever you what. Basically, this app is a solution to all of your travel woes. Go ahead and let the explorer in you download it.
This app is extremely useful in the modern times. It blends one of our basic necessities – keys – with modern technology in an interesting way.
The app allows you to scan your keys, such as door keys or car keys, by clicking a photograph of them and you have a copy (digital) in your hands. This copy can be used if you lose your key to make a new key at KeyMe office (currently 5 in New York).
All you require for this to work is a fingerprint scan. So, next time you have accidently locked yourself outside of your apartment, use KeyMe.
There are many photos in our Instagram and Facebook feeds that we are not very proud of. Some have dim lightings, and others bad frames. We just feel like if some extra work was done, they could have been masterpieces.
In comes VSCO photography mobile app for iOS and Android devices to help you fix these photos. The app offers many photo editing features that allow you to better the framing, improve the lightings and much more, which can bolster your social media brand image.
VSCO is perfection for the social bug in you. Make sure you have it in your phone before you upload your next Instagram story.
We hope this list comes in handy the next time you visit the App Store. Since enhanced performance is essential in our lives today, these apps will very conveniently make your life easier and power your productivity and success.