5 Strategies You Can Use to Appear More Professional Online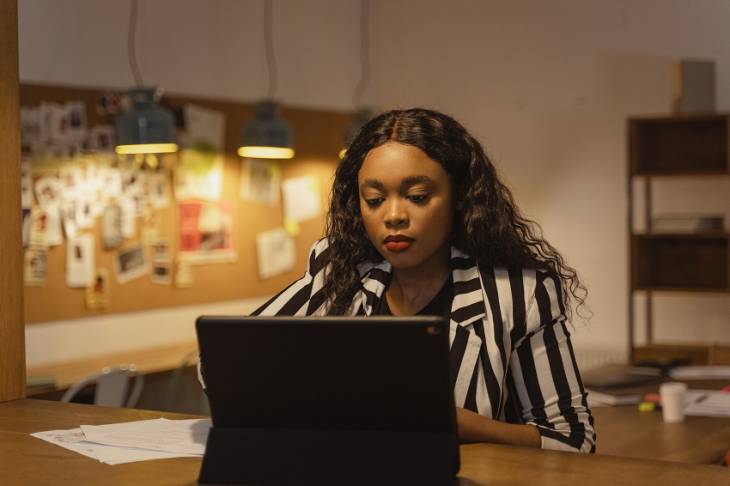 If you want to roll up like a superstar in the online world, whether for your business or yourself, you need to appear more professional. It suggests that you're deliberate, responsible, and can get the job done. Or at least, that's what a 2017 national survey conducted online by Harris Poll on behalf of CareerBuilder found.
According to the survey, 70% of employers snoop on candidates' social media profiles before hiring them, up from 60% the previous year in a steady upward trend. 
The study also revealed other useful insights regarding why employers decide against hiring someone. For example, 40% of businesses did not hire a candidate because they found inappropriate videos, photos, and, so on, which made the candidate look unprofessional.
And, according to the study, employers aren't just looking at social media – 69% are using online search engines such as Google, Yahoo and Bing to research candidates as well.
"Most workers have some sort of online presence today– and more than half of employers won't hire those without one," said Rosemary Haefner, chief human resources officer at CareerBuilder. "This shows the importance of cultivating a positive online persona. Job seekers should make their professional profiles visible online and ensure any information that could negatively impact their job search is made private or removed."
Cultivate a Professional Online Persona
You can use social media and other online channels to your advantage and appear more professional. This can help you land your dream job, and also win the trust and confidence of employers', partners, and even customers leading to even more opportunities for you.
Here are some key tactics you can use to build a strong online reputation, appear more professional online, and win peoples' trust online:
1. Manage your social media profiles
Your social media profiles have a big impact on your online presence and perception. If your profiles look unprofessional, then they are not as effective and can damage your reputation.
Instead of deleating your social media profiles while job searching or apply for a role, police and manage them. Each social network weighs heavy on the public's perception of you and is an opportunity to showcase your accomplishments and personality.
However, employers and client's are less likely to call people in for an interview if they can't find the candidate online. So, create professional looking profiles on the top social media platforms, especially LinkedIn, Twitter, Instagram, and Facebook, to make a significant positive image online.
Make sure you remove and avoid provocative, lewd, or inappropriate photographs, videos or information on all your social profiles. And don't neglet your profiles just because you got the job or deal to maintain a professional online persona.
2. Get a professional email address
If you want to look professional for your clients or your business, quit the free email addresses like yourname@gmail.com.
Sure, they might be nostalgic and fun, but the problem is using them for business, job hunting, or registering for your social media accounts won't work for creating a professional impression.
Nostalgic though this may be, these free email addresses are red flags in professional networks. They announce you're unprofessional or too lazy to change your email or go the extra step to demonstrate your professionalism.
Instead of free email addresses, use a professional email that has your business name in it in. For example, name@mydesignstudio.com looks professional and ensures the public takes your business seriously.
3. Speak boldly about your expertise and skills
Whenever you get a chance and it is appropriate, do not shy away from telling people about your skills and expertise. Your skills and interests are what help you get noticed and people to know you and what you do.
If you're passionate about visual assistance for sales, make sure the world is aware of it—without being boastful or coming across as pretentious, of course. This way people will know what you have to offer and can call you when they need it.
The more the world knows about it, the stronger your reputation and the further your online presence grows. You never know who might hear what you say or read what you write, so communicate it well to mesmerize future employers or clients.
4.  Build a solid digital portfolio
You can sign up for a free online portfolio to use as a professional marketing tool, or even create your own blog where you'll showcase your skills, work, plus education.
Personalize your digital portfolio or site to show the world what type of career you're interested in and even have a page that highlights your interest, accomplishments, and fun self.
Include everything you've done in the past (but make sure it's quality work) to demonstrate your interest, commitment, and competence in the industry. 
5. Engage, engage, and be more engaging
You've probably heard this tactic many times; well, it's a practical tip that works very well.
Intelligently following and interacting with people on social media and other online platforms can make you come across as knowledgable, smart, and professional, which will separate you from the crowd and build your profile.
Every social network offers unique ways to connect and engage with your target audience and influencers—use them appropriatly. For example, some digital platforms allow you to engage by publishing/posting interesting content, livestreaming videos, participating/starting discussions in groups on LinkedIn, Facebook, or Twitter, and more.
Engage in all these ways as much as possible to increase your visibility and stay top of mind. Don't forget to employ tactics like using hashtags and SEO to increase your online visibility and boost your reach.
The more you interact and expand your network, the more you'll see an increase in the traffic to your profiles, solidify your reputation, and gain valuable clout in your industry.
Wrapping up
Whether you want to appear more professional online to secure a job with a leading company, score more work with clients, or create a successful brand, having a professional online presence is vital and will increase your odds of success. It shows you are dedicated, passionate, and knowledgable, which will go a long way in increasing your odds of success..