YouTube Unveils Copyright Match Tool to Stop Re-Uploads of Your Original Videos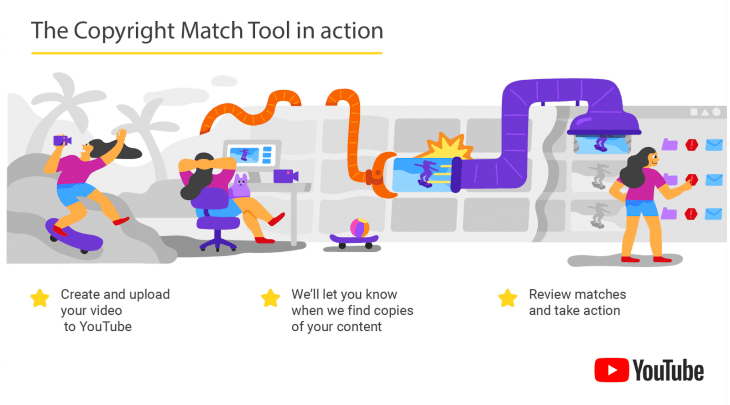 YouTube recently introduced a new tool dubbed "Copyright Match Tool" that aims to help video creators identify their videos uploaded to other channels without their permission. The new tool aims to curb a persistent problem of copyright violation on the platform.
YouTube already provides a number of ways for creators to protect their work, including the automated copyright-flagging system called Content ID. But, the manual process of searching for re-uploads is time-consuming. Now, you will be able to swiftly find copyright infringements and protect your videos.
Fabio Magagna, Product Manager for the Copyright Match Tool, explains how it works in a post on the YouTube creator blog:
"After you upload a video, YouTube will scan other videos uploaded to YouTube to see if any of them are the same or very similar. When there is a match, it will appear in the "matches" tab in the tool and you can decide what to do next."
If you find a clip of your content that was re-uploaded without your permission and you'd like it removed, you can always report it via the copyright webform, says Fabio. "It's important that you're the first person to upload your video to YouTube. The time of upload is how we determine who should be shown matches," he adds.
Moreover, always keep in mind that some reposted or repurposed clips could be considered fair use — and therefore wouldn't constitute a copyright violation, Fabio says. You should not file a copyright takedown request for content that you do not own exclusively, such as public domain content, or content that is subject to some other exceptions to copyright and hence not require permission for reuse, he stresses.
The Copyright Match tool will initially roll out to creators with more than 100k subscribers, and then – if all goes as planned – expand over the coming months to every creator in the YouTube Partner program.