Why You Should Read With the Kids This Holiday Season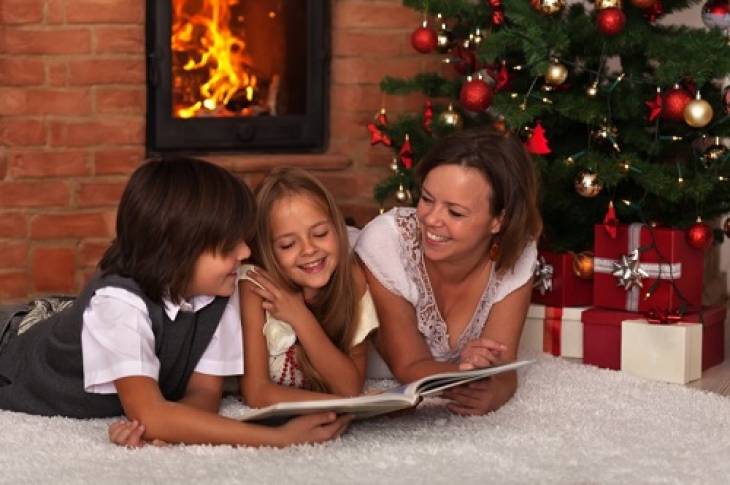 The holidays are a wonderful time. You get the opportunity to spend quality time with loved ones, show your love and appreciation for one another and overall give thanks for life. It's a time for family and friends to bond and build fond memories.
If you are looking to have a special one this year, we urge you to read with your kids this Christmas. Even if you don't believe in Christmas, reading with kids is a wonderful way to tap into the warmth and spirit of the season, and bring the year to a befitting close. Tis' the season to be merry, after all.
Here're some heartwarming reasons you should definitely cozy up with the kids and read with them this holiday season.
1. You'll bring the fun back into reading.
Reading sometimes gets a bad rap for being dorky or even boring. But, by reading with kids, you bring a personal tough that is fun and enjoyable to the activity. Picture everyone gathering together, picking their favorite Christmas book or holiday tale and having their turn to read it out for the whole family. It can be so much fun! Some popular classics you can read this Christmas include: "How the Grinch Stole Christmas" (classic Dr Seuss), "The Night Before Christmas" (classic poem illustrated by Charles Santore), and the popular teen novel "The Best Christmas Pageant Ever" (Barbara Robinson.)
2. You might just start a worthwhile family tradition.
Taking the time to read with children sends an important message: Reading is worthwhile. You don't even have to read popular holiday classics with the kids to deliver this message. You can just sit down together, write big family moments that have happened throughout the year, and then read out personal big moments in turns for some good family laughs and cheers. It's a lovely activity that can turn into a worthwhile family tradition. Your spouse, the kids, relatives and friends can go back to these lovely annual entries years later, read and reminisce.
3. You'll strengthen family bonds and relationships.
Reading with the kids fosters love and understanding. You spend quality time together as a family and focus on just yourselves and the characters in the book. It's personal time, often cozy and warm. Kids sit quietly and earnestly listen to you read for an hour. The result is that you cultivate key values in kids like patience and focus, and build trust. Family bonds inevitably strengthen.
4. You'll get opportunities to start conversations on important topics.
Reading with kids can also serve as a conversation starter. Family issues that are difficult or painful to talk about like divorce or death can be brought up through a book and lead to some meaningful conversations that bring healing. Moreover, with countless children's books out there covering almost every topic you can think of, introducing subjects you think your kids need to know becomes easy, such as what to expect during Christmas or how to be charitable to others.
5. You'll relieve much of the stress associated with holidays.
Let's also not forget that holidays can be stressful. Shopping, planning activities, cooking and even gathering with extended family can be intense. Reading with kids presents an opportunity to relax, enrich your minds and enjoy some precious leisure moments. Reading – or listening to kids read – a well-written book can sweep you away into another realm and let the stress and tensions slip away.  
6. You'll spark kids' imagination and creativity.
Unlike playing a video game or watching a television show, reading forces kids to listen carefully and picture the action happening in their mind. It tasks the brain to process still words on a page and bring those words to life in the mind. That sparks imagination. And once that happens, it's easy for imagination to take off like a rocket and spark new, creative ideas for your child to explore.
7. You'll enhance kids' language and listening skills.
Reading with kids not only stimulates their imagination and expands their understanding of issues and the world. It also helps them develop basic speech and listening skills, which prepares them to engage with the world better. When the rhythm, melody and nuances of language become ingrained in a child, learning to read and talk properly becomes as natural as walking for them.  
So, consider finding some good books to read with the kids throughout this holiday season. 
See Also: 12 Reasons Reading Widely Is So Important For Writers.

You might also like...