Why More and More Businesses Are Choosing Two-Wheelers for Delivery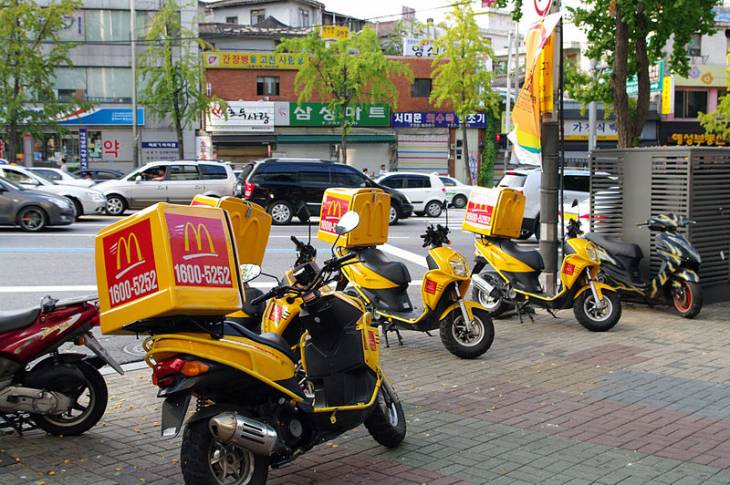 McDonald's Delivery Fleet. Photo / Wikimedia.
Nowadays, e-commerce is an integral part of our modern lifestyles. Food delivery, parcel delivery, and grocery delivery are just a few aspects of the e-commerce sector that are making urban life easier by allowing people to receive stuff faster. 
In the past, waiting 7–10 working days for delivery of goods was not uncommon. Today, however, as technology has advanced, deliveries are done faster (often same day deliveries), and the number of delivery options and methods have increased too. 
With the need for faster deliveries, more and more businesses and delivery service companies are opting to use two-wheeler vehicles for their deliveries, because two-wheelers can pass through dense traffic easily and deliver goods to customers much faster.
And with real-time tracking technology, customers can track the location of their package in transit using tracking IDs provided at the time of booking the order, which helps keep them in the loop on their deliveries and also know when and where there are holdups, if any.
Demand for Two-Wheeler Delivery Services Growing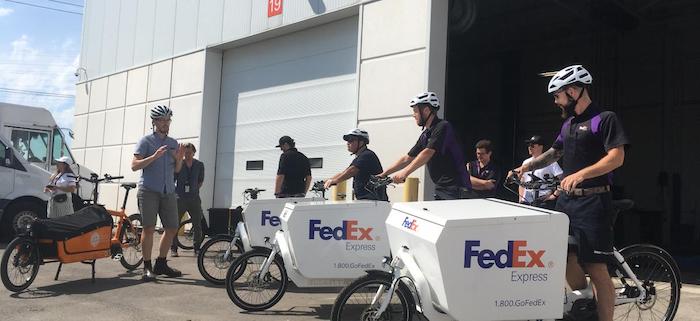 FedEx's cargo bikes and riders. 
During the COVID-19 lockdowns, people were bound to stay in their homes, which propelled a sharp increase in e-commerce business. People were shopping for everything online, including groceries, clothes, food, and pharmaceutical products, and they expected the products to be delivered to them fast—the same or the next day. 
As a result, demand for two-wheeler delivery also grew, and is still growing by the day. Restaurants and food joints are turning to two-wheelers to offer free home delivery to customers and enhance their sales, as are grocery stores and many other businesses which are also doing the same. 
It comes as no surprise, therefore, that the global two-wheeler logistics market that was valued at $334.2 Million in 2021 is now forecasted to reach a whopping $461.8 Million by the year 2027, according to ResearchAndMarkets, a market research company.
The e-commerce sector as a whole is expanding at a rapid pace worldwide, which is boosting the demand for two-wheeler deliveries and logistics. In 2020, e-commerce accounted for over 16% of all retail trade worldwide, up approximately 19% from 2019. By 2021, e-commerce sales were projected to account for about 18% of all retail sales worldwide. 
Because customers want a good bargain on things that can also be delivered fast, businesses should prioritize price, convenience, and fast delivery to meet customers' needs. In 2020, over two billion people purchased goods or services online. During the same year, global e-retail sales surpassed $4.2 trillion. Sold items are delivered to customers using various modes, including two-wheelers.
Popular Delivery Modes (and the Role of Two-Wheelers)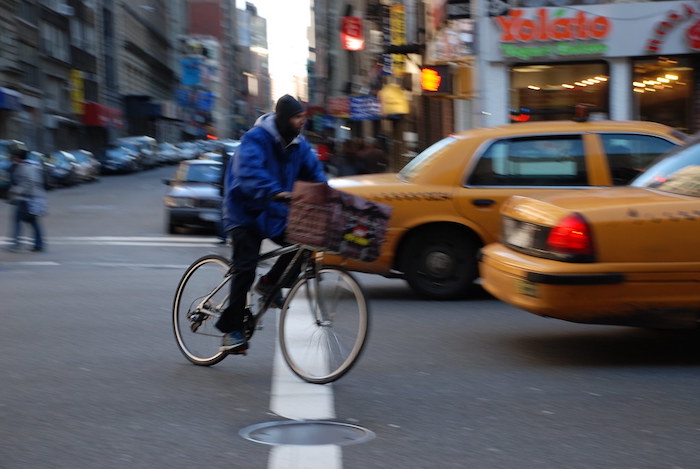 Bike delivery.
Retail shipping techniques differ depending on the target clients, type of business, and product sold. The most common modes of transport for delivery are vans and tracks. But two-wheelers have become very popular for e-commerce delivery these days.
Generally, different modes and models of delivery are categorized by the duration of delivering goods:
Same-day delivery
Overnight shipping
Two-day shipping, and
International shipping
Shipping expenses must be addressed, which are normally calculated based on the projected volumes, destination, size, dimension, and value of the items. 
E-commerce platforms may offer 'free delivery,' which is factored into the product price. But, for that, the operational expenses in executing the delivery must be lowered, which can be achieved by using two-wheelers instead of four-wheelers, at least for shorter distances.
Advantages of Two-Wheeler Delivery 
Besides lowering operational expenses in executing deliveries, two-wheelers ranging from commuter bikes to zippy scooters and sporty motorcycles offer many other benefits, including: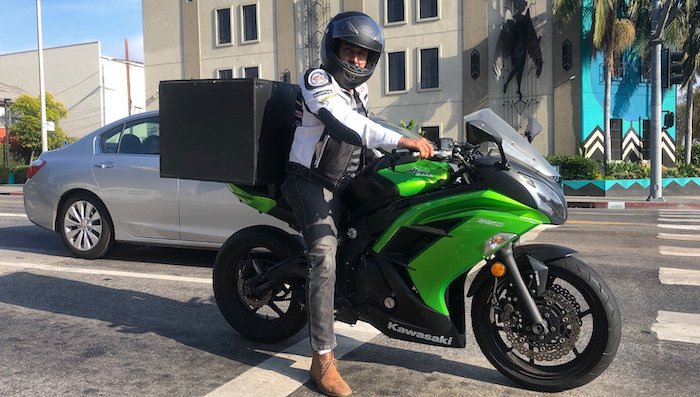 Sporty motorcycle delivery. 
1. Rapid Delivery 
In terms of carrying weight, a two-wheeler cannot be compared to a truck. However, when time is of importance, it may be more useful. 
A two-wheeler will not be stuck in traffic for hours or spend lengthy periods of time stalled at toll booths. Due to their maneuverability, these vehicles offer faster delivery advantages.
2. Lower Costs 
Another advantage is that riding a two-wheeler is less expensive than driving a car or track.
Cars require more gasoline or diesel, and they must be serviced and maintained on a regular basis at a much higher cost than two-wheelers. 
Moreover, two-wheelers are significantly less expensive to operate; all they require is slight routine maintenance and tire replacement, which is not as labor-intensive as is the case in a four-wheeler. 
This may help businesses cut costs and customers save money, which is always welcome.
3. Less Environmental Pollution
Many people choose two-wheelers since they are smaller and tend to pollute the environment much less than big, four-wheel vehicles that emit more CO2 emissions and other pollutants in the air. 
According to the U.S Environmental Protection Agency (EPA), a typical passenger vehicle emits about 4.6 metric tons of carbon dioxide per year, depending on a vehicle's fuel, fuel economy, and the number of miles driven per year. While scooters and motorcycles also emit greenhouse gases, it is significantly lower than four-wheelers.
Besides, two-wheelers also aid in the reduction of traffic congestion, which is a major contributor of pollution and congestion in our cities. Reducing traffic snarl-ups and congestion is helpful for the natural environment as well as for the driver's health!