When to Choose Therapy Over a Support Group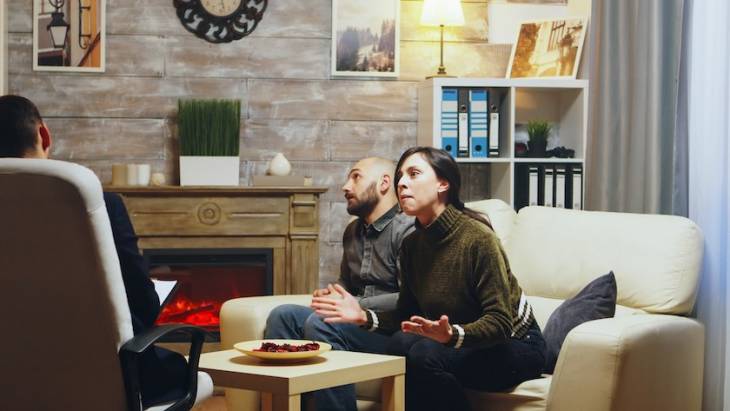 Generally, support groups are best for people who already have some level of emotional stability and would like additional social support from their peers. 
On the other hand, therapy is best for people who need more intensive care, such as assistance working through trauma or overcoming a mental health disorder.
Both therapy and support groups are often incorporated into substance abuse treatment programs, relapse prevention programs for addiction, and mental health programs. 
Depending on how you feel emotionally and mentally, you might lean more toward needing therapy or a support group. 
Let's go over the benefits of both, and when therapy might be the right option for you.
Benefits of Support Groups
You might benefit from a support group if you're looking for social connection and peer support from other people who understand your situation. 
There are support groups for many disorders, substance abuse issues, and life circumstances. This includes support groups focused on eating disorders, family or childhood trauma, codependency, abuse, depression, or anxiety.
For people overcoming addiction, options for support groups include 12-step Alcoholics Anonymous groups, SMART Recovery groups, and Women For Sobriety groups. 
Those addiction and mental health support groups often meet in person or online, as virtual groups are gaining popularity in the wake of COVID-19 restrictions.
Pros of support groups:
They help you to feel connected to other people
You have a space to vent and talk about your experiences
Space to share issues to lower your stress, symptoms of anxiety and depression, and alleviate other mental health concerns
Your peers can empower you and help you to work through problems
Where support groups may be lacking is the professional perspective. Many times, these are groups of people who want to be there for each other but don't necessarily have the knowledge that a licensed counselor or therapist would have. 
It's a great place to get connected and get feedback from peers in a similar place in life, but support groups can't typically offer practical skills development and professional advice.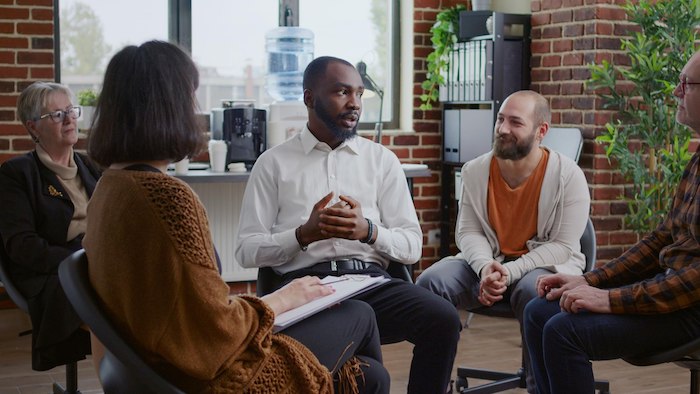 Benefits of Therapy
There are various types of therapy you can choose: individual therapy, family therapy, group therapy, or couples therapy.
You can also participate in talk therapy, a form of psychotherapy. This form of mental health guidance usually involves guided sessions, practical problem-solving, and behavioral therapy, such as cognitive behavioral therapy, dialectical behavior therapy, or motivational interviewing.
Pros of therapy:
Learning life and coping skills
Access to a range of evidence-based therapies
Professional perspective from licensed counselors trained in the area of mental health
Focus on changing thought patterns and behavioral responses to stress or negative emotions
Improved communication skills
Learning how to make better choices that leave you feeling happier and healthier
Therapy tends to be more challenging on an intellectual and emotional level, which is optimal for personal development and growth. 
Support groups will help you to manage your feelings in the now, but therapy will help you to understand why you feel the way you feel and create healthier patterns for an improved life.
When Therapy Might Be the Better Choice
If you've been dealing with a mental illness, addiction, grief over the loss of a loved one, trauma, or some other issue for a long time and you feel it having an impact on your health and day-to-day life, therapy might be the right option for you.
You might choose therapy if you want to learn more about the underlying issues that contribute to the mental health issue. In therapy, you'll work through not only the presenting issue, but the life experiences, choices, and behaviors that are feeding into it.
If, on the other hand, you are not sure where to start, you might attend a support group to see how it works for you. Choose a group that's focused on the issue you're dealing with and try it out. If at the end of a session or two you feel like you need more help, reach out to a therapist for further guidance.
For many people, therapy can be a life-changing decision that helps you overcome difficult issues and struggles with mental health. With therapy, the problems you're facing can be managed in a healthy way. Once you feel more grounded, you can move on to a support group for a step-down option in recovery and mental health maintenance.