This Startup Rewards You for Offsetting Your Carbon Footprint, Not Adding to It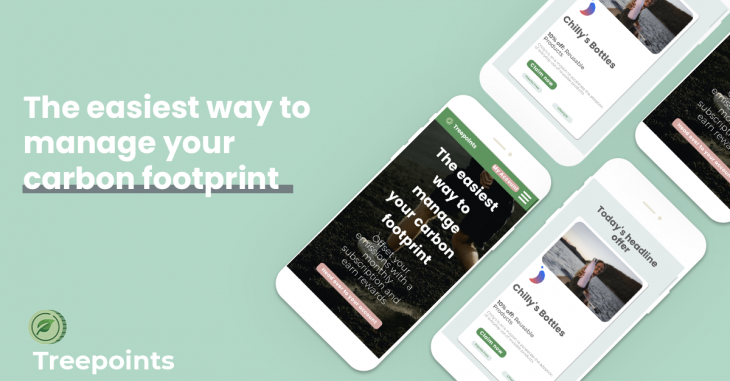 When Anthony Collias and Jacob Wedderburn-Day were looking ahead at 2021, one positive silver lining they could draw from the year was the favorable effect of the pandemic on the climate. The duo, who met at Oxford University, were already co-founders of a successful startup, but like many businesses faced severe difficulty and uncertainty of what the future would bring.
However, one thing they knew for certain, was that the world is facing a climate emergency.
"From talking to our friends and family, we realized most people are worried about climate change and want to do good for the planet. But it's knowing where to start which can be daunting" Jacob says.
The solution to this became Treepoints, a subscription service that makes it easy for the everyday individual to live more sustainably. Not only does the startup offset an individual's footprint, but it's the world's first platform to reward you for doing so.
A nice analogy is: think 'airmiles' — except Treepoints rewards you for offsetting your carbon footprint, not adding to it.
When a customer signs up they'll be able to: visualize and track their carbon footprint, see the UN certified projects they'll be helping to support, and join a team, plus earn rewards. These rewards take the form of tangible credit that can be spent on the Treepoints green marketplace
"Changing your lifestyle is difficult given the demands and pressures of modern-day life," Anthony notes. "The inspiration behind Treepoints was to make it simple and rewarding to fight climate change."
The company offers a unique rewards dashboard, which enables users to spend 'Treepoints' they've accumulated from their subscription and referrals to spend on top eco-friendly brands, such as Chillys, Lush, Patagonia and Toms. The company also partners with companies to provide exclusive discounts which users can access as soon as they sign up.   
"We wanted to incentivize people to get on board, by rewarding them for the good they are doing by reducing their carbon footprint," said Jacob. "We don't want people to feel alone in the fight against climate change, especially at the moment, and that's why all members can team up with co-workers and unlock extra free rewards from our eco-friendly partners."
Treepoints is not limited to just individual users — offering an independent team page for businesses, they make it easy for companies to visualize how they are performing in leaderboards across the world, earning rewards together as a company, as well as keeping track of emissions they have offset together.
Treepoint's aim is to help businesses around the world work towards a greener future, with the ambitious goal of reaching £1 billion by 2030 in support of carbon offsetting projects. 
The company partners with certification programs such as Gold Standard to donate to a diverse range of UN certified projects around the world. From renewable energy initiatives to clean water projects and reforestation, every Treepoints member supports a broad portfolio of carbon reduction schemes.
They publish all donations on their Public Impact Ledger, and Treepoints members receive regular updates on the projects they're supporting through newsletters, emails, gifs and social media.
"Every week we publish our offsetting certificates so you can see exactly where your money is going and the fantastic projects you're supporting," Jacob adds.
Transparency is said to be at the heart of everything Treepoints does and their mission is to put as much money as possible into fighting climate change – sending 85% of total revenue directly to Gold Standard projects and 10% back in rewards, which is on a par with the best charities worldwide and a far higher % than competitors.
Doing meaningful good for the environment has never been simpler.