Top Tips to Set Up Your Home Office whilst in Quarantine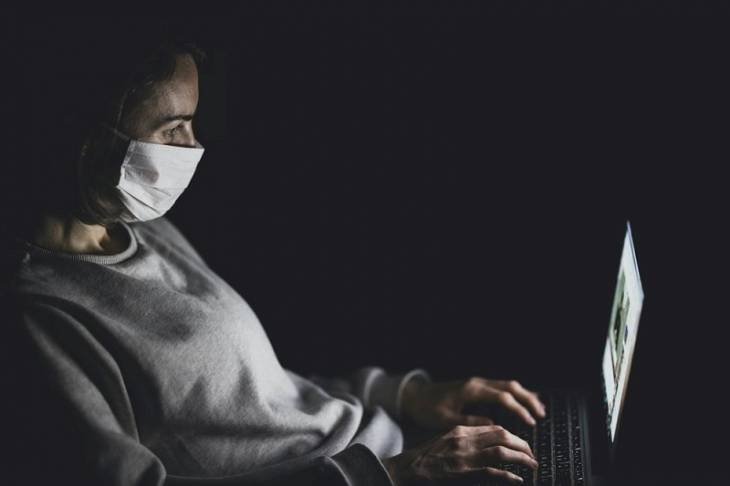 COVID-19 has been a new experience for all of us. It's forced many governments to put in measures that have been unheard of for decades. As a result, people are being isolated in their homes and being unable to go anywhere or move about freely.
People have also been forced to work from home as a safety measure against the rampaging COVID-19 pandemic. Some of us actually appreciate the benefit of working from home and continuing to be productive and able to perform our roles outside the workplace.
Considering that you'll be doing the same routine for many weeks and staying in the same surroundings until further notice, it can become quite a challenge on your mental health and perseverance for a couple of months at least, especially if working from home is new for you.
So, if you're working from home, you'll want to make sure your working environment can keep you as sane and productive as possible.
Here are top tips to help you create the ultimate home office for lasting productivity during your time in isolation.
1. Set up in a dedicated space
Working from home can be comfortable for many. Sometimes, you take advantage of the fact that you don't even have to leave your bed when you wake up in the morning or choose to sit on your designer sofa in your front room.
Whilst this can be quite a pleasure, it can also be quite unproductive. Your posture is likely to be unconventional while you work, you'll be moving less whilst in your bed and if anything, you'll probably have a big urge to go back to sleep again.

The best way to overcome this is to set up a dedicated workstation that enables you to access all your essentials. It can instantly put you in 'work mode' and have you in the mindset that you're ready for work. Situate yourself in a room that's set up for your work from home motive and sets you away from any distractions.
A dedicated workspace also means you can have a comfortable space for sitting, having a suitable office chair that can align your posture and relieve you of any health risks. Ensure your essentials are also kept close with items such as pens, notepads, calculators and other equipment vital to perform your role.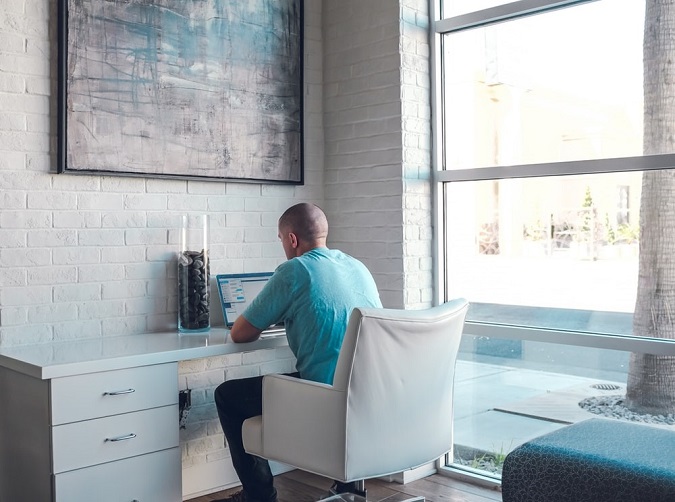 2. Keep up with your workplace habits
A good way to not slip out of your normal routine of work is to keep going forward with your normal workplace habits. Rather than staying in your bed and not showering, set yourself up to do a consistent routine to save yourself slipping into complacency.
Make sure you keep enough time to have a shower, eat your breakfast and generally set yourself up for the working day ahead. We might all not enjoy the alarm we set in the morning, but it can be a great help in ensuring your routine remains intact.
Of course, in some aspects, you may have to be flexible. Your regular processes will be adapted so fellow employees can conduct their role and continue their jobs. Video chats and online resources are available that can help projects and tasks to be completed. The key is to project-manage your work sufficiently and ensure that you're still able to be productive.
3. Add a bit more greeny and better lighting
Natural inhabitants can be an important part of your productivity and just how well you work. It's claimed that natural sunlight can be more beneficial to your productivity as lighting indoors.
Being close to lighting can not only ensure your workspace is well lit, but also prevent sleepiness during the day.
Airflow is another contributor to your productiveness. Whether it's sitting near a window or sitting beside a humidifier, having the right air space can better your cognitive function.
Perhaps you want something that's a bit more appealing on the eye when it comes to your airflow. This is where adding additional plants to your workspace come in play.
Greenery improves air quality in rooms whilst also providing a better appearance to your workspace. It's a great way to take a breather and give a different focus to your eyes when you've been staring at your screen for hours.
Even a small plant placed on your desk can be highly beneficial to your airflow and help to increase your productivity.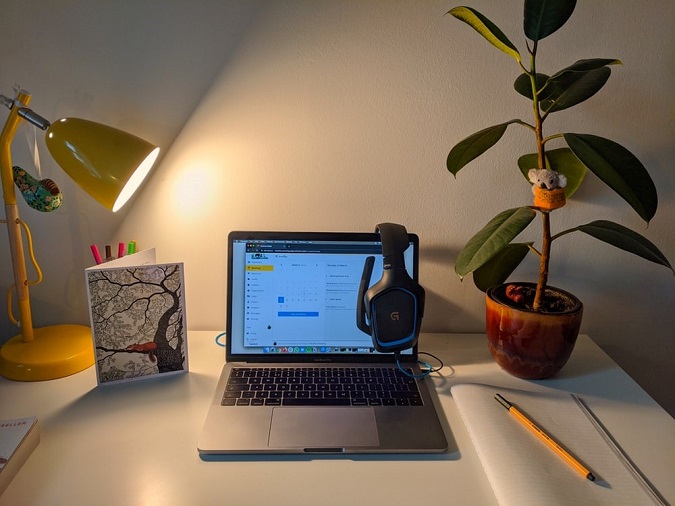 Conclusion: Working at home doesn't have to be difficult
Although you're in the comfort of your own home, working from home can still be difficult and challenging. Boredom and social isolation can take a big toll on how we feel and what we do. However, ensuring that you have a dedicated workspace and good routines can be beneficial in how you counteract these challenges.
At the same time, ensure you make the most of your breaks that you're allocated. Talk to your family, contact friends through your phone or other digital formats and essentially make the most of your time to spend time away from your original workspace to take a breather.
Ultimately, while it can be overwhelming to be constantly around work, and that can easily lead to some fatigue or boredom in doing so, with good planning, strategy and dedication working from home can be effectively managed without much problems and become pleasurable.