Sustainable Growth of Outdoors Fitness Now Demands More Urban Green Spaces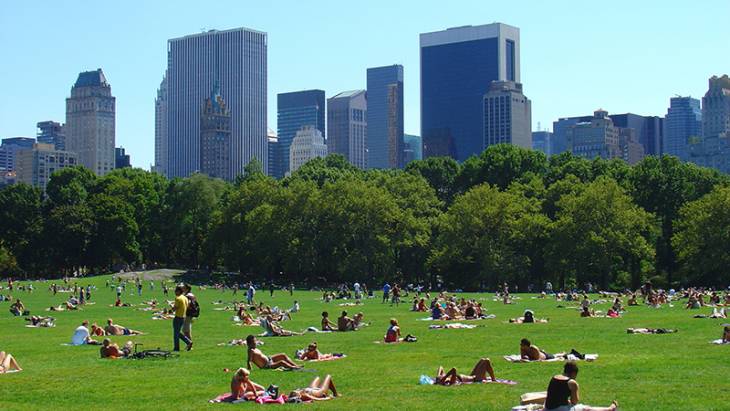 New York's Central Park on a summer's day. Urban cities with more green spaces are best for wellbeing. Photo: ZeroOne/Flickr.
The health and fitness industry is one of many industries that have been forced to adapt quickly to the ever-changing global economics and pandemic health situation. The epicenter of the industry, gyms, were suddenly shut due to COVID.
Everyone who values the gym as an integral part of their daily or weekly routine suddenly had to find new ways to keep fit and stay on top of their health and fitness goals. This has led to a surge in sale and development of home workout equipment, such as free weights, exercise bikes, and resistance bands.
Other products such as fitness tracker apps, wearable devices, and more have seen a huge growth in popularity as people have found themselves with more free time, and in some cases, more money to pursue activities that improve their health and wellness due to the removal of social expenditures.
While exercising outdoors is not a new phenomenon, it has become significantly more popular during the pandemic. For many people working from home, the idea of exercising within those same walls is almost unbearable. The gym would normally provide that separate environment to workout, but now the outdoors has become the replacement for many.
According to one study in the US, outdoor exercise increased by 29% in Germany at the beginning of the pandemic, and by 13% in the United States. Jogging, hiking, and cycling are the activities that have seen the biggest uptake.
Other reports also indicate that the bicycle manufacturing industry, in particular, has simply not been able to keep up with demand, as millions have decided that cycling would be their way of escaping out of the house and getting some exercise going.
But what are the benefits of outdoors exercise?
Studies have confirmed that exercising outdoors is more beneficial for both physical and mental well-being compared to spending hours in an indoor gym. In fact, outdoor exercise has a 50% greater positive effect than going to a gym, with greater decreases in tension, anger and depression.
Exercising outdoors boosts your immune system since being outside acts as a natural stimulus for your body to protect itself from disease. When you are surrounded by fresh air, greenery, and trees, it creates a sense of peace and serenity that can't be found in a conventional indoor gym.
A clear benefit for outdoors exercising is the chance to soak in Vitamin D. People who spend loads of time outdoors generally appear naturally healthier. Vitamin D deficiency can lead to a number of health conditions, including brittle bones, osteoporosis, heart disease, depression, and more.
Moreover, people tend to burn more calories when exercising outdoors due to the changing conditions in the environment. For example, a study by the University of Exeter found that people running outside burn more calories than those on a treadmill, because of outdoor conditions like wind resistance and changing terrains and inclines.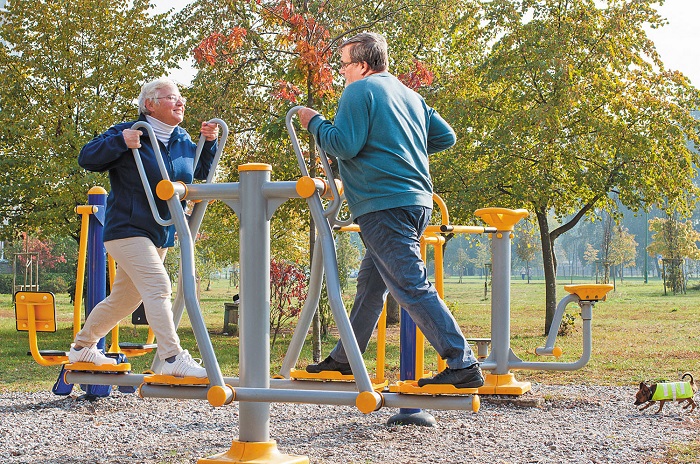 Urban green spaces outdoors exercises. Photo: katkov/Getty Images.
Need to maintain green spaces and outdoors workouts
Seeing people exercise more and enjoy themselves outdoors is great for both the individual and society at large. It's something that should be encouraged and maintained. In the right setting, it almost makes you feel like you're living in a model village where all walks of life are in sync.
However, in some countries like the UK, it's not very common to go out to enjoy the outdoors as much and even have meals outside. Of course, the weather is a factor in this. The UK does not enjoy much sunshine, but its bars and restaurants also rarely invest in heat lamps, umbrellas, or blankets.
That changed during the coronavirus pandemic where restaurant owners were left with only the option of providing sufficient outdoor seating to keep their doors open, otherwise they'd remain closed. And now restaurants and café's have warmed up to having exclusively outdoor seating.
The shift towards outdoor settings is very similar to what has been happening in the fitness industry. The trend is shifting rapidly towards outdoor exercising and that means the right infrastructure must be put in place if this healthy trend is to be maintained and encouraged.
According to a 2021 study by Fields in Trust called The Green Space Index, more than 2.78 million people in the UK live about 10-minutes walk from their nearest park or green space. In Great Britain there is no statutory protection for green spaces, meaning people do not have a legal right to green space access. It's at the mercy of developers as to whether your local park remains untouched or becomes an apartment complex.
And in the 2019 Green Space Index, it was calculated that outdoor exercise delivered an estimated £2.2bn of health benefits to adults in England each year. The societal benefits of access to green space are far-reaching and undeniable. According to Friends of the Earth, green spaces save the UK National Health Service more than £100 million each year in GP visits and prescriptions.
In order for this situation to improve, governments need to invest sufficiently in safe and sustainable urban walking and cycling routes. Cycling is nowhere near as popular in the UK and many other countries like it as it should be, and that's one of the easiest ways to get people active outside and reduce the carbon emissions from cars and public transport.
According to the European Cyclists' Federation (ECF), The Netherlands cycling modal share was 27% in 2017. The 'modal share' indicates the share of the different modes of transport in the total traffic volume of a country, region, or city. In comparison, the UK's modal share was 2%. That puts it 22nd on a list of 28 European countries.
Another way that outdoor fitness can be encouraged is for gym companies to start offering more outdoor group classes. Some of course already are offering outdoor group classes, but it's not as widespread as it could be. Should the trend continue at its current rate, it could become a major selling point when customers are choosing which gym to enroll in.
In conclusion
There are many lessons that both authorities and individuals have learned as a result of the global health pandemic. But despite the huge tragedy that has befallen everyone due to COVID, there are also some incredible opportunities emerging to grow and create a more sustainable and fair society.
Investing in our green spaces and protecting them for the benefit of everyone is just one of the many things that need to be done if society is going to improve. It'll greatly aid in boosting people's physical, emotional, and mental well-being, thus enhancing our quality of life.