Top Water Damage & Restoration Advice for Homeowners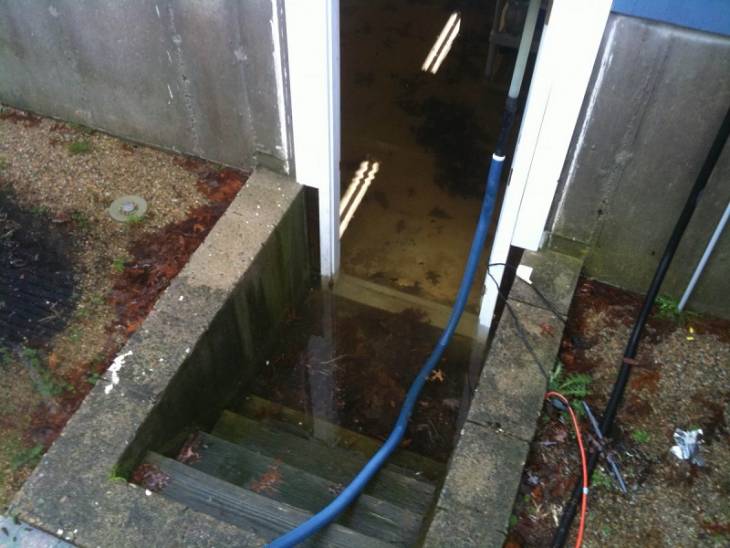 Water damage due to flooding at an entrance of a home. Photo/PxHere.
Although we may assume that water damage problems will never affect us, the truth is, no matter where you live, your home is always at risk from a range of water damage issues and disasters.
Water damage can specifically occur due to burst sewer lines, leaking pipes, and even natural disasters. In case your property is affected, then you need to identify its cause. Also, if you act immediately on this problem, then you can prevent further destruction.
Water damage can be a serious problem to deal with in households. If not addressed quickly, this issue ultimately results in some more problems down the line.
Often, major types of water damage repairs need to be done by experienced professionals who can safely and effectively deal with such problems.
So, whenever you experience major problems, you'll probably need to take the help of an expert water damage restoration service near you.
That said, it's always good to acquire some knowledge related to the issue beforehand to prevent and manage such problems yourself.
Below, we will highlight some of the best water damage restoration advice and tips you should know to understand and address this issue well.
Problems Caused Due to Water Damage
Water is vital for life, that much is a given. But sometimes water can be the cause of great harm and destruction in the house.
For example, water can overflow and create a serious mess, not to mention extreme kind of water damage aka "black water" damage like sewage and rising flood waters require swift action to mitigate serious health risks and destruction.
As a homeowner, it is critically important to properly inspect the risks and particular locations for water damage and mitigate them swiftly, including:
Pipes
Electrical Wiring
Floor Coverings
Framing
Wood
Insulation
Plaster
Drywall
HVAC
Appliances
Specifically, water can wreak havoc on the foundation of your home. Look out for that and focus on the problem before the damage becomes worse.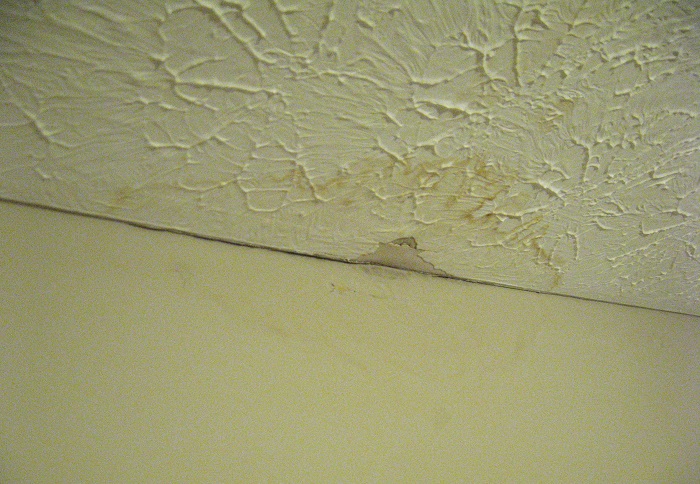 A small water spot on the ceiling of a room. This water damage was caused by rainwater leaking into a roof. Photo: Ed/Wikipedia.
Things to Consider Before a Water Damage Restoration Job
To properly determine whether you need to repair the damage by yourself or hire expert restoration experts, you should first evaluate the overall situation. This can be possible by taking a close look at the following key factors:
1. Water Volume
In case you notice a moderate or small amount of water damage issue in your house, then you generally can manage this using proper tools.
But, if you see flooding in your house, then it is generally best to opt for professional services related to water damage restoration in your area.
Also, any DIY projects are generally not considered the best or most effective option in case your neighborhood is recovering from a large flood or a widescale natural disaster. In those cases, a lot of the damage is usually seen and you'd need expert help.
2. Damage Source
Before you consider water damage restoration, it is very important to find out where the water is coming from.
There are at least three types of water damage sources that you need to look for whenever you see flooding issues in your house:
i. Gray Water
Gray water coming out from leaking appliances like a toilet, dishwasher, or washing machine is contaminated. You would only be able to clean this by yourself only with appropriate precautions and knowhow.
ii. Clean Water
This type of water coming from leaky pipes or rain is relatively not as harmful. It may not contain hazardous chemicals and so you may be able to safely handle this issue by yourself.
iii. Blackwater
Blackwater is regarded as the most harmful type of water. This type of water specifically comes from flooding or sewers from a nearby water source like a lake or river.
Blackwater is often responsible for transmitting illnesses like E-coli and campylobacteriosi and causing various health issues like serious digestive system and respiratory complications. It is not very safe to handle it yourself.
3. Level of Damage
Another important aspect you should assess before you decide whether or not to undertake a DIY repair job is the level of water damage itself. In case of light damage, you may be able to handle the issue yourself.
However, significant damage can be very dangerous to deal with, which means you may need to enlist help from experienced damage restoration professionals.
Tips for Controlling and Restoring Water Damage in the Home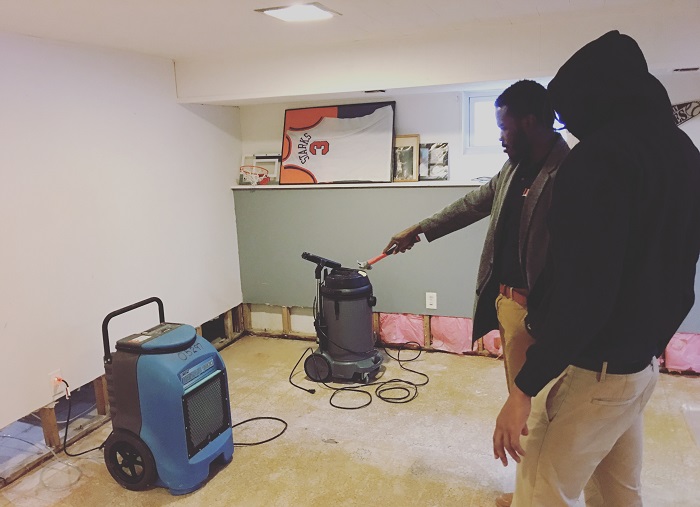 Water damage repair. Photo: URCPRO/Wikimedia
Below are some of the most important tips and advice you should follow to ensure that you control, manage, and get the repairs done promptly.
Keep in mind that after 24 hours, development of mold starts on the wet areas affected by water damage, so you should always act quickly.
I. Inspect for Mold
Various mold strains are toxic to humans and pose severe health risks.
In most cases, mold spreads quickly after it has infected a specific area. This makes it a very significant hazard you should look into.
Properly inspect for mold in areas damaged by water. Carefully cut out the affected area, bag it, and immediately dispose of it where applicable if the issue is small. But, in case of serious mold infestations, it is advisable to seek help from mold specialists.
Sometimes, the mold can occur inside the floors or walls in the home, and, therefore, it is important to properly inspect the area and get the necessary help if necessary.
II. Disconnect Outlets
Unplug all electronics quickly whenever you discover a significant water damage problem in your house.
Irrespective of the severity of the water damage, you should be cautious around the gas lines and electronic appliances.
Using such equipment with water damage and water spilling issues present poses a risk that can cause explosions or electric shocks.
III. Dry Water Out
Dry out traces of water where applicable to eliminate moisture before it causes more damage. You can do this safely in minor cases of water damage using fans or any of the large capacity dehumidifiers that help in the circulation of air.
Dry out the wood, carpet, and other surrounding materials. Although, this is not sufficient to prevent the growth of mold, drying out of the specific area will particularly help to lessen the amount of damage.
IV. Remove Damaged Furniture and Materials
Dispose damaged materials immediately to avoid mildew growth. This is especially important if porous material like carpets and insulation are soaked with water.
Pay attention also to floors and ceilings in water damage cases at home. This also means wood, drywall, unsealed cement should be effectively looked into.
V. Disinfect Surrounding and Unaffected Areas
This is important because there is a possibility that there are a lot of bacteria and other hazardous microorganisms that contribute to illness and health issues around damaged areas. This particularly depends on the type of water you are dealing with.
In most cases of water damage, mold growth is encouraged by the water, and so proper sanitization is necessary without delay.
After removal of the damaged furniture and materials, focus on disinfecting the whole area and surroundings before commencing on any restoration tasks.
You can spray and wipe that particular surface with bleach. This will prevent the growth of mold spores and allow you to perform the repairs conveniently.
VI. Perform Regular Home Inspection
Inspect your home routinely and particular areas that are prone to water damage regularly to identify any further issues.
Whenever you come across issues, take appropriate action immediately.