Beautiful Landscape Lighting Ideas & Tips for Commercial Properties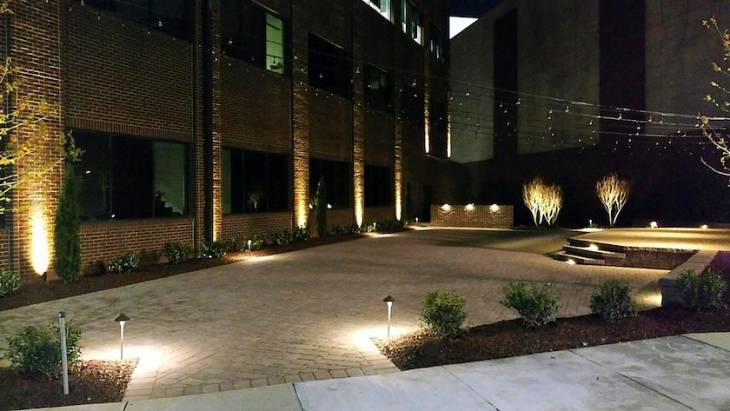 A beautifully landscaped and well-maintained property is an inviting place to visit.
However, exterior landscape lighting is often taken for granted. But exterior lighting is essential, particularly on a commercial property.
In this article, we will discuss the importance of commercial exterior lighting and commercial landscape lights. If you're considering landscape lighting, this is a good place to start.
Benefits of Proper Exterior Lighting
Commercial exterior lighting must meet specific safety guidelines. Once these guidelines are met, exterior lighting bring some worthwhile benefits including:
I. Improves the look of your property
Not only will proper landscape lighting improve the look of your property, but it will also ensure the safety of all employees and those visiting the space. 
Bright lighting on a commercial property will keep the employees and visitors safe as they walk around the area. Without proper lighting, accidents are bound to happen. 
People could potentially wander off the path, trip over something, and fall. But good lighting will give people more visibility, confidence, and a sense of safety while they're at your property. 
II. Increases a building's security
Good lighting will also ensure the safety and security of the property. Illuminating your commercial property improves security since it dissuades bad actors from lurking in the shadows. This means that good lighting can discourage bad actors like burglars from breaking into buildings or cars in the parking lot. Lighting can thus protect your investments and assets. 
Exterior lights will light the way when someone is taking out the trash or doing other tasks. Lighting allows people to get from point A to point B without a fall, injury, or being attacked. Good lighting will also give the employees a sense of safety and peace of mind while working in a commercial or office building. Employees appreciate a well-lit commercial property.
III. Increases the market value of the property
Additionally, proper lighting not only improves your property's curb appeal, but also increases the market value appeal of the property and buildings. Make sure you're lighting up all the right spaces on the property. Doing this, it will make your property look more professional. 
Investing in exterior lighting will increase buyer interest and the value of the property if you decide to sell. 
Top Lighting Tips for Commercial Properties
Since we've established that landscape lighting is essential to commercial properties, it is also important to appreciate that lighting can be an art form in itself. Landscape lighting is more than just illuminating a dark space. Here're some top tips for commercial properties exterior lighting: 
1. Consider the shadows
A dark place on a commercial property can be cause for concern. You don't want someone lurking in the shadows. Commercial lighting will assist in making your area a safer place at night. Someone falling on your property could cause liability problems. Any pathways, steps, or lights around a pool are critical to illuminate.  
2. Focus on landscape highlights
Lighting can be used to highlight important parts of your landscape. Every property has a focal point. You could also highlight a piece of your hardscape like a waterfall or statue. 
If you have signs or directories, you will want to make sure those can be read. Lights are a great way to light up benches or seating areas. Landscape lighting isn't just for safety purposes. 
3. Keep the foliage green
Flowers and greenery are a part of most landscapes. You can use landscape lights to feature those areas too. You can also add lights to the base of trees. 
Using lighting to highlight the natural features of your property, say, after the sun goes down is another nice touch you can tap.
Top Energy Saving Tips for Exterior Lighting
Some top tips you can use to save energy on your exterior lighting include:
1. Use automatic lights
One of the best ways to save energy on commercial property lighting is using automatic lights.
Automatic lights are an efficient and cost-effective way to save energy. 
Automatic lights will turn on when someone walks by or are within the range of the lights. They will turn off after the person has left. 
Be sure to place automatic lights near other lit areas so that it doesn't shock a legitimate passerby. 
2. Use long-lasting lights
Changing light bulbs or light fixtures is no small task on a commercial property. Using materials that are long-lasting means bulbs will need to be changed less frequently. 
Be sure to consider the weather, along with the wear and tear the lights may get over time. For example, LED lights last 25 times longer than incandescent bulbs and use 75% less energy.
3. Use balanced lights
Like any landscaped area, commercial lighting must be well-balanced and easy on the eye. 
When planning the placement of your light fixtures, make sure that the lighting on your commercial property flows well and that there aren't any weirdly dark areas or corners. 
Also, your lighting should be comfortable to the eye so avoid bright glaring lights or lights that are too dim. Keep in mind that the human eye tends to look from left to right and then up and down. 
Best Types of Commercial Landscape Lights
If you are now wondering which commercial landscape lights you should invest in, and which lights will be most effective to keep your property safe and visually appealing, well, there are several common commercial landscape lights that are best to consider, including:
1. Bollards
LED bollard lights are a great way to illuminate commercial walkways. These lights are generally one-half by thirty-six inches. 
Bollards can light up the sidewalk to your entrance. There are many different styles, which allows you to choose lights that are aesthetic to your company's brand. 
2. Wall Packs
Wall packs are great for the circumference of your building. They light up the wall of your building and the surrounding areas. 
Wall packs are ideal for gas stations, convenience stores, schools, parking garages, restaurants, and any other public properties. 
3. Floodlights
Floodlights can be used to light up parking lots and other large areas on your commercial property. LED lights are brighter than incandescent bulbs. 
LED lights will also last longer and cover more area for less money.
4. Area Lights
Area lights provide light to as much area of your commercial property as possible. These lights are great for parking lots. 
Area lights are commonly used for street lights. Because these lights are higher set and cover a large area, will reduce the number of fixtures needed. 
5. Dusk-to-Dawn Lights
As previously mentioned, exterior commercial lighting will keep your property safe at night. Investing in dawn-to-dusk lights is a great option. These LED fixtures will offer a powerful watt count and will save you money. 
Dusk-to-dawn lights are great for entrances. They will turn on as the sun goes down and turn off when there is enough natural light. 
6. Parking Garage Lights
Parking garage lights are pretty self-explanatory. They are similar to area lights because they are higher and cover more ground. These lights prioritize accessibility and visibility. 
Parking garage lights are used 24/7 and are critical for safety and preventing accidents. 
In Conclusion 
Exterior lighting is essential for all commercial buildings. Research your lighting needs carefully to find the best lights for your property. With the right lighting fixtures, you can literally light up your world and make your property shine!