Why the Internet Is the Best Source of News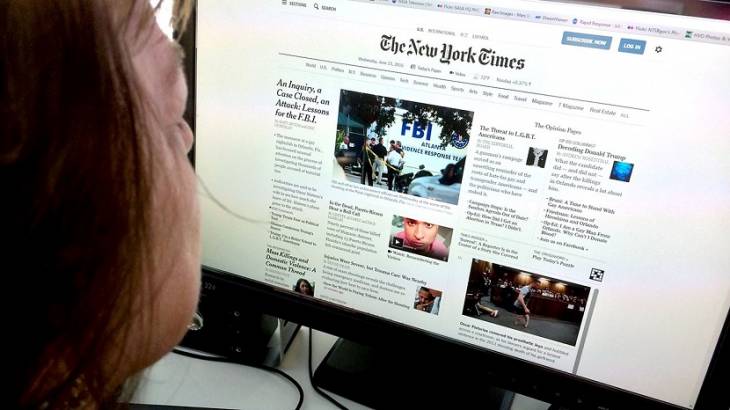 Staying informed about all the things happening around you is an indispensable human need ever since pre-historic times. Before newspapers, people used ancient methods such as public announcements, public gatherings, and town hall meetings to exchange information and ideas.
With the advent of newspapers, dispensing information became a lot easier. However, the digital age has changed the dynamics of how we get information.
When the internet was not that accessible, cable TV was a major source of information. Many people mostly had access to news that was only broadcasted on television channels.
Today, social media, online magazines and newspapers, and video news sites have taken over dissemination of information. More people now increasingly use different social media networks and other online sources to stay informed and up-to-date with the current affairs.
Despite the dominance of social media, news websites and apps, cable TV still is a major source of information when it comes to national and international socio-political affairs, sports, weather, as well as news relevant to local communities.
Many cable providers have dozens of news programming and it is good to see all these news agencies leveraging social media platforms as well. For example, Spectrum offers all popular news channels, such as BBC, CNN, and FOX News even in the most basic plan.
However, the internet continues to grow and outshine cable TV, radio and newspapers in many aspects of news. According to a Pew Research study from 2011, the internet had surpassed newspapers as a source of information that Americans turn to for national and international news.
As for social media, a 2016 Pew Research study revealed that 62% of US adults preferred to get their news from social media, with Facebook being the top source. While large portions of social media users around the world now admit they do not trust social platforms as a way to get news in 2020, yet they continue to access such networks on a daily basis.
More mainstream sources of news such as newspapers, radio and TV aren't gone yet, but the internet is growing and entrenching itself as the prefered source. Altogether, in 2018, 34% of U.S. adults said they preferred to get news online, whether through websites, apps or social media.
Here're some of the reasons why the internet is now the best source of news people have:
Online news is faster and more convenient while on the go
Online news is quick and often sent in real-time, even when you are on the go, which sets it apart from the traditional mediums of news and information.
Soon after a major story occurs, it takes a few minutes or even hours for news channels to report them live on cable. And its reach mostly depends on the number of people that are tuned in and watching the TV station. As such, cable TV has a relatively limited reach.
On the other hand, when the news is shared through social media platforms, people who are not even online at that time get instant notifications on their smartphones. As a result, they get news fast and stay up-to-date with all the things happening around them.
Social Media makes news more engaging and relevant
Social media platforms are not just limited to sharing pictures and posting updates about our daily routines. There is more to it. It is a great indicator to understand the public's perspective regarding certain stories or issues.
For example, when there is breaking news on the internet, people can comment and post their thoughts regarding the event. As a result, they get into this dialogue where different opinions are presented and debated. This makes everyday news quite relevant for a while.
Conversely, if you get news from cable TV, you have very limited options to discuss it. The relevancy of news coming from social dialogues and movements is crucial to driving change.
You can get news directly from the source
Many newsmakers and other stakeholders are already active on the internet. News agencies, politicians, celebrities, organizations, and companies have a presence on the internet.
Since all these newsmakers have an online presence, people can get news directly from the concerned source, public figures, and newsmakers. News doesn't have to be reported to you. Their social media presence is verified and it is easier to trust information emanating from them.
Verified websites and official social media handles minimize any chance of inaccuracy, and even if someone deviates from the truth, the internet is quick to judge and demand an apology. 
The internet is less prone to entrenched bias
The bias in most broadcast media is surreal—channels have their inherent bias. TV channels run by a single entity or operating under a given ideology are bound to promote biased information.
The internet is an amalgamation of subjective moralities and no singular ideology per se. Every person is entitled to their own opinion.
You are more likely to get information from various spectrums and sometimes contrasting opinions to your own beliefs online than on TV and radio. As a result, you are more conscious of everything, get various points of view, and can analyze things deeply and wholy by getting news from different sources on the internet.
The future is digital
Digital transformation has impacted every aspect of modern life, from how we do business and get our news. New technologies like smartphones underpin the ease and opportunities of getting news online.
For the generation Z, cable TV is limited to sports and movie channels, period. They don't sit in front of the TV to watch the news bulletin. Their primary source of information is the internet. This is how they have grown up and all they know. It's unlikely they'll change away from digital anytime soon. And since this younger generation cohort is the future, digital or internet news is too.
The digital age promises even more advancements in information communication technology, which will open even more solutions on the web as even "legacy" news organizations adopt a digital-first strategy. The way we get our news is shifting and to thrive everyone must have a presence on online.
In conclusion
Despite the popularity of internet news and information sources, many people still verify the news they get online from newspapers and TV channels. As such, conventional journalism still holds great value today, especially in terms of ensuring trustworthiness of news and information.
The big risk with online news is that anyone on the internet can create content and report the news sometimes without verifying it with the same vigor as professional journalists do.
Nevertheless, many internet sources including social media platforms are today introducing fact-checking tools so that false news doesn't spread. Credibility of internet news is being bolstered.
Photo: Karen Bleier/AFP/Getty Images