How to Respond to Hot Trends Impacting Your Industry: 3 Smart Tips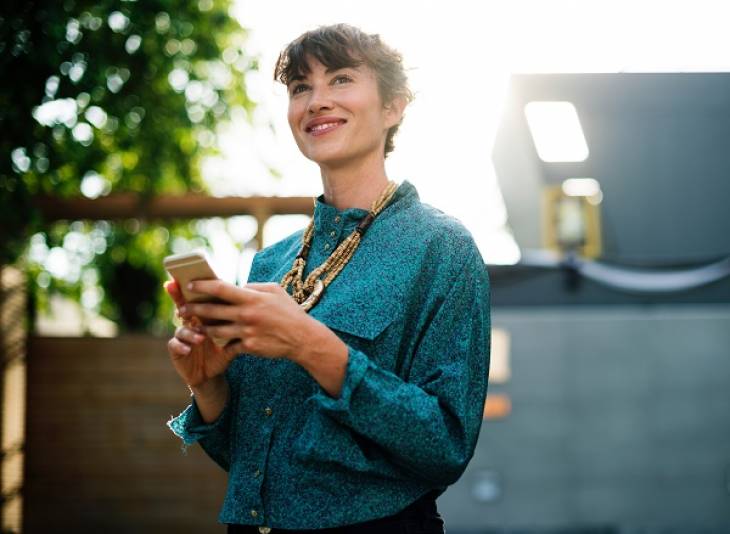 Trends come and go all the time. Some have an incredible reach and others don't. Because many creative business owners and entrepreneurs only have a limited amount of time and resources to spend and new innovations and fads appear all the time, it's important to carefully consider which trends to jump on and which to let slide.
If you don't identify the right trend for your business, you might find yourself wasting precious time and resources on fads that don't really benefit you. Consider the recent Pokemon Go craze, for example. The whirlwind mobile gaming app captured people's attention far more than its developers ever could have predicted. The app has been installed over 100 million times and earns more than $10 million in daily revenue, according to data from analyst firm App Annie Intelligence.
Businesses – big and small – have embraced the mobile game to reap the rewards. Cafes and bars all over the country are offering discount deals on Pokémon-inspired drinks and snacks if players show the game in store. Other businesses have become designated Pokéstops and taken advantage of the subsequent increase in footfall.
If you are in some of these industries, now seems like the perfect time to take advantage of the Pokemon Go craze—or is it?
Trends Are Not Always Universally Popular
Indications suggest that Pokémon GO may not be as universally popular with consumers as one would think given the game's numerous headline splashes in the media. According to a Nielsen Mobile Game Tracking report cited on Forbes magazine, among consumers who were aware of Pokémon GO in the July 4th week leading to the title's launch, 60 percent said they were interested in downloading the game, while 22 percent said they "definitely would not," a notch more adamant than the survey's option of "probably would not."  
"The 22 percent rate ranks among the top third of rejection rates for all game titles tracked by Nielsen," said Nicole Pike, Director of Client Consulting for Nielsen Games. "[Though] the game generates above average interest and uniqueness, rejection levels leading into launch week were also high... suggesting the game is popular but also polarizing," said Pike. Pike added that Nielsen describes a game as "polarizing" whenever the title has above average acceptance and rejection rates.
Some instances of social antipathy toward Pokémon GO around the world give anecdotal credence to Nielsen's early findings. One person in Vancouver has gone so far as to declare the Pokémon GO craze more stupid than the Hammer pants fashion craze of the early '90s. This person announced a strong aversion to Pokémon GO in a viral photo making the rounds on social media showing a lawn sign warning Pokemon Go players not to trespass.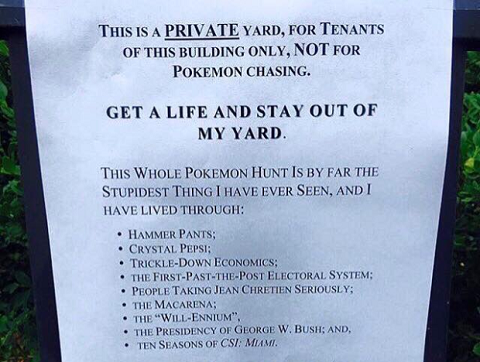 The anti-Pokemon lawn sign has gone viral on social media. (Imgur)
Snapchat has also become an incredibly popular social networking platform lately and it is starting to make an impact beyond its initial teenage user base. Video streaming platforms Periscope and Facebook Live have similarly become popular lately. Brands and businesses that engaged on these trending platforms and those whose tone of voice is appropriate draw wonderful engagement and new prospects from the platforms. However, more often than not, things can go wrong when a brand shoehorns their message into every trend and find themselves in a costly puddle.
So, when is the right time to jump on a trend and make the most of it for your online business?
When to Jump On a Business Trend
Entrepreneurs and brands can avoid a faux pas by having a clear focus and clear set of criteria that a trend needs to pass before they get involved with it. Ask yourself a basic question: Does this connect back to the work we do? If you are clear on that, it can be really helpful.
Here are some more questions that can help you decide on the right steps to take when reacting to trends.
1. Is this the right trend for my business?
This might sound pretty basic, but before delving into a new platform for your business think about whether your business needs to be there. It's great to be involved in a trend that the world is embracing, but if it feels forced it's not going to perform well for you. If you are a business that deals primarily with other businesses, you probably don't need to be on Snapchat, for example. However, if you're a business with a well-known team and a public-facing image, it could be perfect for you.
2. Have I timed it well?
Timing is everything. When it feels right and you get the timing correct, that can be pivotal to your success in riding a trend. For example, now could be a great time to jump on Snapchat. With 150 million daily active users, Snapchat acts as a benchmark for most other platforms. In the last 15 months, it has introduced new ad formats, features and subsequently expanded its user base. Users are able to create images and video stories that are available for only 24 hours. So popular is its ephemeral photo and video stories feature, that competitor Instagram has launched its own version – #InstagramStories.  
3. Do I have the time and resources to make the most of it?
If you get involved in a trend, it's inevitable that your customers will start directing queries, questions and complaints to your social channels. You will also be required to post regularly on or about the platform to keep your audience engaged. It, therefore, becomes imperative that you allocate adequate time and resources to manage each of those channels effectively. While we might want to be on the forefront of each and every trend, sometimes it not necessary nor even wise to do that. Generally, it's better to be on a few platforms that you can fully commit your resources to and run effectively than on all platforms that end up depleting your resources and rendering you unable to manage any of them properly.
See Also: 15 Free Online Marketing Tools to Help You Grow Your Business
Image Credit: AFP Photo/Drew Angerert