Fulfillment Centers Vs Warehouses: Which One Should You Choose for Your Business?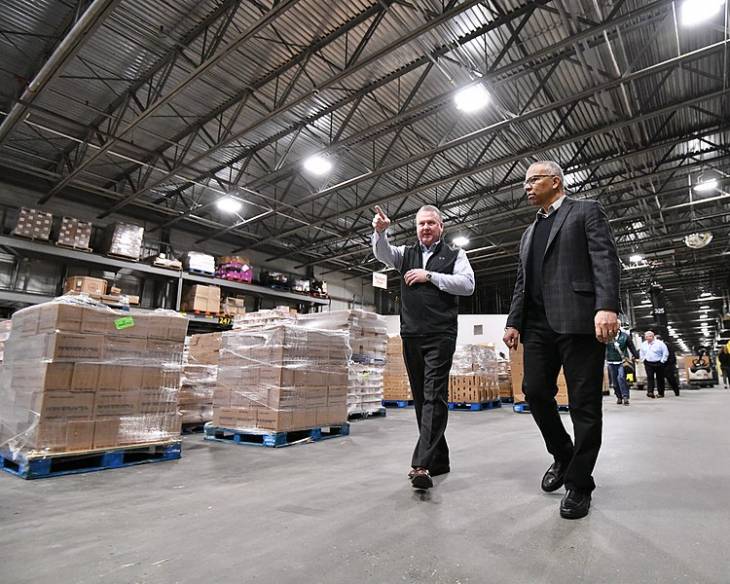 Photo: Maryland GovPics / Wikimedia
Some people often use fulfillment centers and warehouses interchangeably. But these two physical storage facilities are different and play very different roles.
In order to choose the best option for your business, it's important to learn about their differences, even as customers increasingly shop online and expect more of companies.
You should understand why some people choose fulfillment centers instead of warehouses, and find out the benefits of both in today's digital age.
What is a Warehouse?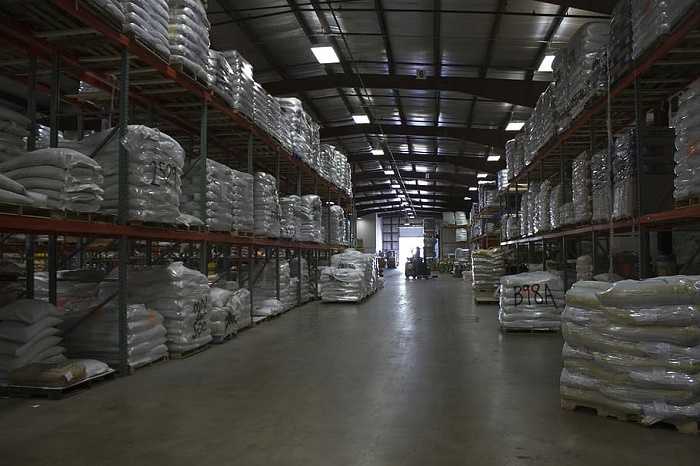 A warehouse is a large building designed for storing goods and products for sale.
Manufacturers, transporters, importers, exporters, wholesalers, and many other businesses use warehouses to store raw materials or manufactured goods prior to their distribution for sale.
Typically, warehouses are located in industrial parks on the outskirts of a town or city.
When to choose a warehouse for your business
Warehouses are an ideal option under certain circumstances, including:
I. Long-Term Storage
Often, items stored in a warehouse last for an extended period, which is why warehouses tend to have high-stacked shelves that almost reach the ceiling.
That way, warehouses are able to hold many products until it is time to move them.
II. Hold Inventory
The primary function of warehouses is to hold the inventory for many businesses. In addition, it focuses on handling the storage of different customer products.
III. Static Operation
A warehouse does not involve much of a workload. It operates only to receive, stack, move to new locations, and store until the stocks are needed.
IV. Services for Individual Business
Warehouses often work with big brands and companies, dealing in either wholesale or business-to-business (B2B) operations. The orders often come in bulk quantities of products.
Warehouses basically do not involve many tasks or services apart from organizing and storing products safely, which is markedly different from a fulfilment center.
What Is a Fulfillment Center?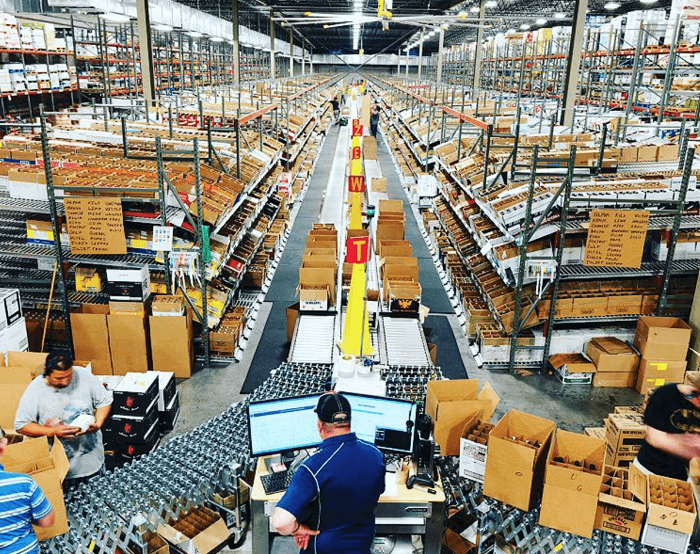 A fulfillment center is a physical storage facility, just like a warehouse, where incoming orders are received, stored, processed and distributed in a centralized manner to reduce logistic costs.
Fulfillment centers differ in functionality from warehouses in that they enable ecommerce merchants to outsource warehousing and shipping, providing a place where goods are stored, packed, and sent to customers who have ordered them.
These fulfillment facilities relieve online businesses of the need to own a physical space or warehouses to store, pack, and send items to customers who have ordered them.
When to choose a fulfillment center for your business
Fulfillment centers are an ideal option under certain circumstances, including:
I. Short-Term Storage
Fulfillment houses inventory for a short period until eCommerce orders come in. It is only temporary storage of various products.
Once consumers accomplish an order fulfillment process, the fulfillment center works on it. Then, the items go out for delivery to customers.
II. Handle All Stages of Order Fulfillment
Fulfillment centers are not all about bringing orders to customers' doorstep. They include a meticulous process that involves packing and shipping of products directly to the consumers.
Also, negotiations about the rates of different courier services may also be handled by a fulfilment center.
III. Always in Constant Motion
Operations in fulfillment centers are more complex and always in motion, existing to receive and complete online orders to customers promptly.
Also, as a third-party logics (3PL) provider, fulfillment centers manage crucial yet challenging eCommerce responsibilities of packing and delivery to ensure the shortest possible lead time.
IV. Multiple Merchant Services
Fulfillment centers are well suited to work with e-commerce businesses, retailers, corporations, and more to accomplish both business-to-business (B2B) and business-to-customers (B2C) orders.
They also offer multiple other services such as:
Product pick up from individual customers' orders
Inventory gathering
Order packing
Labeling shipment
Management of customer exchange and returns
Guarantee of same-day or next-day delivery (applicable in various locations)
Fulfillment centers truly live to their name—fulfilling multiple tasks for all sorts of consumers and businesses.
While their roles are somewhat more challenging, fulfillment centers offer some unique benefits to business that a warehouse, whether big or small, doesn't.
Benefits of Fulfilment Centers
Fulfillment centers offer many advantages and key perks business owners should know:
I. Eliminate storing inventory
eCommerce businesses avoid the hassle of inventory by looking for trusted fulfillment centers. Having one is beneficial, especially if you don't have enough physical space to store stocks.
Also, there's no need to pay a warehouse to keep your products. A fulfillment center receives stores, packs, labels, and ships items immediately.
II. End the hassle of packing and shipping
If you don't want to pack boxes, a fulfillment center is a great option. With an increasing order volume, running to the post office every day is a hassle.
A fulfilment center allows business owners to worry less about packing supplies and shipping. Thus, it provides you more time to focus on the growth of your business.
III. Focus on customer satisfaction
With a fulfillment center, keeping a customer satisfied is easier, meaning you can turn a one-time buyer into a lifetime customer, or even better yet, your brand advocate more easily.
The fast shipping and seamless exchange processes result in happy customers. The quality of shipping practices is another key factor for customer satisfaction and loyalty.
IV. Leverage the experts
Logistics, whether inbound or outbound, is a challenging task. Fortunately, a fulfillment center works with professionals, moving many pieces that work together seamlessly.
Fulfillment companies like Red Stag Fulfilment function effectively because of the experts involved. Even better, order processing and inventory management is done by the pros even during peak shopping seasons.
V. Automated warehousing and fulfillment
Modern fulfillment centers are up-to-date on the latest automation methods. This means that every step of the process is managed in real-time. That's how eCommerce businesses are able to keep up with and know the status of their inventory.
Also, modern fulfillment centers have built-in integrations with eCommerce marketplaces and platforms, enabling customer orders to be sent to the fulfillment center automatically.
Once the order is processes and shipped, automated tracking details are pushed back to the eCommerce store or online business and shared with the customer.
VI. Increase scalability potential
A growing business means that you'll have increasing product shipments and a need for hiring more staff, as well as needing to buy more shipping materials, and more. That could mean being forced to move to bigger facility or another warehouse.
Fortunately, you don't have to worry about that with fulfillment centers that scale with you. If your business is growing fast and ready for the next step, the transition is more seamless.
VII. Access to state-of-the-art technology
When using fulfilment centers, small business owners are able to access state-of-the-art technology for logistics and shipping.
Fulfilment center usually use the best shipping, tracking, accounting, order, and inventory management technology. Thus, leveraging this service maximizes your own time and saves your resources investment by incurring the minimal cost of the fulfilment service.