Car Camper Conversion: Learn the Basics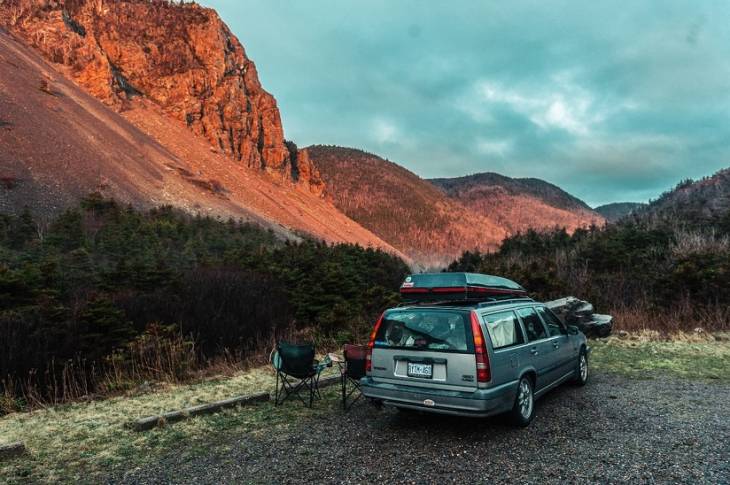 We all have seen those fancy and cool pictures on Instagram of people having a great time in the wild.
Let's face it…
You want it for yourself, too, don't you?
If your answer is YES, then keep reading.
Today, you will learn how to turn your car into a very comfortable and practical camper to suit, if not all, MOST of your camping needs.
Turn Your Car into a Camper on a Budget
So, if you want to live the camping life but don't want to spend a fortune on a Campervan or an RV, you might want to consider converting your car into one!
Car Campers are a great choice for camping as they are more affordable and fit right in your parking place. Plus, a good upgrade could also improve the value when you decide to sell your motor.
Now, you might be wondering, "How can I turn my car into a camper the easiest way possible?"
Well, here's the answer you're looking for…
Steps to Turn Your Car into a Camper the Easiest Way
Just follow those steps and you've got your car ready for camping:
First, remove the back seats for extra space. Or if you rather keep the back seats, bend them over all the way to the front making the surface as parallel to the floor as possible.
P.S: Consider getting professional help if you don't know how to do it yourself.
Clean thoroughly the trunk and the interior of the car where the back seats had been. Pick up any junk or extra things that you don't need like water bottles, notebook, chocolate, or anything else then vacuum it very well.
 
Now you want to start making a mini bed that fits in your car.
To do that you will have to cut one or two wooden pieces into a rectangular shape, depending on your preference. That's to use it as a sleeping platform in the place of the back seat or over them (if you decided to keep the back seat).
 
To take your car's measurements, you'll have to measure the interior length of your car from behind the front seat till right before you close the trunk. As for the bed width, you'll need to measure the space between the right and left of your car. Basically you need to measure how big you want the bed to be, but make sure to leave space for movement.
 
As for the height, you can decide it according to your own individual car. Measure the height starting from the bottom of the car which is the car floor to the car's roof then decide how much headspace and storage space you want against the whole height. Remember storage is important but you will also need space for some movement on the new bed.
 
After cutting the sleeping platform, you'll have to attach 4 wooden legs one on each corner to make it stand inside the car, leaving some storage space under it. The height of those legs will depend on the storage space you need.
 
Those wooden sleeping platforms will become beds once you put a folding mattress above them.
 
To build the design you chose, you will mainly need the following:  
(Plywood, hinges, screws, drill, meter, easy folding mattress, carpet, and staples).
 
 All this should cost you around $150-200, roughly speaking.
      
You will need about 6-7 hours to finish this project along with a couple of handy friends who know about woodworking to help you out. Make sure you call your handy friends or get professional help.
 
Consider using some bins "light-weight plastic storage containers" from your own house that fit under the sleeping platform. They will save you a ton of space.
 
After you finish all those steps, you can consider yourself done with the whole thing. Just pack-up everything you need, from a mini stove to toilet papers, and pack them up.
 
Let's face it, going through all those steps and doing this woodwork is something not all of us can do, but that's perfectly fine...
You can buy all those stuff for a low price from any local store near you. Then, get professional help - this way will be a great investment especially when you decide to sell your used car.
Car Camping Tips Everyone Needs to Know
Now you know how to prepare your car and can drive right to your desirable camping site with no worries.
 
However, if you are a beginner car camper, you will need to consider those useful tips...
1. Plan Your Trip:
Plan everything from A to Z. where you are going to camp and whether you need a reservation or not in that place… Make sure you've got everything ready.
Sometimes you might need to reserve a month or even a year ahead, depending on how famous the place is.
That's why you have to plan ahead because you don't want to arrive at the campsite then have to turn around and find another place that would turn out to be a huge disappointment for you and your companions.
 
2. Set the Duration:
 
You'll also need to plan how long you want to stay at the camping site. That is very necessary to know how much food to pack, water to bring and even how many underwear you will need!
You many also need to figure out if you will need certain amenities. For example, if you're camping near a fishing zone, you could get your fishing rods or a simple make-shift shower.
How exciting, right?
Don't forget to organize everything you're taking so you won't end up with just random items that you may have to rummage through every time you need something, especially if you're with kids (This is where your plastic containers will come handy.)
3. Rules and Regulations:
You really need to do some research about all the rules and regulations in the camping area you choose.
Some places allow you to camp overnight and some don't. While you may have other places that restrict bonfires, always check before you travel.
 
4. Know Your Surroundings:
Get a general idea from the internet about the place you're about to camp in.
This will allow you to know if there's any town, hospital, gas station, supermarket, or any other helpful place near the camping site.
This could save your life! You never know what might happen or what you may suddenly need.
5. Map and Compass:
Everyone tells you that you don't need them anymore because technology has made everything easier nowadays.
However, if you just imagine yourself lost in the middle of nowhere without any internet, you'll know how important it is to know how to use a map and a compass.
You can download or print out those maps to make sure you have them when you need them.
Also, make sure you carry a battery pack to charge your phone. What if the car battery runs out? You can never be too prepared!
6. Don't Forget Anything:
Trust me. Camping is not the right time to be a forgetful person…
Double-check that you have everything you need with you by making a checklist of all necessities, like water, food, toilet papers, pillows, mosquito spray, shampoo, water filter, paper cups, trash bags, and other necessary stuff.
Seems like a lot, but camping is wild and adventurous. Better safe than sorry!
7. Car Necessities:
There are a few things that you should always have when you're a car camper:
Jumper cables: (To revive your battery's life in emergency cases and help yourself or others)
Tarp (A large sheet of strong, flexible, and waterproof materials. It can be used for multiple reasons like shelter from rain or a mat to sit on in the wild and other benefits)
Tool kit: Can be used for basic car maintenance till you reach the closest mechanic.
Flashlight or a headlamp.
Medkit: All medical necessities for emergency treatment.
Spare tire: Some cars have internal storage, like a little space under the back of the car but if not, you can try and carry it on the roof of the car.
Now is the time for you to finally relax and disconnect from annoying, noisy people or places with your car camper that can take you anywhere you want.
That's it. Easy and enjoyable isn't it?!
So, why don't you go ahead and start converting your car and planning for your next camping trip now?